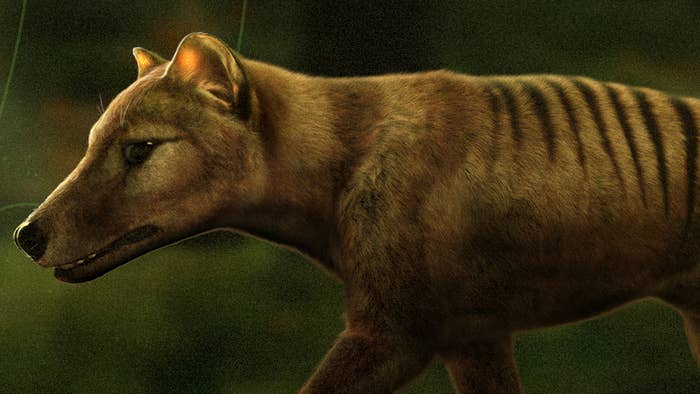 Could the return of the Tasmanian tiger truly be an imminent possibility?
That's among the ambitions of a newly announced project from biotech leaders Colossal Biosciences, founded by George Church and Ben Lamm. In partnership with the University of Melbourne, the self-described "de-extinction company" said in a press release shared this week that it had started the process of bringing back the Tasmanian tiger, i.e. the Australian marsupial formally known as the thylacine. The creature has been extinct since 1936.
Key to this potential feat of science, the added benefits of which are said to include the restoring of balance to Australian ecosystems, is Dr. Andrew Pask, who leads the Thylacine Integrated Genetic Restoration Research Lab (a.k.a. the TIGRR Lab) in Melbourne. According to Dr. Pask, the possible impact of this project is actually much broader than might be assumed by the public.
"The technology and key learnings from this project will also influence the next generation of marsupial conservation efforts," Dr. Pask said, adding that he and his team are "excited" to play a role in bringing back a species "eradicated" by mankind.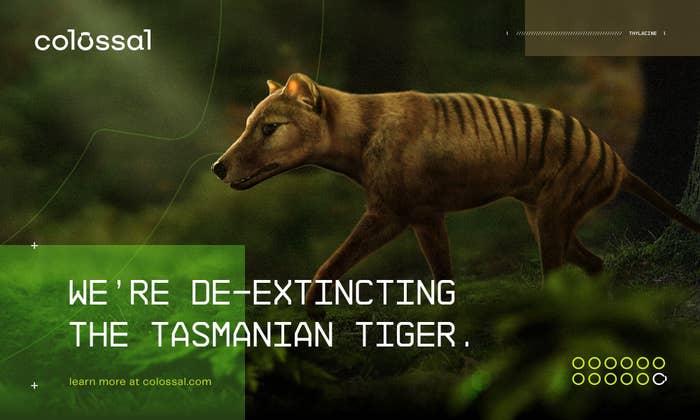 As for how such an undertaking is even possible, the steps to reintroducing the Tasmanian tiger nearly a century after humans stamped it out began with "embryos and young specimens" having been preserved over the years. In 2018, a genome was sequenced by Dr. Pask using DNA taken from a 108-year-old preserved specimen. This genome was updated in April of this year.
Several steps later, a fully formed embryo is set to be placed inside surrogate, followed as much as 42 days later by a birth.
Colossal, of course, has made headlines before, including in connection with woolly mammoth-focused efforts. Notable investors connected with the future-minded company include the Hemsworth trio, i.e. Chris, Luke, and Liam.
When reached for comment by Complex, Colossal CEO Ben Lamm noted how this project provides the opportunity for humankind to right one of its past wrongs.
"Humanity finally has the technologies to undo its past mistakes in the eradication of keystone species," Lamm said. "Through de-extinction sciences, we can not only bring back species that mankind had a hand in their extinction, but also develop cutting edge technologies for the protection of critically endangered animals. Both species preservation and broader de-extinction solutions are a cultural responsibility for the world. Without rapid advancement in genetic rescue tools, the earth could lose up to 50% of all biodiversity by 2050."
Below, revisit Colossal's "A Case for De-Extinction" talk from this year's SXSW.