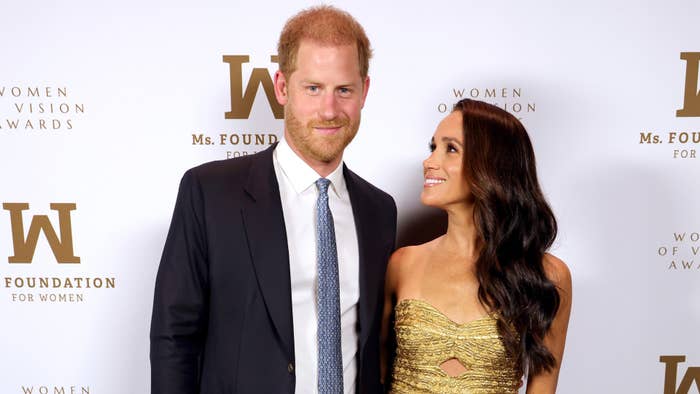 Prince Harry and Meghan Markle were "involved in a near-catastrophic car chase" due to "highly aggressive paparazzi" on Tuesday, a spokesperson said in a statement shared with multiple outlets.
The couple, as well as Markle's mother Doria Ragland, were involved in the chase following their appearance at the Ms. Foundation for Women event in New York. At the Ziegfeld Ballroom event, the Duchess of Sussex was honored with the Women of Vision Award. The chase is reported to have ensued as they exited the venue on Tuesday night.
"This relentless pursuit, lasting over two hours, resulted in multiple near collisions involving other drivers on the road, pedestrians and two NYPD (New York Police Department) officers," a rep for the couple said, per a report from Reuters.
The spokesperson warned against the encouragement of such paparazzi behavior, which they noted could have proven deadly in this instance. They also urged against the sharing of photos taken during the chase due to them having been captured as a part of a "highly intrusive practice."
Harry, of course, has been understandably vocal about his criticism of paparazzi at large. In 1997, his mother—Diana, Princess of Wales—died following a car crash that was also preceded by a paparazzi chase. Both Harry and his brother William have blamed the paparazzi for their mother's death.
In fact, Diana's tragic death has been repeatedly pointed to by numerous public figures as an example of the reckless and sometimes fatal practices utilized by desperate paparazzi. Justin Bieber, for example, referenced the death following an incident in 2014.
"We should have learned from the death of Princess Diana," he said at the time.