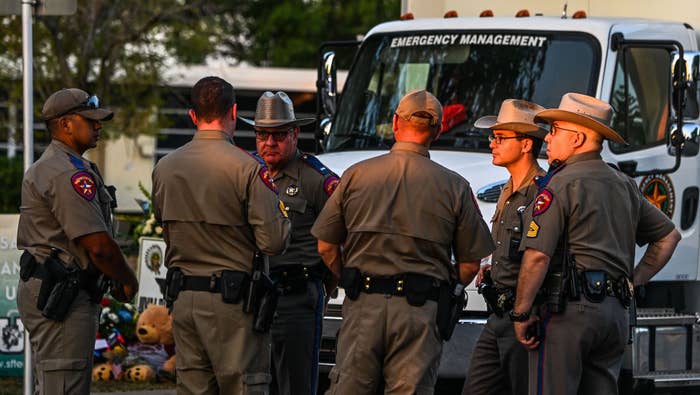 As conceded by a law enforcement official on Friday, police made "the wrong decision" in their delay in confronting the gunman in this week's elementary school shooting in Texas, a state safety official said Friday. 
Speaking with reporters, Steven McCraw—director of the Texas Department of Public Safety—said the on-site commander in the May 24 shooting at Robb Elementary in Uvalde was initially "convinced" the children were not in danger.
"He was convinced at the time that there was no more threat to the children and that the subject was barricaded and that they had time to organize" before entering the classroom, McCraw said Friday, per an initial report from the Associated Press. McCraw also called this the "wrong decision" in hindsight. "It was the wrong decision," he said.
Among the other revelations in Friday's presser was info on a school resource officer. Per McCraw, that officer was not at the school at the time "but had heard the 911 call [of] a man with a gun" and drove to the area, toward "what he thought was" this man with a gun. The person, however, turned out to be a teacher.
"In doing so, he drove right by the suspect, who was hunkered down behind the vehicle, where he began shooting at the school," McCraw said.
According to the latest from McCraw, the gunman—later identified as 18-year-old Salvador Ramos—entered the school at around 11:33 local time. "He shot more than 100 rounds based on the audio evidence at that time, at least 100 rounds," McCraw said.
An initial group of three officers—all from the Uvalde Police Department—were said by McCraw to have entered "the same doors the suspect entered" at 11:35 local time. Later, "as many as 19 officers" were in the hallway together. 
Later into Friday's presser, McCraw read through a timeline of 911 calls, including one from a child who told a dispatcher, "Please send the police now."
Also revealed by McCraw was that Ramos "purchased and had a total 1,657 rounds of ammunition." Additionally, in September of last year, he asked his sister to help him buy a gun but she refused.
See more from Friday's press conference below.
19 children and two teachers were killed in the shooting at Robb Elementary School on Tuesday. At a subsequent event, current Texas Governor Greg Abbott was interrupted by fellow Texan (and office challenger) Beto O'Rourke, who pointed out in front of the audience that the Republican leader was "doing nothing" to prevent this type of violence from being repeated. He was ultimately escorted out.