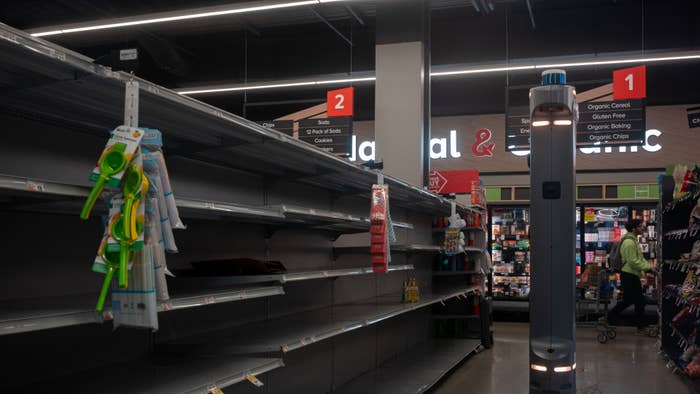 A chemical spill in Philadelphia resulted in empty shelves at area stores after local officials initially advised switching to bottled water.
While the city's stance on switching to bottled water has since shifted, the rush on bottled water had already taken its toll, as seen in numerous photos (like the one above) showing empty supermarket shelves in the region over the weekend. Footage of this weekend's water bottle frenzy has also been making the rounds, as seen below.
In their initial statement on the spill, issued Saturday, the Philadelphia Water Department said it was "monitoring a spill of a latex product" that had been confirmed to have taken place in the Bristol Township area on Friday. In subsequent updates, the extent of the spill was discussed, as was a bottled water suggestion that was later walked back.
Michael Carrol—who serves as deputy managing director for Philly's Office of Transportation, Infrastructure and Sustainability—said on Sunday that "early indications" did not point to contamination. However, Carrol also noted that officials could not be "100 percent sure" at the time that traces of chemicals could be in the region's tap water.
"Therefore, we are notifying the public in the customer service area that they may wish not to drink or cook with tap water," Carrol said, noting that residents "can consider switching to bottled water" as a way of further minimizing any possible risk of exposure.
Hours after that statement, however, city water officials cited "updated hydraulic modeling" and current sampling data when stating that local tap water from the Baxter Drinking Water Treatment Plant would be safe for residents "at least through 11:59 pm." on Monday. Additionally, the city said there was "no need to buy water at this time." As for the initial water bottle suggestions, officials said that message had been issued "out of an abundance of caution."
Philadelphia Mayor Jim Kenney echoed the latest updates in a statement of his own, also shared on Sunday.
"We know residents are concerned, and we continue to respond to this situation as updated information comes in," Kenney said in a tweet. "I want to assure everyone: no contaminants have been found in our tap water system."
As for how much of the latex product was spilled into the river, that number—per a report from the Associated Press—has been estimated to fall within the range of 8,100 and 12,000 gallons.