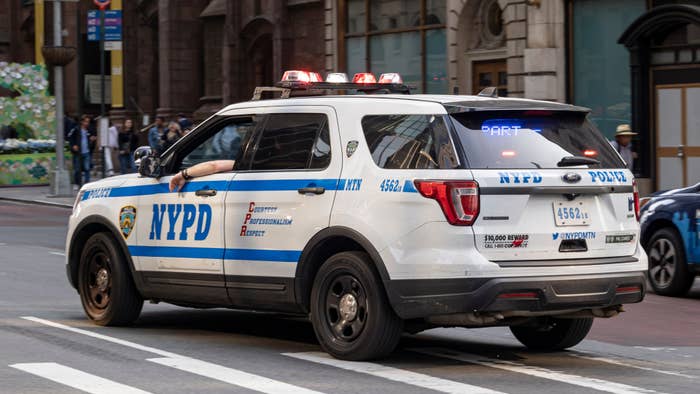 An ex-NYPD cop is now facing multiple charges after allegedly having an "intimate relationship" with a leader of a Bronx-based gang and warning the organization of an impending indictment.
The former officer, identified as Gina Mestre, was arrested earlier this month and subsequently arraigned in federal court in Manhattan. The four counts against Mestre include racketeering conspiracy, conspiracy to obstruct justice, conspiracy to obstruct an official proceeding, and accessory after the fact to murder in aid of racketeering.
"The indictment unsealed today alleges that the defendant abused her position as an NYPD police officer by, among other things, obstructing a federal grand jury investigation into the gang and assisting the gang's leader in evading capture for a cold-blooded murder committed in broad daylight," U.S. Attorney Damian Williams of the Southern District of New York said.
According to prosecutors, Mestre was employed as an NYPD officer starting in July 2013 and ending in May 2022. Specifically, she worked as part of the 52nd Precinct's Public Safety Unit when she connected with Andrew Done of the Shooting Boys.
During their ensuing relationship, Mestre is alleged to have given the organization confidential info about a federal investigation into their activities. At one point, Mestre allegedly revealed the identity of a cooperating witness, who was later assaulted.
In November 2020, Done allegedly shot and killed a member of a rival gang, prompting detectives to seek out assistance in identifying the shooter using security footage. Per prosecutors, Mestre and several other cops identified Done as the person responsible for the fatal shooting.
When reached for comment by Complex on Tuesday, an NYPD spokesperson pointed to a previously released statement from NYPD Commissioner Edward A. Caban.
"There is no place for corruption of any kind in the NYPD," Caban said last week. "The arrest today of a former police officer is built upon the steadfast work of our Internal Affairs Bureau, a team driven to root out such betrayals of public trust."
It's not the first time NYPD officers have made headlines for alleged criminal activity. Back in 2017, for example, an off-duty NYPD detective was arrested after allegedly being caught exposing and fondling himself in multiple backyards.
In May, Exit Plan launched a zine dedicated to documenting the numerous examples of "distracted police" in New York, with proceeds going to help those who are unhoused in the city.