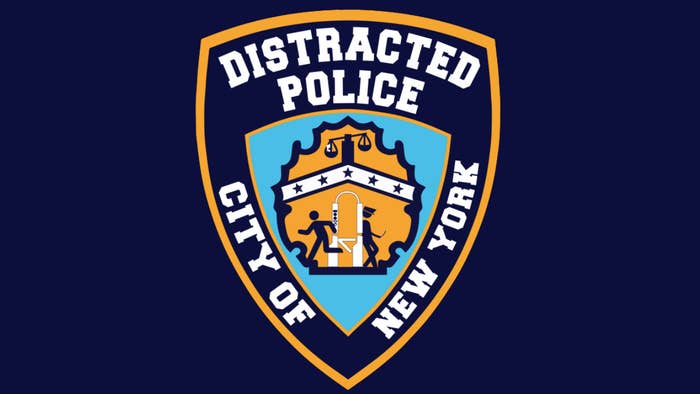 Whether you live in New York or not, you've no doubt seen a version of the following: A cop, whose position would seem to suggest they most certainly have more pressing things to attend to, mindlessly scrolling on their phone. In short, cops are often never there when you might actually need them; and when they are, they're just as often either totally fumbling the situation or actively making it worse with unwarranted aggression.
A new project from Exit Plan, proceeds from which will go toward helping the unhoused community of NYC, is putting the prevalence of "distracted police" front and center by way of a new 132-page book that playfully documents instances of officers "doing what they do best, fucking nothing."
As detailed in a press release, the project is inspired, at least in part, by the words of Mayor Eric Adams, who infamously urged residents to send him pictures of cops on their phones. Adams also made the physically impossible promise of being at every station where such behavior was documented.
"At this request, we have decided to compile an album of photos that show exactly how the NYPD like to allocate their time," the Exit Plan team said. "Playing Candy Crush and texting their side-piece not keeping us safe. We've all dealt with the New York City Police Department, and they take a sworn oath to do their job before they get their badge."
For the standard edition of the book, one can expect to part with $30, all of which will go toward folks facing the challenges that come with being unhoused. An extra-limited version of the book, meanwhile, runs $50 and is presented in an actual evidence bag.
"The NYPD budget this year is $5.8 billion," an Exit Plan rep said. "With a very small fraction of that funding, Exit Plan expects to supply over 500 backpacks full of winter essentials to the homeless population in NYC."
On May 20, Exit Plan is hosting a special release event for the book. Hit this link for additional info.