Florida Man Allegedly Shoots and Kills Dune Buggy Driver After Dispute Over Tossed Beer Can
The 59-year-old alleged shooter has now been charged with manslaughter and aggravated battery.
Image via Lake County Sheriff's Office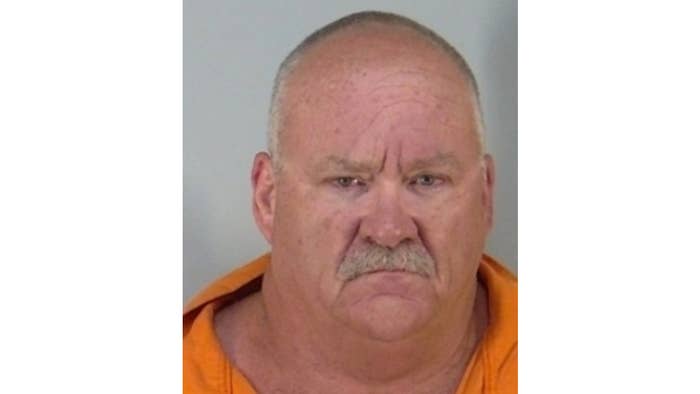 A Florida man is accused of fatally shooting a dune buggy driver after throwing a beer can at him.
The alleged shooter, identified in a regional report from Inside Lake as 59-year-old Wallace Mannin Kirkland, is said to have fatally shot the driver of the vehicle in the chest with a pistol last Friday. Kirkland was ultimately arrested on charges including manslaughter and aggravated battery with a firearm.
In a semi-redacted arrest affidavit, available to read here via Law & Crime, responding deputies from the Lake County Sheriff's Office are quoted as saying that Kirkland and his wife, as well as a neighbor, were "standing on the side of the road" when a driver in a dune buggy-type vehicle drove by them. At this point, Kirkland is alleged to have "either attempted to or did throw a beer can" over the vehicle.
The driver then stopped the vehicle, deputies said, and told Kirkland he was "going to kill" him. According to witnesses, the driver was not armed and was both "outnumbered" and "physically smaller" than Kirkland and the neighbor. Shortly after, witnesses said they heard a gunshot, after which the driver attempted to resume driving the vehicle before losing consciousness.
The driver later died from his injuries at a nearby hospital. Kirkland and the individual, who has not been named in initial reports, are said to have had prior "verbal altercations" before the fatal shooting.
Complex has reached out to the Lake County Sheriff's Office for additional information on the case. This story may be updated. Although Kirkland was not publicly listed among currently available arrest records at the time of this writing, documents show that he bonded out of jail on Saturday and is expected to make a court appearance on June 5.