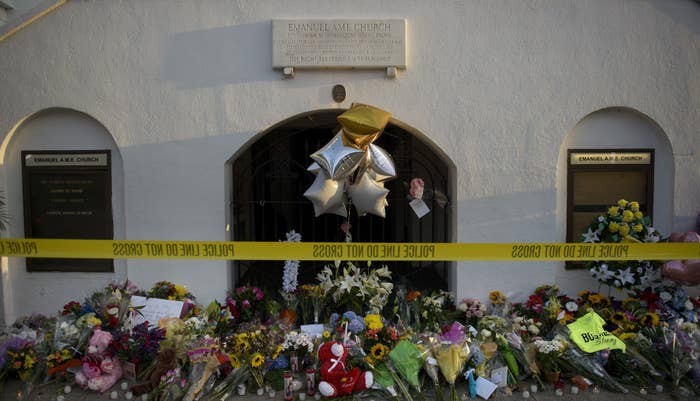 Families of victims killed in the 2015 South Carolina church mass shooting have reached a settlement with the Justice Department.
The families of nine victims in the racist attack on the Charleston house of worship reached an $88 million deal, per the Associated Press, that includes $63 million for the families and $25 million for survivors. 
White supremacist Dylann Roof was convicted for the mass shooting at Emanuel African Methodist Episcopal Church, which claimed the lives of nine Black churchgoers. Amid the extended coverage of Roof following the 2015 attack, many argued his actions should be widely viewed as an example of domestic terrorism.
At the root of the Justice Department settlement, announced Thursday, is the fact that Roof had been arrested on a drug charge just weeks before carrying out the mass shooting but "clerical errors and missteps" resulted in him still being able to buy a gun. The suit was previously reinstated by an appeals court back in 2019.
Speaking on the 2017 sentencing of Roof, then-Attorney General Loretta E. Lynch mourned the loss of "compassionate civic and religious leaders" in the attack. 
"They include a young man in the bloom of youth and an 87-year-old grandmother who still sang in the church choir," Lynch said at the time. "We remember those who have suffered, and especially those that lost their lives: Cynthia Graham Hurd, 54; Susie Jackson, 87; Ethel Lance, 70; Rev. DePayne Middleton Doctor, 49; Rev. Clementa Pinckney, 41; Tywanza Sanders, 26; Rev. Daniel Simmons Sr., 74; Sharonda Coleman-Singleton, 45; and Myra Thompson, 59."
In August, Roof's death sentence was upheld in a federal appeals court.