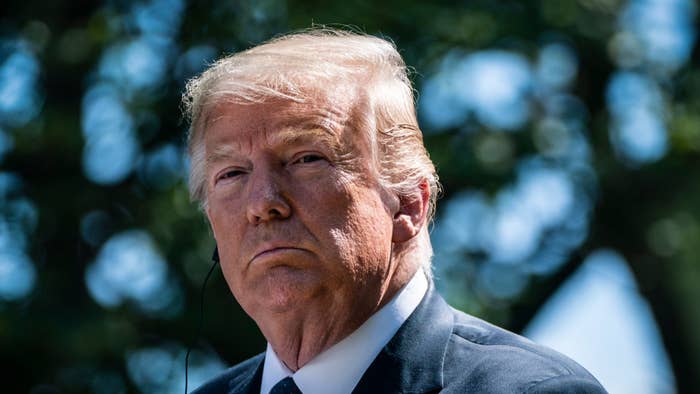 Former VP Joe Biden was elected the 46th POTUS, defeating failed steak salesman and prolific scourge Donald J. Trump in his efforts to become a two-term president.
In his victory speech over the weekend, Biden looked ahead at his and VP-elect Kamala Harris' White House era as a potential moment of healing for America. He also urged a halt on the "harsh rhetoric" that has come to define the nation over the past four years, stating now is the time to "lower the temperature" in the name of greater progress.
"We are not enemies," Biden said. "We are Americans."
For Trump and his usual cast of cronies, however, news of Biden's win has been met with a depressingly on-brand marathon of efforts aimed at undermining faith in the voting process while promoting what boils down to an inflammatory and dangerous alternate reality in which Trump's re-election was actually successful despite no evidence supporting such a thing.
Below, we attempt to make sense of what the f*ck is going on with Trump's response to an impending Biden presidency.
As his recent barrage of frequently flagged tweets makes clear, Trump is—at least at the time of this pained writing—refusing to concede the 2020 presidential election. Instead of tending to his current POTUS duties, particularly with regards to the ongoing (and worsening) COVID-19 pandemic, Trump has taken up the pastime of filing a litany of lawsuits.
By the end of the current week, Trump attorney and recent Borat 2 disgrace Rudy Giuliani—who infamously held a press conference outside Four Seasons Total Landscaping on the day Biden's victory was called by the Associated Press—is expecting "four or five" lawsuits to be filed. Per the AP, there's a total of 10 possible in the same timeframe. 
Among the baseless voter fraud-related complaints of Trump and those who remain loyal to the former Apprentice host are allegations of 21,000 purportedly dead residents having been included on voter rolls in Pennsylvania, claims that partisan poll watchers weren't allowed to go about their duties to the party's liking, and other whines.
As has been a frequent occurrence during the era of Trumpism, the truth tells a different story.
While Trump is aiming to put the recently appointed Amy Coney Barrett to use should an election-related case make it to the Supreme Court, this represents an unlikely scenario due in large part to the facts simply not being on the side of a POTUS who once vowed that the COVID-19 pandemic would magically disappear "like a miracle."
Even as the Trump campaign continues calling for a Supreme Court intervention, as well as plowing ahead with that aforementioned attempted litany of Giuliani-promised legal action, the evidence simply isn't there.
This is well-represented in the fact that Twitter has taken action against many of Trump's tweets about the election results, many of which have had their engagement greatly limited with the attachment of a warning message informing users that "some or all of the content shared in this tweet is disputed and might be misleading about an election or other civic process."
As recently as Sunday afternoon, Trump was still going with this strategy, notably using the phrase "mail-in ballot hoax" in a since-flagged tweet. Mail-in ballots, however, mark a safe and secure alternative to in-person voting. And during a pandemic, this method's importance is even greater.
Trump even urged polls to halt counts long before the deadlines in many states. Vote.org notes that absentee ballots, for example, are allowed to be counted days after an election in multiple states so long as they are postmarked by certain dates.
States like Georgia, meanwhile, legally allow for a candidate to request a recount should the margin fall within 0.5 percentage points. Still, the general consensus is that it's very unlikely any such recount would change the outcome. Biden has pulled off a surprise flip for the state, where 99 percent of the estimated vote has already been counted.
And as for those claims about dead residents on voter rolls, John Jones—a federal judge on the case—has since explained to the AP that the allegations stemmed solely from "a private foundation." The foundation in question is the Public Interest Legal Foundation, a conservative group based in Indiana.
In December of 2000, the Supreme Court put to bed a Florida-centered recount, effectively handing the famously close election against former VP Al Gore to George W. Bush by way of the state's 25 electoral votes.
The 2000 election ultimately saw Gore walking away with the majority of the popular vote, while Bush narrowly bagged the electoral victory with 271. 
As it stands now for the 2020 election, Biden has 290 electoral votes against Trump's 214. Biden also has the popular vote in his favor at 50.7 percent (75.7 million votes so far).
Still, you've probably seen a few weird uncles on Facebook trying to use the Bush v. Gore debacle of 2000 as some sort of sign that Trump has a chance with his larger election-undermining tactics. But as a group of legal and election-focused experts explained in this NPR piece from earlier this month, it's quite unlikely that 2020 will bow out with a repeat of the maddening confusion brought on by Bush v. Gore in 2000.
Even with several conservative Supreme Court justices having already expressed interest in a revisitation of the question of whether a state legislature's majority-party take on the law "supersedes" a state's supreme court take, as University of Iowa School of Law professor Derek Muller explained, it's just not likely that justices will want to entertain any of this when there's no evidence of fraud or anything else that could actually make a difference in who won the election.
In short, Trump lost. Even Bush himself agrees, having recently congratulated Biden.
"The American people can have confidence that this election was fundamentally fair, its integrity will be upheld, and its outcome is clear," Bush said of Biden's win, per CNN.
Again, anything resembling success—specifically in terms of changing the Biden-victorious outcome of the election—is highly unlikely.
But as the days since Biden was declared the 2020 winner have started to stack up, another interpretation of Trump's baseless claims-laden efforts has emerged. Speaking with a number of senior Trump officials on the condition of anonymity, the AP said this week that—according to these officials' comments—actually proving any such fraud may not be the goal. 
Instead, the strategy is reportedly focused more on preaching to the choir by keeping Trump's reality-blind supporters happy. Given that there's been claims of Trump preparing a 2024 run, this take on his response to the 2020 election results sadly lines up.
More recently, Attorney General William Barr—to the immediate condemnation of those working to ensure the integrity of the vote remains intact—authorized federal prosecutors to pursue voting irregularity-related allegations "if they exist" prior to the election being certified. Still, there remains no evidence of Trump's frequently repeated conspiracy theory.
Mere hours after Barr's move, Richard Pilger—the director of the Election Crimes Branch of the Justice Department—resigned.
"Having familiarized myself with the new policy and its ramifications, and in accord with the best tradition of the John C. Keeney Award for Exceptional Integrity and Professionalism (my most cherished Departmental recognition), I must regretfully resign from my role as Director of the Election Crimes Branch," Pilger said in a letter to colleagues.