UPDATED 7/25, 11:30 a.m. ET: Thomar Latrell Simmons, Carlee Russell's former boyfriend, has addressed the recent confirmation that his ex's abduction claim was "a hoax."
In a note shared to Instagram, Simmons said he and others affected are "disgusted" by the latest developments in the case.
"Carlee's actions created hurt, confusion, and dishonesty," he wrote on IG. "I was made aware of the false narrative after coming to the defense of my ex Carlee Russell. Myself and my family's nature was to react in love, and genuine concern. We are disgusted from the outcome of this entire situation. I strongly feel exactly like you all, blindsided with Carlee's actions."
See the full statement below.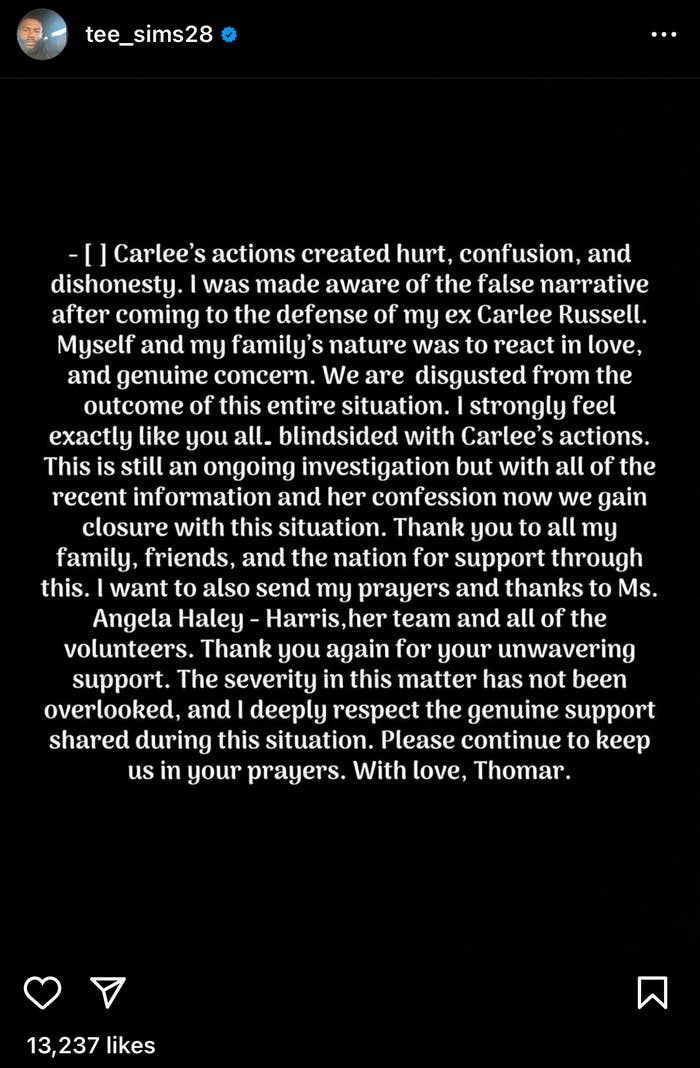 UPDATED 7/24, 8:40 p.m. ET: Hoover Police Chief Nick Derzis read a statement from Carlee Russell, obtained through her attorney Emory Anthony, at a press conference Monday.
In the statement, Russell admits she was not kidnapped earlier this month.
"There was no kidnapping on July 13, 2023. My client did not see a baby on the side of the road," the statement reads. "My client did not leave the Hoover area when she was identified as a missing person. My client did not have any help in this incident, but this was a single act done by herself."
Russell also apologized to the Hoover Police and all those who were involved in searching for her in the 49 hours that she was presumed missing.
"We ask for your prayers for Carlee as she addresses her issues and intends to move understanding that she made a mistake,'' Anthony said in the statement. "Carlee again asks for your forgiveness and prayers."
According to the Birmingham News, no charges have been filed against Russell, but Chief Derzis will meet with Anthony on Tuesday. There have also been conversations between Derzis and the Jefferson County District Attorney's Office as they determine the next steps.
Russell could be charged with false reporting to law enforcement authorities or falsely reporting an incident, which is considered a Class A misdemeanor and carries a jail sentence of less than a year.
See original story below.
Carlee Russell's boyfriend, Thomar Latrell Simmons, is urging the public to "stop bullying" the Alabama woman as more questions continue to be raised about her recent claim of being kidnapped.
Speaking with the New York Post over the weekend, Simmons pointed to "mental health" concerns when detailing why she "doesn't deserve" to be "cyberbullied" over the incident.
"The only thing I can say is, I want everyone to stop bullying her," he told the publication in an interview published Saturday. "I know what it seems like what she did. Just stop bullying on social media."
The Post, notably, recently reported that Russell had been fired from her job at an area spa. Her co-workers, per that report, are "a little pissed off" about the situation.
In a news conference last week, Nick Derzis, chief of the Hoover Police Department, revealed a number of internet searches they had uncovered using a phone left at the scene.
Two days prior to her 911 call, for example, police say Russell searched for whether payment is required for an Amber Alert or search. Searches on the day of her disappearance, police added, included one for the Liam Neeson film Taken and one focused on how to take money from a register without being caught.
"There were other searches on Carlee's phone that appeared to shed some light on her mindset but out of respect for her privacy we will not be releasing the content of those searches at this time," Derzis told reporters.
Deeper into the press conference, Derzis said investigators had been "unable to verify most of Carlee's initial statement made to investigators."
Meanwhile, in a separate statement, the department said officers hadn't found "any evidence" supporting Russell's initial claim of seeing a toddler on the interstate.
As seen in the regional WVTM report in the video up top, others have also spoken out amid the changing nature of this case.
"Her actions with her being safe the entire environment is disrespectful to all of the boys and the girls, the adults, [and] children that have gone missing that didn't make it home, that are still gone," Shea Pilkington-Wiley, whose daughter was murdered in the Hoover area in January of last year, said.