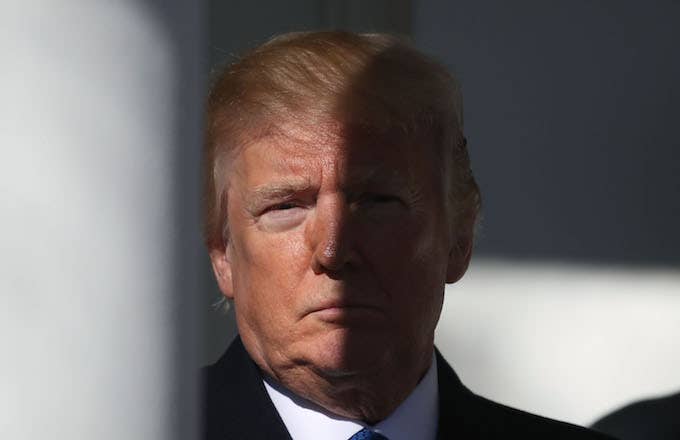 President Donald Trump addressed the government shutdown Saturday, using his preferred medium of choice and adding in some partisan politics. "This is the One Year Anniversary of my Presidency and the Democrats wanted to give me a nice present. #DemocratShutdown," Trump tweeted.
This is the One Year Anniversary of my Presidency and the Democrats wanted to give me a nice present.

#DemocratShutdown
For those asking, the Republicans only have 51 votes in the Senate, and they need 60. That is why we need to win more Republicans in 2018 Election! We can then be even tougher on Crime (and Border), and even better to our Military & Veterans!
Democrats are holding our Military hostage over their desire to have unchecked illegal immigration. Can't let that happen!
This tongue-in-cheek reference to the stalemate between Senate Republicans and Democrats has been highlighted by many party members' preferred hashtags. GOP supporters are opting for #SchumerShutdown (referring to Senate Minority Leader Chuck Schumer) and #DemocratShutdown. An official press release by White House Press Secretary Sarah Huckabee Sanders repeatedly used the phrase "Schumer Shutdown."
Various reports had Trump meeting with Senator Schumer during lunch Friday, as the pair reportedly tried to reach an agreement to avoid a shutdown. They discussions didn't work, and now we're in the first government shutdown since 2013.
"Their consensus broke down later in the day when the president and his chief of staff demanded more concessions on immigration, according to people on both sides familiar with the lunch and follow-up calls between Mr. Trump and Mr. Schumer," reported Michael D. Shear and Maggie Haberman of the New York Times.
Republican Senate members Jeff Flake, Lindsay Graham, Mike Lee, Mitch McConnell, and Rand Paul all voted against the measure, making Trump's assertion that it was merely Democratic senators who voted against the bill factually inaccurate.
According to CNN and various other sources, Democrats would only support a bill that provided a fix for DACA to protect undocumented immigrants brought to America as children. In turn, Republicans wouldn't grant the DACA fix without concessions from Democrats on border security enhancements. One of those enhancements was the proposed border between Mexico and the U.S. that Trump used as a rallying point for his 2016 election campaign.