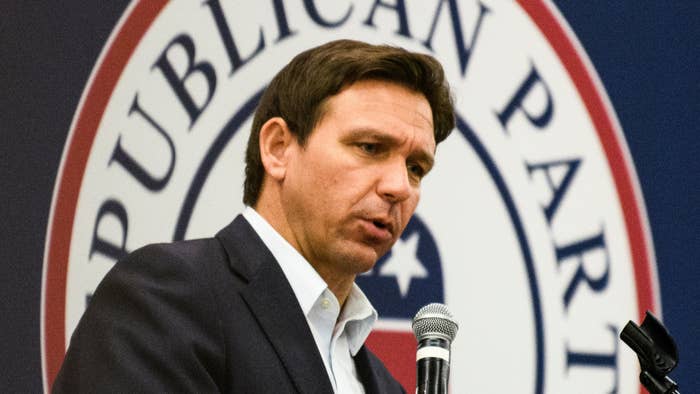 The NAACP has issued a travel advisory to Black Americans for the state of Florida in response Gov. Ron DeSantis' controversial policies.
On Saturday, the civil rights group advised tourists not to travel and vacation in Florida to protest DeSantis' policies, which they claimed were "hostile" to "African Americans, people of colour and LGBTQ+ individuals."
"On a seeming quest to silence African-American voices, the Governor and the State of Florida have shown that African Americans are not welcome in the State of Florida," read the travel advisory. "Due to this sustained, blatant, relentless and systemic attack on democracy and civil rights, the NAACP hereby issues a travel advisory to African Americans, and other people of color regarding the hostility towards African Americans in Florida."
The group's statement listed several of DeSantis' policies, including the latest one, where he banned colleges from spending public funds to expand diversity, equity and inclusion initiatives. He also signed the Stop WOKE Act, which prevents schools from discussing race during required training or instruction and blocked public schools from having an Advanced Placement African American Studies course.
NAACP president and CEO, Derrick Johnson, wrote in a statement: "Let me be clear — failing to teach an accurate representation of the horrors and inequalities that Black Americans have faced and continue to face is a disservice to students and a dereliction of duty to all. Under the leadership of Governor Desantis, the state of Florida has become hostile to Black Americans and in direct conflict with the democratic ideals that our union was founded upon."
DeSantis is expected to announce his candidacy for president very soon. He may have solid backing from conservative Florida Republicans if the NAACP continues to push their Florida travel advisory.
He also made it clear he was not worried about the advisory when the group first mentioned it back in March.
"What a joke," he said at the time. "Yeah, we'll see, we'll see how effective that is. This is a stunt to try to do that. It's a pure stunt and fine, if you want to waste your time on a stunt, that's fine. But I'm not wasting my time on your stunts."