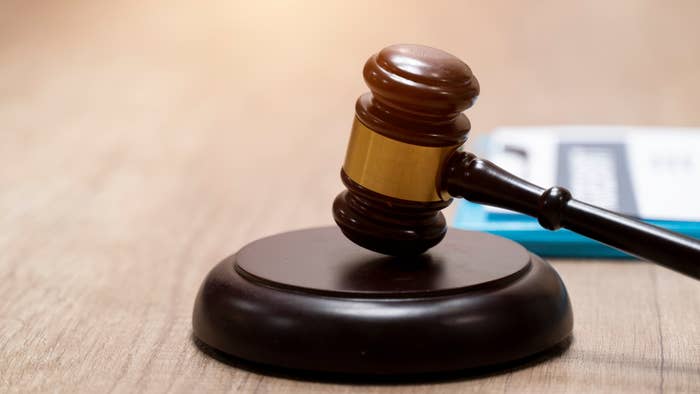 After criminalizing cannabis for so long, more states across the US are shifting their policies and legalizing the plant. At least 16 states and Washington, DC, have made recreational weed legal, while 19 states have a medical cannabis program in place. New York celebrated when it became one of the latest states to join the recreational marijuana club. But in all of this excitement, there's one issue that remains: What happens to all of the people who have criminal records because of weed?
Advocates like Jesce Horton and Jeannette Ward Horton are working to make sure restorative justice is served. The couple lives in Portland, Oregon, where recreational weed has been legal since 2014. Together, they co-founded the NuLeaf Project to make sure that Black and brown people can succeed in the legal cannabis market. After all, the Black and Latino community have suffered the most under marijuana laws.
In 2018, weed contributed to 40 percent of all drug arrests in the US. That same year, according to Pew Research, nine out of 10 marijuana arrests were simply for possession with no intent to distribute. More people were arrested for weed possession than cocaine, heroin, and synthetic drugs combined. Also, despite decriminalization of weed across the country, weed is still federally illegal and Black people continue to be targeted and criminalized three times more than any other group.
It's hard to look at the billions of dollars funneling into the legal weed market, as 40,000 Americans sit in jail because of marijuana. But that's exactly what's happening. Even after being released, folks with weed-related convictions have a tall mountain to climb, and the Hortons can attest to that. They are both legal cannabis business owners who have experienced weed-related arrests, have gone through the expungement process, and have directed several expungement clinics. 
"We needed to do better with expungement in Oregon," Jeannette, who is currently leading the Oregon Equity Act, as the CEO of NuLeaf, tells Complex. "We had a rapid expungement on the books, but we really didn't have automatic expungement, and that's really becoming the standard."
New York, New Jersey, California, Illinois, New Mexico, Virginia, and Vermont have created opportunities for people to have their records automatically expunged—under specific circumstances. In other instances, the courts allow people to petition or apply for their weed-related convictions to be sealed, reduced, or removed.
As legalization spreads, new laws are vindicating many people. But even that process can be confusing, slow, and expensive—depending on where you live. Either way, it's absolutely possible to remove weed-related offenses from your record. If you're wondering how to get your weed record cleared, here are some steps that you should take. 
First, you need to know your options. In some states, you don't have to lift a finger. Your low-level marijuana offense could be wiped clean, or expunged, automatically (that's for you, New Yorkers!). When your charge is expunged, it's completely removed from all state records, but the federal government might be able to access it—remember, weed is still federally illegal. Regardless, state-level clearance could have a positive impact on your quality of life, allowing you to get better jobs, housing, and opportunities.
When Jesce was arrested for a weed-related offense, he lost his scholarship and almost lost his chance to become an engineer. Eventually, he was able to find an engineering job that would take a chance on someone with a record. But he says it wasn't easy. Unfortunately, many people have their entire lives derailed because of low-level marijuana charges (simple misdemeanors).
If your charge isn't automatically expunged, it's worth investing in other options. You might be able to apply or petition to have your record expunged, sealed, set aside, or reduced. A sealed record still exists, but cannot be accessed by the public. When your record is set aside, the court will dismiss the charge and make a note in your public records. Then you can seal that set-aside record so it'll be like the charge never existed. If all else fails, you could apply to have a conviction changed from a felony to a misdemeanor. Reduced charges come with lesser penalties and stigma.
There are three main steps to get a weed record expunged (if it's not automatically done): meet the qualifications, file the paperwork, and submit any necessary fees. 
All 16 weed-friendly states have different rules, but the process and outcome is pretty much the same. At this moment, states like Massachusetts don't offer automatic expungement, but have tried to streamline requests with a short one-page petition form. Massachusetts doesn't charge any fees to apply for an expunged or sealed record. You simply visit the state's official court website, search for the form, follow the application's instructions, which includes sending a copy of the petition to the district attorney's office, and then wait for the response. 
Meanwhile, in New York, if you don't qualify for a free automatic expungement, you might qualify to have your record sealed. Similar to Massachusetts, applicants can find the "sealing" form online, but searching for some of these applications is like digging for a needle in a digital haystack. Completing some of these forms is just as hard, too. 
Jesce, who's currently the Oregon Cannabis Association (OCA) social justice chair, breaks down the overly complicated steps that his state requires. "The first step is determining if you have a charge that is expungeable," Jesce says. "A lot of times there are little stipulations that prevent it from being expunged." If the charge is expungeable, the person can move onto the application phase, which might require reaching out to the court to get the original arrest record. The applicant will need to submit fingerprints, a notarized signature, and payments for any lingering fines or fees.
Oregon allows people to set aside and seal their record, which is equivalent to an expungement. In every state, the process can be completed without a lawyer, but it's not always designed to be done without a legal professional. At least that's what Jeannette says. Despite the step-by-step instructions, she's had to hire expungement lawyers to carefully assist the people who attend her expungement clinics.
Recreational states aren't the only ones with opportunities to clear weed convictions. Even states like Pennsylvania, where only medical weed is legal, have a path for expungement. The Pennsylvania Board of Pardons has a free expedited program for non-violent marijuana convictions.
The cost to expunge a weed record and the time it takes varies from state to state and case to case. It can be free or cost over $1,000. It can happen instantly or take years. Expungeable New York weed convictions that happened after Aug. 28, 2019, are automatic and free, but cannot begin until the person pays all fines associated with the charge (which doesn't exactly make it free).
If you apply to have your record sealed in New York City, a mandatory certificate of disposition will cost you $10 for each charge you want sealed. Plus you have to pay to have each form notarized. The filing is free, but if you use a lawyer the price can quickly add up. As for timing, you'll have to wait 10 years after your last conviction, before you can have any charge sealed.
Restorative justice seems to move slowly for New Yorkers. A month after legalizing cannabis, 19 people were still serving state prison sentences for weed-related offenses that are likely to be dropped under the current law. Gov. Cuomo gave the state two years to expunge all weed-possession convictions that are now legal.
In Oregon, the expungement process takes about three months. Applicants have to pay the state a $281 filing fee, and they must pay the police $80 to do a background check. On top of that, they have to pay $25 to get their fingerprints taken and $10 for each form that needs to be notarized. Altogether, the cost climbs to about $400 without a lawyer, not including the fines and fees associated with the charge. Jeannette says those fines and fees keep many now-innocent people from even attempting to clear their name. 
"The unforeseen consequence of not forgiving fines and fees means a lot of Black and brown folks don't get expunged," Jeannette says. She's made sure to include the forgiveness of fines and fees in the Oregon Equity Act.
Minorities for Medical Marijuana (M4MM) and National Expungement Week are two organizations that help expunge records. Legal aids, local governments, and even district attorneys host expungement clinics on a weekly, monthly, or yearly basis, too. You can find clinics online, using key phrases like "Free Expungement Clinics in New York," or a lawyer might be able to offer a credible suggestion.
"Oftentimes, that attorney knows of resources that are available and often there are many resources in the state for people to get this assistance," Jesce says. "But it's about being able to track it down."
Even some cannabis brands allocate portions of their profits toward restoring justice and giving back to the community. But in order for true justice to take place, the legal system has to approve laws that completely remove the burdens of expungement from newly innocent people. Those people, who've had their entire lives stripped away, should also have the opportunity to access the legal cannabis business and reap the same financial benefits as states and wealthy business owners. 
The Oregon Equity Act plans to take cannabis money from the state and place it back into marginalized communities. The bill allows conviction fees and fines to be forgiven, and removes child endangerment charges that are automatically tacked onto cannabis-possession charges for women with children—even if the child was nowhere around. (Yes, that happens.) Jeannette hopes that other states will follow suit.
It doesn't make sense for a legal plant to bring one group of people wealth and the other group despair. As Jesce puts it, expunging records and making the legal industry accessible is not only moral, it's the only way to legitimize the current legal market.
To support the Oregon Equity Act, you can sign the petition or donate. To help make automatic expungement possible for all Americans, reach out to your local legislature and support equity bills in your state.