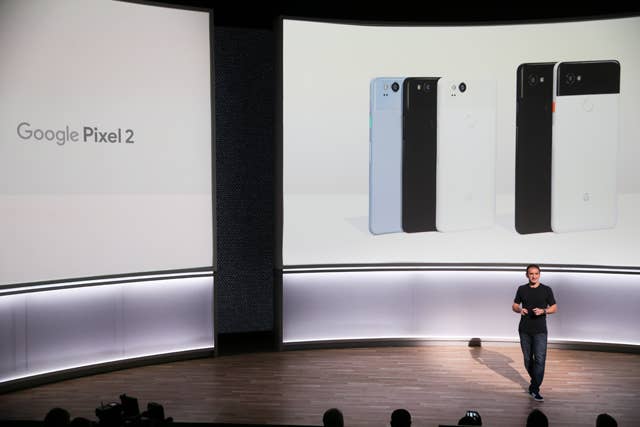 Less than a month after Apple announced their (possibly obsolete?) iPhone 8 and the upcoming iPhone X, Google spent a good chunk of Wednesday afternoon announcing a new slate of products: a few new iterations of Google Home, the Pixelbook and a Pixel Pen, and the new Google Pixel 2, which comes about a year after the release of the Google Pixel in 2016.
It sounds like Google's coming for Apple's neck with the next level of their Pixel smartphone. While most phones that don't have an "i" in front of them run an Android operating system, Google's really throwing their all into the Pixel 2. It wasn't that long after Apple announced the iPhone 8 and iPhone X that Google starting throwing a hint of shade at Apple (and the rest of the competition out there), wondering why people aren't asking for more from their smartphones, soundtracked by the late, great Big Pun.
We've already deduced that if you're in the market for a new iPhone, you might as well cop an iPhone X, but even with all of those lit features in iOS 11, should loyal Android users (especially those who are already rocking with a Google Pixel) make the leap to Apple as well? Let's look at how these phones stack up, head-to-head.
First off, even off contract, the Pixel 2 is less expensive. The Google phone starts at $849, and is available for $949 off contract; Apple's iPhone X starts at $949, with an off contract purchase costing you $1149. The Pixel 2 XL boasts a six-inch screen, but the iPhone X's screen still gives you higher resolution. Neither phone has a headphone jack, and they both are dust and water-resistant.
The iPhone X edges out the Pixel 2 in terms of larger storage capacity (the biggest X clocks in at 256 GB, while the biggest Pixel 2 clocks out at 128 GB), and the iPhone X also has dual cameras (as do the iPhone 8 Plus and the Samsung Galaxy Note 8). The Google Pixel 2 only has one camera, but Google claims the hardware and tech on their camera, as Engadget explains, gives Pixel 2 owners a "portrait mode that creates DSLR-like soft backgrounds using only one camera (whether it's the back camera or the front 8-megapixel shooter)." That sounds dope, but is a bit limiting: you won't be getting wide angle shots or optical zoom (which are available on dual-camera phones), and—as Engadget further notes—the cameras in the Pixel 2 use the same chips from Android phones that dropped earlier in 2017, so 60 frames per second 4K video won't happen (although the Pixel 2 does 4K video capture at 30 frames per second).
That said, the front camera on the Pixel 2 is 8MP as opposed to the 7MP iPhone X's front camera. The Pixel 2 is cooking with 4GB of RAM (compared to the 3GB in the iPhone X), and uses a USB-C connection with a fingerprint sensor. If you want the flyest, dopest tech when it comes to unlocking your phone, no one is topping the iPhone X's Face ID, which stays snapping photos of your face to make sure it can unlock your phone in day or night time.
So what does all of this mean? As per usual, it depends on what you want from your phone. If you're a diehard Google/Android stan (and keep your home stocked with all of the Homes and Nests and Chromecast devices), you might want to upgrade your life with the Pixel 2. It sounds like a monster, and should perform close to (or exceed) what the next round of Apple phones can do. Truth be told, though, if you're trying to be on that real next level, you can't front on the iPhone X. The aforementioned Face ID and the Animoji alone make it that next shit for tech-loving heads out there. And while the Pixel 2 has packed a lot of power underneath that hood, the iPhone X is that new wave.
My verdict? The iPhone X will be very much alive, but the Pixel 2 is gunnin' for that No. 1 spot.