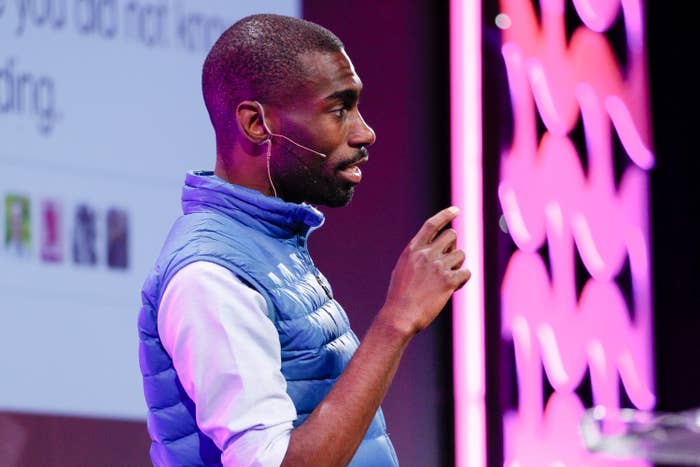 DeRay Mckesson, an activist and one of the most prominent voices of the #BlackLivesMatter movement, is suing the city of Baton Rouge, Louisiana over his own arrest and the arrests of other activists in July during protests over the police killing of Alton Sterling.
He and fellow protestors Kira Marrero and Gloria La Riva claim police acted in a "militarized and aggressive manner" as they took nearly 200 people into custody during peaceful protests against police shootings between July 6 and July 11. Mckesson, who recently ran for mayor of Baltimore, was arrested on July 9 on charges of obstructing a highway. His detainment was live-streamed on Periscope and widely publicized, with celebrities and many others showing their support for the activist on social media and raising money for his release. 
In the lawsuit, Mckesson and his fellow plaintiffs claim officers pointed guns at protestors and say journalists also reported officers pointing machine guns at them. The city recently announced it would not prosecute the majority of those detained in the protests, including the three plaintiffs in this case. However, the activists are seeking damages for the administrative fees, attorney's fees, and other costs incurred from the arrests, as well as asking for their arrest records to be expunged.
Mckesson's lawsuit is not the first in response to police force during the protests. The ACLU of Louisiana and other civil rights groups sued the Baton Rouge police for their actions, saying peaceful speech was "met with a military-grade assault on protesters' bodies and rights." Videos and photos posted online showed police carrying assault weapons, wearing riot gear, and driving military tanks as they subdued the demonstrations. 
Louisiana Gov. John Bel Edwards previously defended the actions of police, calling the response to protestors "moderate." The East Baton Rouge Parish Attorney's Office declined to comment on the lawsuit.