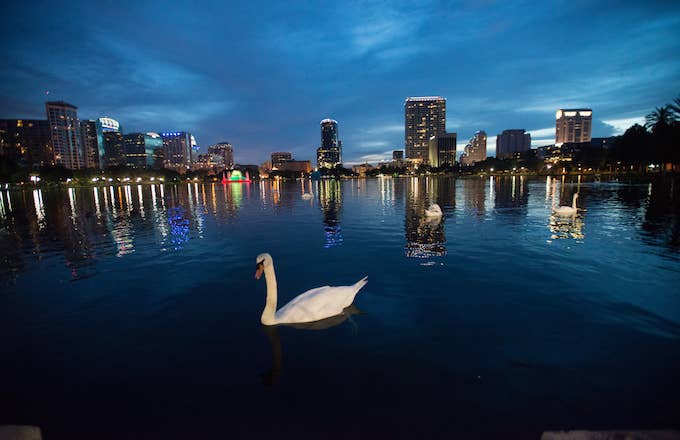 Just say no, kids. That is unless you want to end up stranded on a Fountain in the middle of Lake Eola in Orlando, Florida. (I mean, it could be worse.) Anyway, that's what happened to an Orlando man after he took "a large quantity of Molly" and stole a swan boat, according to Buzzfeed.
36-year-old Keith Thurston was found sitting on the fountain, screaming, shortly before 4 a.m. He told authorities he "wanted to be with the swans because they don't judge him." Fair enough, it's a cruel, cruel world out there folks. Gotta make friends where you can find them, feathered or not.
Thurston told police he took the swan boat to get to the fountain, but failed to remember to tie the boat up, before he decided to get out and take a walk. Understandable for someone who allegedly took "a large quantity of Molly." Naturally, the boat floats away, leaving an allegedly very high and whacked out Thurston stranded in the middle of the lake. He wasn't even chasing waterfalls, but apparently even the lake he was used to was a little too much. (See what I did there?)
Thurston was transported to Florida South Hospital for treatment after the Orlando Fire Department rescued him. Charges against Thurston are pending, but to be fair, we've heard of WAY worse things happening in Florida. Remember flakka? That shit turned people the fuck out and made them act like zombies, and in some cases, killed them. For the southernmost state in the continental United States, I would call this an improvement.