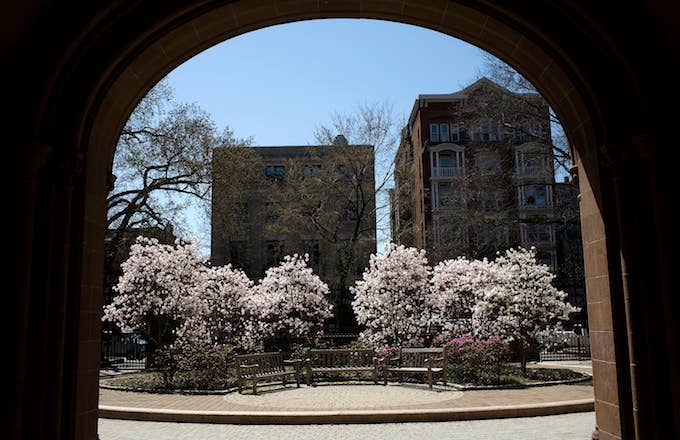 The Federal Office of Civil Rights (OCR) of the Department of Education, ran by unqualified Trump appointee Betsy DeVos, is spending its time and resources to investigate Yale University for a Title IX complaint that claims the university discriminates against men, the Yale Daily News reports. The complaint came from a doctoral student named Kursat Christoff Pekgoz, who is not affiliated with Yale in any way, and is instead studying English at the University of Southern California. 
Pekgoz complaint, filed in February, claims that Yale violated Title IX in opening 17 programs that "exclude or otherwise discriminate against men." The OCR began its investigation on April 26, and has informed Pekgoz that they are focusing on seven of the 17 programs. 
The seven programs being scrutinized are the following: Women Faculty Forum, Working Women's Network, the Yale University Women's Organization, Yale Women's Campaign School, Yale Women Innovators, Smart Women Securities, and Women Empowering Women Leadership Conference.
Pekgoz, who sounds like either a troll or a deeply unhappy person with too much time on his hands, argues women are no longer underrepresented within the university's student body, and therefore any program that aims to benefit them is a problem. He also alleges the university should have equivalent programs exclusively for men, as if the entire world wasn't already a program designed for men to succeed. 
"The main debate here is how to define the underrepresented sex and for us the main argument that you should look at [is] the overall enrollment rate," Pekgoz said, conveniently ignoring that equal numbers do not guarantee equal rights, as evidenced by all of history.
 In an interview with Refinery29, Pekgoz revealed he filed his complaint for "no particular reason," adding that he considered "going after" Harvard but decided on Yale since he "felt" it "has larger affirmative action programs for women." Pekgoz has filed similar complaints against two other universities, including USC. 
The Department of Education's investigation comes just days after black Yale master's student Lolade Siyonbola went viral after a fellow white student called the police on Siyonbola for napping in her own dorm's common room. Gotta love the Department of Education's priorities these days.