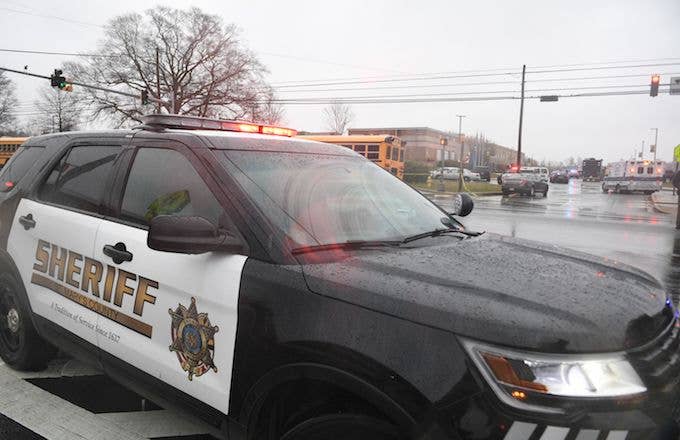 UPDATED 6/29/18 10:10 a.m. ET: The shooter has been identified as 38-year-old Jarrod Warren Ramos, per Reuters. He had once filed a defamation lawsuit against the newspaper and one of its journalists, claiming a story written about him that alleged he harassed a woman online was untrue. The lawsuit was dismissed. While the case was in court, a Twitter user named "Jarrod W. Ramos" was critical of the Capital-Gazette and even threatened one of its journalists. 
Read the original story published on 6/28/18 below. 
Five people are dead and more are injured after a shooting at the Capital Gazette newsroom in Annapolis, Maryland on Thursday, The Baltimore Sun reports. CNN reports that a suspect, who is believed to be the shooter, is already in custody but was not initially cooperating with police. The weapon used was a shotgun. 
The suspect, who has been described by police as a white male, remains unidentified, and there is also currently no information on motive. There was also no gunfire exchanged between the suspect and police. 
Anthony Messenger, an intern at the newspaper, took to Twitter to announce the active shooter and ask for help earlier today. 
Active shooter 888 Bestgate please help us
Phil Davis, a crime reporter at the Capital who was in the newsroom during the shooting, recounted the shooting in a series of harrowing tweets after he was out of the building and deemed safe. He said there was a single shooter who shot through the glass door of the newsroom's office. "Can't say much more and don't want to declare anyone dead, but it's bad," he said.
A single shooter shot multiple people at my office, some of whom are dead.
Gunman shot through the glass door to the office and opened fire on multiple employees. Can't say much more and don't want to declare anyone dead, but it's bad.
There is nothing more terrifying than hearing multiple people get shot while you're under your desk and then hear the gunman reload
The Capital-Gazette is considered one of the nation's oldest newspapers, with roots dating back to the 18th century.
This story is developing.