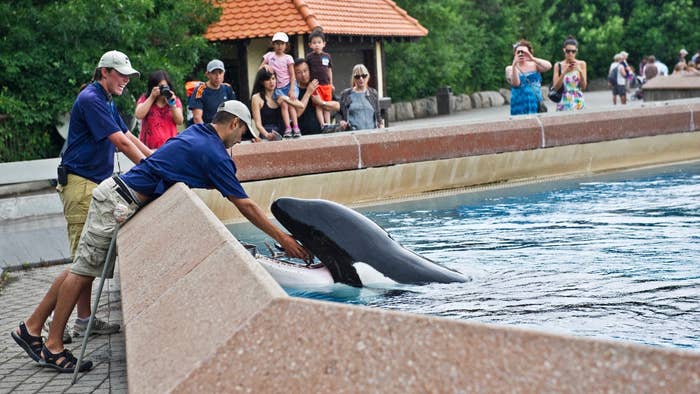 Kiska, known as the "world's loneliest orca," died Thursday after 40-plus years in captivity.
The Marineland theme park in Niagara Falls, Canada, announced the news in a statement Friday, telling TMZ that its "marine mammal care team and experts did everything possible to support Kiska's comfort and will mourn her loss."
Kiska was reportedly 3 years old when she was captured in the North Atlantic Ocean and transferred to an aquarium in Iceland. According to the Whale Sanctuary Project, the animal joined three other orcas at the facility, including future Free Willy star, Keiko. The animal was eventually sold to the Marineland theme park, where she gave birth to five calves, all of which died at a young age.
CTV News reports Kiska was Canada's last captive orca, and had lived in solitary confinement since 2011. Animal welfare activist Phil Demers recently posted disturbing footage of Kiska in her tank. One of the clips showed the mammal thrashing her head against the tank, while another showed her swimming in circles.
"It's a really heartbreaking situation," Camille Labchuk, executive director of Animal Justice, told CTV News. "It's difficult to watch that video and feel anything but abject sympathy for this animal."She's probably the world's loneliest orca because every single other orca in captivity at least has other whales if not orcas themselves."
The videos reignited the #FreeKiska movement; however, Labchuk argued Kiska's release wouldn't have been so easy, as many captive orcas aren't equipped to return to the ocean.
"They don't have any survival skills, they don't have any social networks to be released into the wild," she explained.