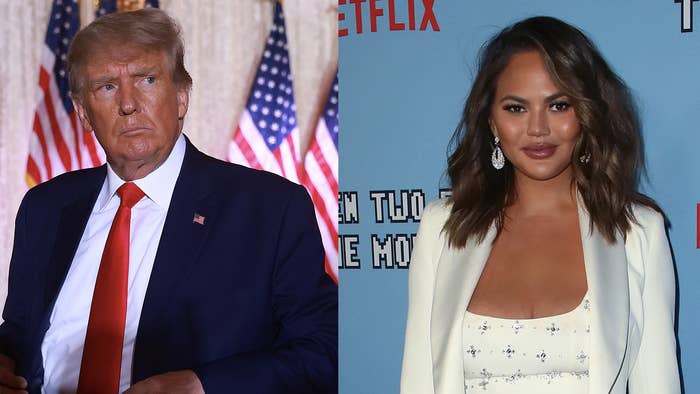 Trump's single-term administration allegedly asked Twitter to censor outspoken critic Chrissy Teigen.
According to New York magazine, the revelation came during a Wednesday congressional hearing about Twitter's handling of the Hunter Biden laptop story. During her testimony, former Twitter employee Anika Collier Navaroli was pressed about an online dispute between then-President Donald Trump and Teigen. Rep. Gerry Connolly (D-VA) pointed to a 2019 post in which Trump criticized Teigen and husband John Legend for failing to give him enough credit for a criminal reform bill he had signed into law. He referred to Legend as a "boring musician" and Teigen as "his filthy mouthed wife."
At the time, Teigen returned to Twitter shortly after and referred to the ex-POTUS as a "pussy ass bitch."
"The White House almost immediately thereafter contacted Twitter to demand the tweet be taken down. Is that accurate?" Connolly asked Navaroli, who worked as a senior expert on Twitter's U.S. safety-policy team.
"I do remember hearing we'd received a request from the White House to make sure we evaluated this tweet, and they wanted it to come down because it was a derogatory statement directed at the president," Navaroli said. 
The platform ultimately declined to remove the tweet.
"I thought that was an inappropriate action by a government official, let alone the White House," Connolly continued. "But it wasn't Joe Biden, about his son's laptop. It was Donald Trump, because he didn't like what Chrissy Teigen had to say about him."
A TMZ paparazzo caught Teigen and Legend and pressed them on how the moment felt, with Teigen offering a quick "honestly amazing."
Legend added with a laugh, "We have other things to celebrate too, you know. … The family is very proud."
Many Democrats say the testimony underscored Republican hypocrisy when it comes to the issue of online censorship. GOP lawmakers have consistently accused Twitter of having a political bias, and say the company may have affected the 2020 election by suppressing a New York Post article about Hunter's laptop. The president's second son reportedly abandoned the computer at a Delaware repair shop in 2019; about a year later, the Post reported on the contents of the device, which allegedly included explicit photos and videos, as well as unsavory business dealings.
Twitter subsequently suspended the Post's verified account and blocked users from sharing the damning report, which many dismissed as "Russian disinformation." Hunter has since admitted the laptop belonged to him; however, Twitter maintains the U.S. government did not influence the platform's decision to censor the story.
Twitter co-founder and former CEO Jack Dorsey addressed the censorship during a 2020 Senate Judiciary Committee, saying it was a "mistake" to suppress the Post report.
"We recognize it as a mistake that we made, both in terms of the intention of the policy and also the enforcement action of not allowing people to share it publicly or privately," Dorsey said.