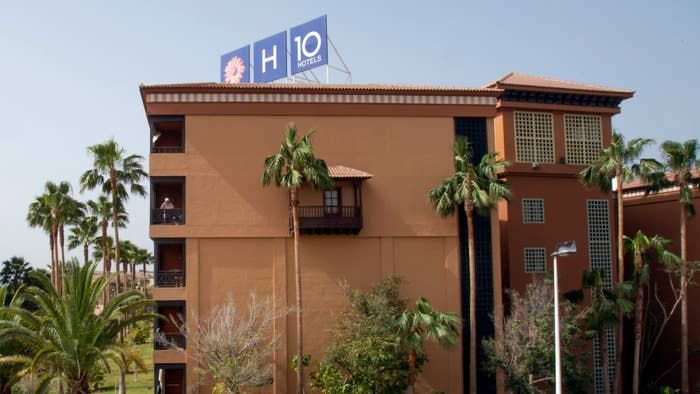 Hundreds of guests at the H10 Costa Adeje Palace Hotel in Tenerife received a letter on Tuesday asking them to stay in their rooms after a visitor and his wife tested positive for coronavirus, BBC reports. "We regret to inform you that for health reasons, the hotel has been closed down," the letter reads. "Until the sanitary authorities warn, you must remain in your rooms." 
One guest, John Turton, told the BBC that he heard people walking outside and heading to breakfast after the letter was slipped under their respective doors. While the hotel, which has 467 rooms, appears to be lenient with allowing their guests to roam the resort and visit the pool area, they are not allowed to venture outside as police are reportedly stationed around the premise to prevent anyone from entering or leaving. 
"We are not calling it a quarantine, we are monitoring and undertaking health checks on all people that might have had a contact with the coronavirus patient -- that includes people from the hotel, not all of them," a spokeswoman for the Canary Island health department told CNN.
The coronavirus patient is an Italian doctor, who hails from the town of Lombardy, one of the most infected regions in Italy. He had reportedly been staying in the hotel with his wife for six days before being transferred to the University Hospital Nuestra Señora de Candelaria to undergo a second test to confirm the initial diagnosis. His wife was taken to the same hospital. 
CNN reports that as of Tuesday, Italy has 322 confirmed cases of coronavirus with 212 coming from Lombardy alone. Authorities said that 11 people have died so far.