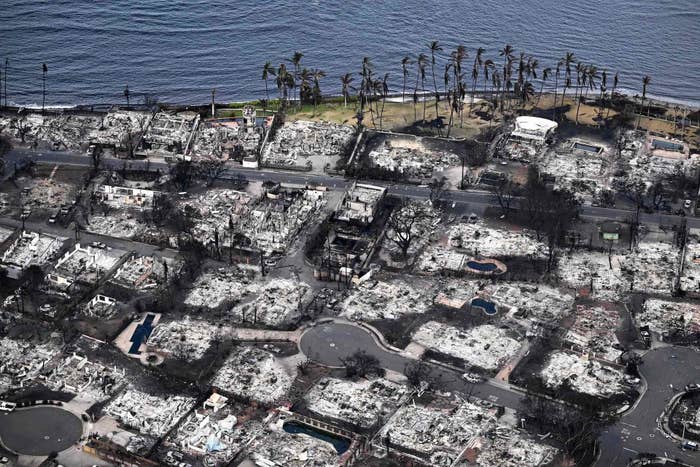 UPDATED 8/13, 12:10 a.m. ET: The official death toll of the tragic Maui wildfires has risen to 89, with that number expected to rise. It is now the deadliest U.S. wildfire in over a century.
According to Associated Press, emergency workers are making their way through the debris, marking spots with a bright orange X after doing an initial search and an "HR" if human remains are found.
Governor Josh Green said, "It will certainly be the worst natural disaster that Hawaii ever faced. ... We can only wait and support those who are living. Our focus now is to reunite people when we can and get them housing and get them health care, and then turn to rebuilding."
Maui Police Chief John Pelletier said two of the 89 victims have been identified so far, adding that it has been difficult to identify the bodies because the charred remains fall apart upon being picked up.
"When we find our family and our friends, the remains that we're finding is through a fire that melted metal," Pelletier said. "We have to do rapid DNA to identify them. Every one of these 89 are John and Jane Does," he said. "We know we've got to go quick, but we've got to do it right."
86% of the over 2,200 affected buildings were residential, adding up to over $6 billion in damages.
UPDATED 8/11, 12:30 a.m. ET: The official death toll amid the devastation in Maui has risen to 53, though more fatalities are expected to be confirmed.
At a press conference on Thursday, Maui Police Chief John Pelletier said, "We don't know how many people are dead...we just don't know. Right now we have a scar on the face of Maui that will be there for a very long time. Scars will always be there but they will heal."
The Honolulu Star-Advertiser reported that Pelletier "asked for residents' patience in re-entering devastated Lahaina."
"Understand this: Lahaina Town is hallowed sacred ground right now because our iwi are in that ground," the police chief told media. "We have to get them out. We will get them out as as fast as we can. But I need your patience while we do this."
See some more updates and images via social media below. If you're looking to help, consider donating to Hawai'i Community Foundation's Maui Strong Fund and Maui United Way's disaster relief fund—and, to be frank, not vacationing in Hawaii.
UPDATED 8/10, 11:12 a.m. ET: The wildfires in Maui, Hawaii have now claimed the lives of at least 36 people.
Per CNN, Maui County officials have confirmed that the number of confirmed deaths has risen as the fires have continued to devastate the region. "As the firefighting efforts continue, 36 total fatalities have been discovered today amid the active Lahaina fire," officials said in a news release. "No other details are available at this time." The figure does not include those who remain unaccounted for.
Cell service in Maui is still down for thousands of people and officials have been utilizing satellite phones to communicate with providers in an effort to restore power. Meanwhile, over 11,000 customers are without power according to PowerOutage. Airlines are helping with the efforts to get people off the island by dropping fares and increasing service.
See original story below.
At least six people have been killed by powerfully destructive wildfires in Hawaii.
Maui County Mayor Richard Bissen confirmed the current death toll, as reported by CNN. NBC News writes that "at least 271 structures have been damaged, destroyed or otherwise impacted" in the town of Lahaina, and the Associated Press reports 20 hospitalizations.
According to USA Today, Acting Gov. Sylvia Luke said the island had been preparing for a nearby Category 4 Hurricane Dora, but never foresaw the arrival of the wildfires that ravaged Lahaina and Kula.
"We expect rain, sometimes we expect floods," Luke said. "We never anticipated in this date that a hurricane which did not make impact on our islands would cause these type of wildfires."
Hurricane Dora brought strong wind gusts of around 60 mph, which contributed to the impact of the fires. Bissen mentioned that it's difficult to determine the extent of damage, but he can confirm the blazes have already burned several structures "to the ground."
One structure destroyed was the Baldwin House, the oldest house in Maui, said to have been built between 1834-35.
"I heard the first explosions of the gas stations exploding, and then I saw the black smoke a couple streets away, and within half an hour, we were out the door," Claire Kent, a resident of Lahaina, said of the fast-moving flames. "I was at a friend's house. I didn't even go home, I didn't have anything with me."
Kent said the fires reached the end of the neighborhood within an hour.
Over 2,100 people are being housed in four different shelters, while another 1,800 people were stranded at Kahului Airport. Luke noted that the wildfires have knocked out phone service, preventing people from contacting authorities or even their loved ones. It will take days, or even weeks, to repair the cell towers.
Bissen and Luke signed emergency proclamations that will allow for the Hawaii National Guard to help Maui officers, but also discouraged tourists from making their way to Maui during this difficult time.