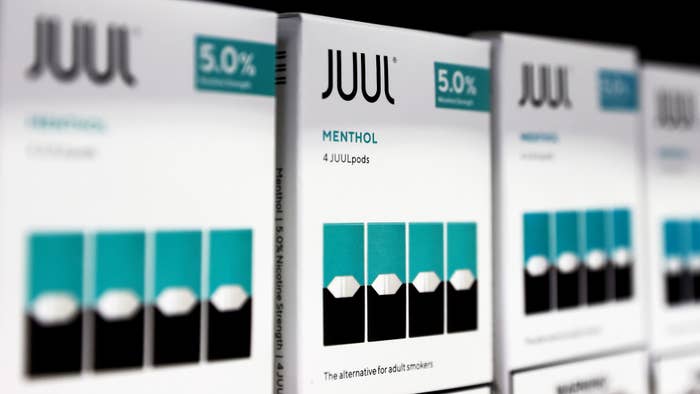 Juul Labs reached a $462 million settlement with several states, including New York and California, on Wednesday, stemming from lawsuits accusing the company of aggressively targeting young people and providing misinformation about the e-cigarettes.
As reported by the New York Times, California—which is expected to receive the biggest portion of the settlement with an estimated $162 million—claimed in its lawsuit that Juul failed to mention anything about its devices containing nicotine in its advertising. New York Attorney General Letitia James mentioned during a press event today that Juul "falsely led consumers to believe that its vapes were safer than cigarettes and contained less nicotine." 
James said New York will get nearly $113 million from the settlement. The remaining sum will be split between Colorado, Illinois, Massachusetts, New Mexico, and Washington, D.C.
Juul has reached financial settlements with 47 states and territories, as well as over 5,000 individuals, totaling almost $3 billion. The company previously agreed to pay $438.5 million to 33 states following a two-year investigation spearheaded by Connecticut, Texas, and Oregon. Juul also came to terms on a $40 million settlement with North Carolina in 2021 over its marketing practices toward young people.
Juul remains in a legal battle with Minnesota. 
Juul spokesperson Austin Finan said its latest settlement didn't include an admission of wrongdoing, even though the FDA identified use of the product among teenagers as "an epidemic" in 2018, and resulted in the company's then-CEO Kevin Burns issuing an apology to parents. 
"The terms of the agreement, like prior settlements, provide financial resources to further combat underage use and develop cessation programs and reflect our current business practices," Finan said. 
As part of its settlements, Juul cannot advertise to young people, must steer clear of using product placements in virtual reality devices, and refrain from offering free or "nominally priced" products to individuals.