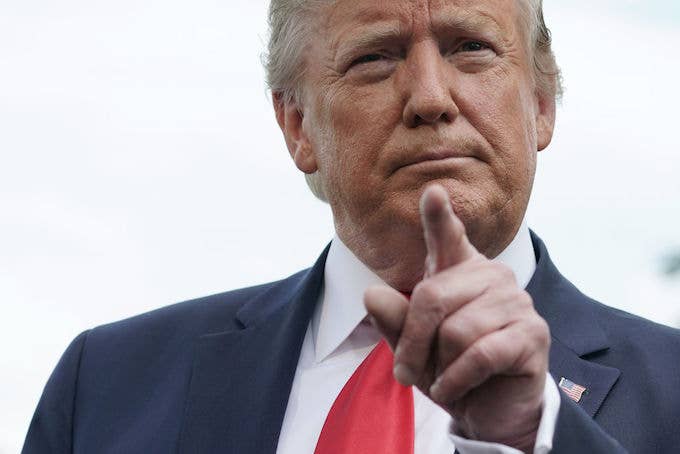 In her cover story for New York Magazine, renowned author and advice columnist E. Jean Carroll details the sexual assault she allegedly suffered at the hands of President Donald Trump in a Bergdorf Goodman dressing room over 20 years ago. 
In 1995 or 1996, Carroll, who at the time was hosting the daily talk show Ask E. Jean, was shopping in the esteemed department store when she ran into then-New York real-estate mogul Donald Trump. "'Come advise me,' she recalls him telling her. 'I gotta buy a present.'" As she's walking through the various sections with him, they make their way towards the intimates when he insists that she try on a piece of lingerie. Although she attempts to light-heartedly derail his advances, she ultimately agrees.  
"The moment the dressing-room door is closed, he lunges at me, pushes me against the wall, hitting my head quite badly, and puts his mouth against my lips. I am so shocked I shove him back and start laughing again," she writes. "He seizes both my arms and pushes me up against the wall a second time, and, as I become aware of how large he is, he holds me against the wall with his shoulder and jams his hand under my coat dress and pulls down my tights." Carroll then details how he managed to get inside her. After she managed to escape his forceful grasp, she ran out of Bergdorf's and onto 5th avenue. 
As she notes in the article, which is an excerpt from her latest book What Do We Need Men For? A Modest Proposal, Trump's fans will likely read the story, which is one of many in the catalog of sexual assault allegations lodged against him, and applaud their president for wielding such power.  
"His admirers can't get enough of hearing that he's rich enough, lusty enough, and powerful enough to be sued by and to pay off every splashy porn star or Playboy Playmate who 'comes forward,' so I can't imagine how ecstatic the poor saps will be to hear their favorite Walking Phallus got it on with an old lady in the world's most prestigious department store," she wrote. 
Carroll is one of  several women who have accused Trump of sordid sexual misconduct. Despite the numbers indicating otherwise, the White House has denied Trump ever sexually assaulted anyone. In response to Carroll's allegation, his office issued the following statement: "This is a completely false and unrealistic story surfacing 25 years after allegedly taking place and was created simply to make the President look bad."