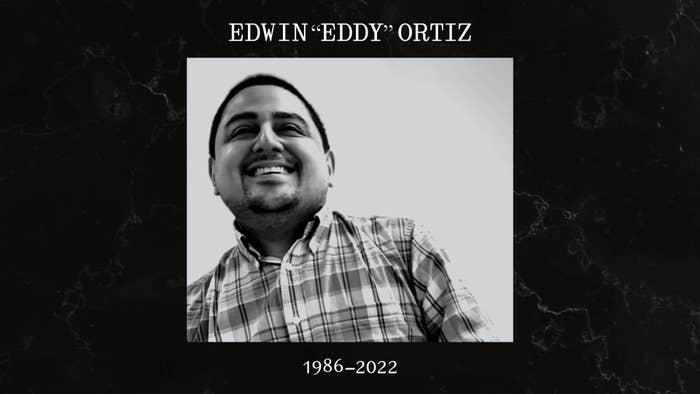 If you've ever read a news post on Complex.com since 2014—and there are millions upon millions of you—chances are that it was assigned, edited, or written by Edwin "Eddy" Ortiz. It is with an extremely heavy heart that we bid farewell to Eddy, who passed away of natural causes earlier this month. As Complex's news director for many years (before his recent promotion to editorial strategy director), Eddy was the unflappable conductor of our website, making sure the trains were always running, and always on time—and there were a lot of trains. Eddy never buckled under pressure, nor forsook his responsibility to grow what eventually became an essential news operation. We will all miss him, dearly.
Of course, Eddy was much more than his job. He was a beloved son, brother, and uncle; a passionate fan of John Mayer(!); an Air Max enthusiast; a lifelong Seahawks diehard. Growing up in a suburb of Seattle, Eddy first fell in love with New York on a trip to the city with the Mountlake Terrace High School jazz band, for which he played clarinet and saxophone. His love for media developed at the University of Washington, where, after a stint in business school, he pivoted to journalism and wrote music reviews for The Daily, UW's newspaper. After graduating from college, Eddy freelanced for Complex before joining the staff full-time in 2014.
Since then, Eddy became a true unsung hero for our brand. With Complex's full shift to digital publishing during his tenure, and with how much news drives our web traffic, I'd say he's contributed as much to the company's success over the past decade as anyone. Though he never did his job for the plaudits, I wish I could've told him that more often when he was here.
But I'll remember Eddy the person more, because his impact on the company reaches far beyond his work contributions. Here, Complex colleagues past and present share their memories of Eddy. We love you, man. You'll always be with us. —Donnie Kwak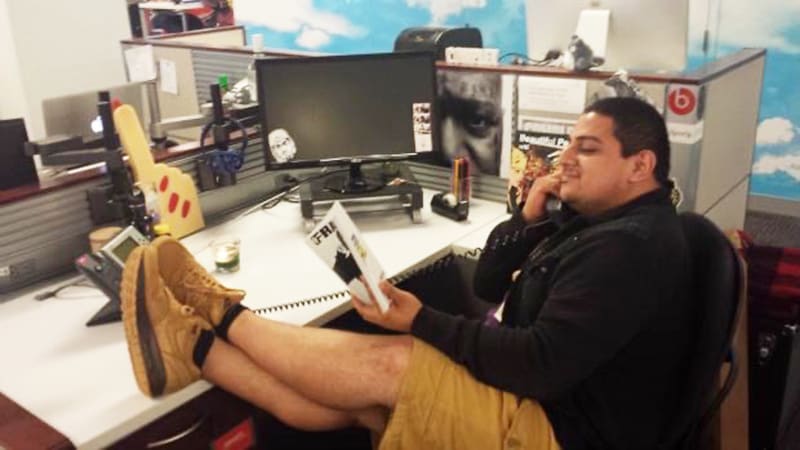 As I look back at Complex through the years, my fondest memories are of the "edit bullpen." We're all lucky that since 2014, Eddy was a centerpiece of the bullpen. He was someone who had all the answers and a level of patience to never demand that I learn how to rip audio into z-share when someone, like Cudi, would send us songs to premiere. I was reminded of how many people loved Eddy this past week, talking to past and present employees of Complex and how much of a thread that binds us all together he was. This place has always been about the people, and there was no one better than Eddy. —Joe La Puma
- 
Ask anyone who ever worked in the Eddy era of Complex—he was a legendary team member and the best co-worker you could ask for. It wasn't just about his skills, knowledge, and work ethic, but he had all of those in excess. The traits that made Eddy an exceptional co-worker are the same as those that made him a great human being. He was genuine, kind, funny, caring, and constantly supporting others, without expecting credit or favors in return. Eddy played an enormous role in building Complex, while endlessly uplifting everyone around him. All of us who had the chance to work with him and know him are better off because of it, and that kind of impact resonates forever. —Jacob Moore
-
Edwin Ortiz joined Complex during the second half of my time at the company, and he quietly made himself a pillar within the bullpen, respected by everyone in the organization. Having Eddy running our music news coverage was like having an all-pro offensive lineman on our team. He was at the front, day in and day out—on top of an unrelenting news cycle and managing tenuous relationships with every publicist (who often, and occasionally loudly, would let me know he was the *only* person at Complex that would reliably respond to them). It was not the flashiest position, but you never would've known that from Eddy's engagement and enthusiasm. His work was absolutely essential to the company's success; he added on knowledgeably and constructively to every cover conversation or list debate, and repped every team W as his own. Honestly, he should have, because every team W only happened because of his foundational efforts that made them possible. And then there was his intangible contribution which I'll remember most—his smile. Eddy had a genuine smile that just beamed positivity, and more than a few times just being met by that in the bullpen or the hallway was enough to reframe my day. I feel fortunate to have had the opportunity to work with Eddy, and more so, grateful to have known him. —Noah Callahan-Bever 
-
It pains me to recall that the first time I edited Eddy, I doubted him. But I started my career at Complex not knowing what I was doing, despite my strong opinions and judgements; I was wrong about Eddy. There have been bigger personalities that thrived at Complex, names that ring more bells with a wider audience, but Eddy exemplified the publication's best qualities: curiosity, occasional irreverence, knowledge, genuine love for music, and a deep understanding of what the brand stood for. As far as I know, he is the only KTT moderator who nearly became a cop but through rap blogging rose to the position of editorial strategy director at a major cultural outlet instead. Complex needed Eddy.
I started as an intern in 2011, and in 2016 began leading music coverage at Complex alongside Brendan Klinkenberg, Frazier Tharpe, Zach Frydenlund, and of course Eddy—to this day, the most fun, exciting, and close-knit professional experience of my life. By this time, thankfully, I no longer underestimated Eddy. In fact, I depended on him; he told me what I needed to do as I stepped into the role. Beyonce released Lemonade and we snapped into action over a breathless weekend that left Chartbeat booming. Back in the office that week, the first order of business, per Eddy, was editing a beautiful, very literary rumination on the project from Lauren Michele Jackson. It could have appeared in The Paris Review but Eddy had it on deck for us.
Eddy was unflappable, a peacemaker. Childish Gambino put out Awaken, My Love at the end of the year and I panned it. Meanwhile, Eddy listed "Baby Boy" as his fifth favorite song of 2016. Some months later, Gambino's manager Fam came to the office to play music from another artist he worked with. Eddy corresponded with Fam, had maintained that relationship for a while, and I was nervous, unsure of what to expect. The reaction to my admittedly strident review had been harsh, but Eddy assured me the playback would be cool. In the conference room that afternoon he introduced me to Fam and it was civil; we dapped, Fam told me he knew who I was in an unambiguous way, and that was that. Nobody can tell me that Eddy didn't lay the groundwork for that. Eddy kept all of us calm. 
One particularly difficult day at the office, I stayed late talking with one of my bosses and mentors, Jack Erwin. Some drinks and tears later, we crept out of his office well past 7:30 pm. The bullpen was empty save for Eddy, who was sitting up straight at his desk, working. He had the most impeccable posture. Seeing him there, I felt like everything would be all right. —Ross Scarano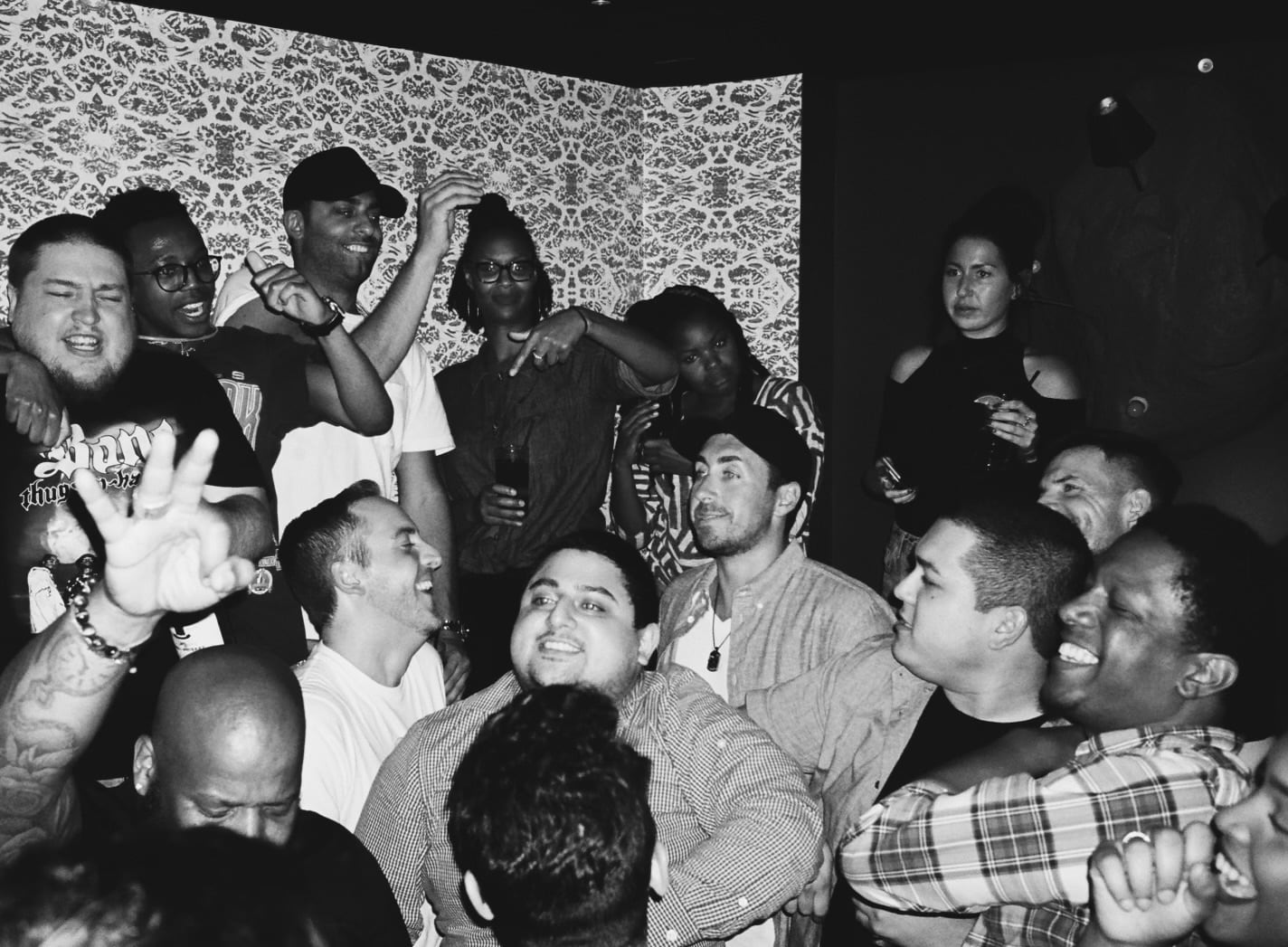 You so rarely get an editor or manager who works to understand and accommodate you, nurture your career, and gracefully carry the role of Leader Who's Gotta Kindly Show You Where You Messed Up (At Least Minorly) On an Ongoing Basis. Eddy aced these and architected the exceptional news editorial operation we are today—largely remotely, a strange art we're all learning on the fly, at which he compassionately excelled. He shared with me many times the appreciation, pride, and respect he had for us and our growth, and the comfort he took in seeing us keep things flowing when he was away. I was eager to see his future accomplishments, and share mine with him. Way, way beyond any of this, I can't imagine how tremendously much Edwin Ortiz means to his loved ones and family outside work, and my entire heart goes out to them. —Zach Dionne
-
Edwin was kind, sharp, patient, and always there for you. I respected Edwin, his leadership, his vision, his guidance. He was a mentor to me. Whenever I went to Edwin with an issue, he hit me back with a thoughtful answer. Before he passed, I was set to have a few days off of work, and the last thing Edwin said to me, unprompted, was that he had me covered. That's who he was. He had you, always. RIP, Eddy. —Abel Shifferaw
- 
There has seldom been anyone in the history of blog posts more reliable than Eddy was. There has never been anyone in the history of this company as attentive as he was—fixed posture, always at his desk, always calm. He kept his head down in the work, although the top of it was usually visible from over a computer screen across the bullpen. Eddy was a rare colleague that always had the answer, always did the work, and always made you feel you were in capable hands. —Brendan Dunne
-
I've never met someone who genuinely cared more about the work others were doing than Eddy. Anytime you told him what you were working on, he'd be one of the few people to listen with an interested ear. I'm going to miss seeing him around the office and him being excited to talk about his umpteenth pair of Air Max 1s. I saw him last at ComplexCon, dancing to the Clipse, going bar for bar, then asking him about his new Air Maxes, and his response, in true humble Eddy fashion, "You know, a little something light." —Matt Welty
-
I first met Eddy Ortiz in 2016, when I sat next to him on my first day at the Complex offices. He seemed like the only calm person in the entire building, and answered every question I had without taking his eyes off his computer screen. I didn't know it at that moment, but Eddy was probably keeping the entire site running single-handedly. He got more animated when we started talking about rap music. For the next six years, we never really stopped talking about it. 
After sitting down at that desk, I had the immense privilege of working closely with Eddy. He was the hardest worker I've ever met, someone who took so much pride in his work that he never seemed to get tired. He was also someone who loved music in his bones, who loved being in New York and being able to go to concerts as often as he wanted, who still seemed excited that he got to do this for a living. He was an incredibly kind person, and, once you got to know him, one of the funniest. 
As we became friends, I learned that Eddy was the best person to shut down a party with, and to get advice from. Usually at the same time. In 2018, when I was about to leave Complex, Eddy was at my apartment after a party that had long since ended. I told him I was nervous about leaving, about trying something new. I was worried I wasn't very good at my job, and that eventually I would be found out. Eddy listened to me talk for a long time, then cut me off. He told me I was wrong. That he was excited to see what I did next. And that he'd help me out, too — he told me I could always text him for an industry contact or to talk about a story idea. After that conversation, I wasn't so nervous. It was easy to believe Eddy. 
It sounds small, but the thing I miss most right now are the texts. Some of my best friendships are from one group chat — with Ross, Zach, Frazier, and Eddy — that I joined when I first moved to New York and started working at Complex. Since then, we all got new jobs, moved to new apartments, to new cities. But the chat persisted. Even though I didn't see Eddy every day once we stopped working together, I still got to hear his shockingly dark jokes, music industry gossip, and invites to John Mayer concerts that he was unfailingly attending even if none of us would go with him. I'll miss it all. But I am lucky, and grateful, that I got to meet him. —Brendan Klinkenberg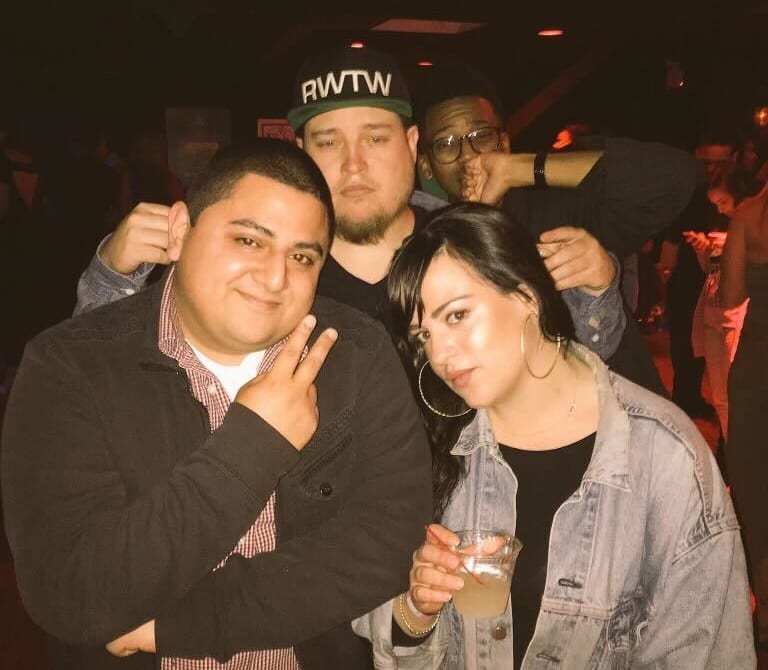 When I learned our friends hadn't heard from Eddy in a few days, I did what Eddy would do: I started a deep internet search to find out everything I could. He was my right hand for the entirety of my career at Complex. I thought I was a pretty good news blogger until I met Eddy, our wide-eyed editorial intern turned editorial strategy director of Complex. Now that's a come-up. 
Eddy started interning for Complex Music in 2012. He'd already written for HipHopDX, was in a Tech N9ne music video, and was a moderator on KTT—that, frankly, was the selling point to me. It's important to note that Eddy studied journalism; he loved music and he cut his teeth in rap blogging but he was a true journalist. We became a dynamic duo, journalists-turned "random bloggers"-turned music aficionados-turned close friends.  
But back to the story: KTT was where we sourced so much of our content back then. Long before the days of Kanye loving Hitler, we used his fan forum to track conspiracy theories, potential release dates, and any tips on Kanye news. It was, effectively, more useful than trying to get a quote from Gabe T. We weren't always right but most of the time we were, like when we hacked the back end of Kanye's website in 2013 to track Jodorowsky's influence on Yeezus and found Ye's inspiration files in the HTML code. Def Jam and much of Universal Music learned to lock the code on websites, thanks to mine and Eddy's sleuthing. And that was the thing I loved the most about Eddy: Complex, as we know it, wouldn't have existed without him and his work ethic. Sure, you may have not seen him write all-caps inspirational posts on LinkedIn or brag about his bylines on a podcast, but those who know, know.  
Our dynamic duo/odd couple friendship and working relationship grew over the years. We lived close, shared a lot of the same friends, loved Marlboro Light 100s, drank just about anything (including free bottles of E&J and a plethora of Lime-A-Rita's flavors, shoutout to whoever sent us a case we kept at our side-by-side desks). In fact, I can't even off-hand remember the best show we went to together because we were out. Every single night. After work. Unless he was adamant about "just taking it easy tonight" once a week. Eddy was just always down for anything—and he never let the perils of working in the music industry get in the way of his love for music. It's why when we fought over him posting Lido or Zedd to a rap blog like Complex at the time, he always got his way. How can you say no to someone who tells you why they love the music they post so much even if you know it won't make a dent on Chartbeat? I mean, we're talking about anyone from Odesza to Haim to fucking Steeley Dan. In Eddy's words: "Yacht Rock will never die as long as I'm alive."
To this day, if I met a young writer who wanted to pick my brain about getting into the industry or wanting to write I funneled them immediately to Eddy. He probably got annoyed sometimes to get so many emails starting with "Lauren said to reach out to you…" but it's because I trusted him, that he would give them the advice and guidance they needed. Like he did to me, even in my lowest moments. I can just remember him quietly accompanying me for a cigarette break and saying, "I figured you just needed a friend right now." And he was one of the best of them. He was an anchor to my career and an anchor in our small but mighty group of friends who navigated the industry and grew up together along the way. He was just happy to be here, in New York, and living his dream. I can't imagine how much the world will miss out on without him here. Peddy, we love you. —Lauren Nostro 
-
A true mark of how close you are with someone is the amount of inside jokes you shared—a shorthand few others can translate. Since Eddy passed, I've been caught off guard at just how impossible it's been to take my mind off of it for a moment. We had a million. We had the same taste in saccharine pop music. I see reminders everywhere I turn, every other song on shuffle, and laugh until I remember they'll never hit the same again. (Every sad 1975 song we loved just became unfathomably sadder.) 
But I guess it's natural considering we sat right next to each other at Plex for like 4 or 5 years straight. We were neighbors for that long in part because any time we changed offices or floors or I'd legit harass people who had far more important things to do to make sure the new seating chart kept us together. Thinking back, I'm not sure why I insisted on it—maybe I knew Eddy would put up with my weirdo idiosyncrasies, of which I had (have) many. But it was also because his dedication was infectious… how could anyone not strive to give at least 100, watching him give 120 daily? I remember, during those times Upscale Vandal would pop out in the bullpen at the Time & Life building and we'd all ham it up for his Snap, he'd always zoom in on Eddy—unflinching, locked in on whatever task was at hand—and declare him the backbone of the Complex operation. True words. And sure, everyone will say what a dedicated hard worker Eddy was and how he was a great good-hearted guy who always looked out for his co-worker and treated everyone with respect. He was a vital organ to the operation and, as changes subsumed the company, a vanguard. 
But that wasn't what made him a delight to sit next to for 40 hours a week. Eddy was fucking hilarious. I had him fucked up at first—Chopz can attest we butted heads a bit when I succeeded Eddy on running the Complex Music Twitter account. It was something he took seriously and I basically just…tweeted like I was on my personal. But he saw what I was trying to do with it and I learned invaluable lessons from him… and,  more importantly, I picked up on his incredibly dark sense of humor. I mean, pitch-black (hence Lauren's "Peddy" nickname). In group chats and in person, Eddy would just casually lob a dry one-liner that would make me do a double take at how reckless it was and laugh out loud at the same time, or come through with by far the funniest, shadiest comment on whatever we were airing out. In turn, I used to lowkey pride myself on the times one of mine would make him break his usual poise and actually crack up in full on unrestrained laughter (or get the coveted "lmfao" in the gc). 
I thought we did our best to see each other regularly since I left. Now I know it wasn't nearly enough. —Frazier Tharpe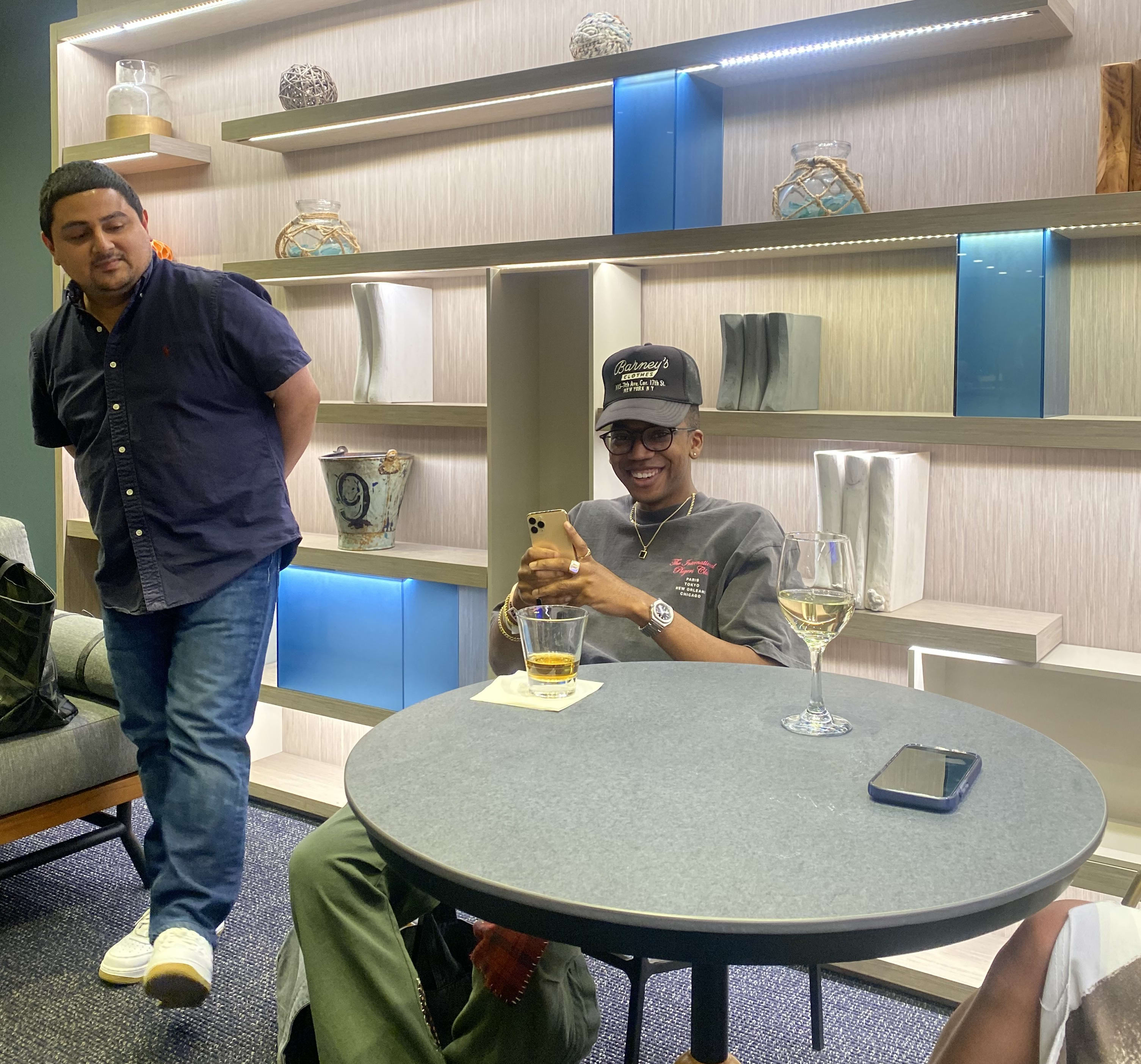 Eddy wasn't just a coworker, he was also a good friend. We worked together for a long time and talked almost everyday, especially the last four years or so. I'll remember all the late nights we had at the office with the latest rap releases blasting and the Henny flowing as we finished up our work for the day (he knew what time it was when I pulled out the Henny satchel).  I'll remember all the shows and parties we hit, whether it was for work or not. I'll remember how you always knew he was faded when he pulled out a cigarette and did some dance moves. He was just a good-hearted person that liked to have a good time. I'm not sure I ever saw him upset about something. That was Eddy, always neutral, always positive, and always chill. Gonna miss him in the group chat. We'll always have Henny Wings, bro, rest in peace, my brother. Condolences to his family and friends back in Seattle. —Angel Diaz
-
Every open office plan is a game of musical chairs, but for my two years at the music desk, I sat consistently facing Angel, Lauren, and Eddy. I can't overstate the volume of the critical arguments conducted at this desk. We were solving hip-hop over there. It was happy but unruly. The dynamic here turned Eddy into a moderator at a presidential primary debate, constantly. Someone would be scrolling Twitter and suddenly spouting some pent-up pronouncement about Drake or, I don't know, Rich Boy. Eddy would grin while clearly holding a thought, rubbing his hands together, baiting the take to its maximally stupid conclusion, preparing to control the crosstalk with counterfactuals and clarifications, making us think a little sharper and sound a little smarter, frankly, than we did at the start, as the provocation escalated into a loud Socratic fiasco for the rest of the day. And y'all thought we were annoying on Twitter. Eddy got the worst of us and the best of us, and yet, we only ever got the best of him. I miss this, and I miss him, and I can't imagine the desk will ever be the same again. —Justin Charity
-
Eddy and I started working at Complex around the same time as Editorial Assistants for the Music and Style teams, respectively. In the eight years since, I've always known him to be a hard worker, often the voice of reason, a calming presence. He never looked fazed, even when he became the Music news editor and later news director for the entire site—and anyone who works in media knows the news cycle is an unrelenting beast, and Eddy tamed it day in and day out for us for many years. I still wonder how he did it. I remember joking with him recently that, to this day, we probably still have PTSD from writing up 75-word posts on Drake's new song or whatever fashion-related thing Kanye had at the time five minutes after it dropped. (Anything longer than that and you were late.) But Eddy never complained, was always happy to help the team, and truthfully did a lot of the most important work at Complex. 
Since Eddy's passing, I've been looking at old photos and videos of a few of us at the 50th Street and 43rd Street offices. It didn't matter if Chopz, Frazier, Amaya, Angel, Jinx, or I were talking shit to each other around our desks, Eddy would be sitting next to us—perfect posture and all—in his signature short sleeve plaid shirt (usually in blue or green) editing or publishing whatever important news had to go up at that moment. Occasionally, he'd look up, shake his head, and laugh. Eddy always held it—and us—down. 
But don't get it twisted: Eddy also had a special sense of humor and always lit up the room. His tweets (about Popeyes' $5 box, #OverheardIntheOffice, etc.)? Classic. His dance moves at Enid's/Kinfolk/Judnick's "Versus" parties? The best. Going bar for bar to a Jay-Z song with Angel, Damien, and Frazier? Always put a smile on my face. One Halloween, he pulled up to Ross' party dressed as one of the LEGO guys. I remember thinking, "Who the hell is that?" when he walked in. Eddy took the yellow LEGO mask off and laughed… and later danced—in full costume —to Pretty Ricky's "Your Body." We love you, Eddy. —Karizza Sanchez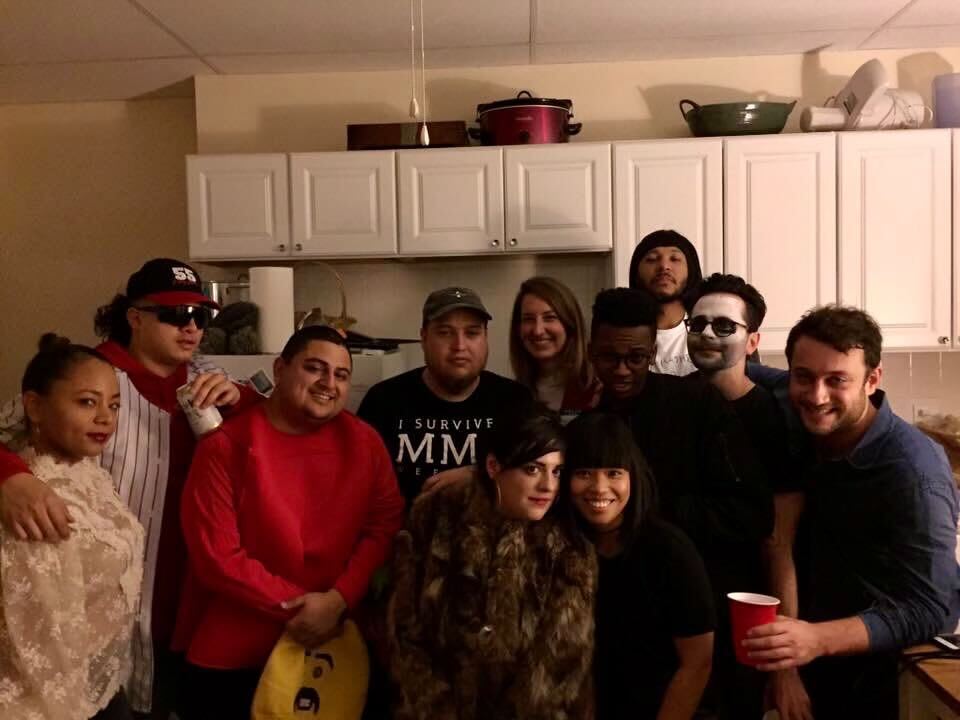 Eddy was a lot of different things to a lot of different people, but to me, he was a lighthouse in a tumultuous year full of uncertainty. He was Complex through and through, a calm and steadfast leader and friend to everyone he worked with. He grounded us, full of unwavering resolve and trust that it was going to get done, simply because he had it covered. And Eddy? He ALWAYS had it covered. —Aia Adriano 
-
As writers, we're forced to grow accustomed to being told "no," so much so that when a yes comes along, it's easy to start inventing ways to question it. Of the few yes's I've had the honor of encountering, it's hard to imagine one as consistently (and multifacetedly) impactful on my life as Edwin Ortiz. Eddy's been a constant force at Complex since I started in 2015, and our respective trajectories here have felt closely intertwined ever since. A colleague recently told me we were "cut from the same cloth," and I wish I'd more frequently (and more loudly) acknowledged that during our work together. We were in the trenches, often tasked with making sense of the unthinkable in the bowels of this American shitshow, yet Eddy always led such efforts with an admirable sense of grace. But more than that, and this is where my heart has remained since hearing he passed, Eddy inspired me on a deeply personal level as someone who years ago took a leap and not only landed on his feet, but brought his dreams to vivid life in the process. I could go on, but in Eddy's honor I'm going to cap this at exactly 250 words. But first, a memory: A few years back, Eddy—aware of my oft-annoying level of blink-182 fandom—surprised me with an early link to a then-new album from the band. Here is a track from that record I've been returning to a lot as of late: "Happy Days." —Trace William Cowen
-
When I was promoted to my current position and learned I would be able to hire a counterpart, I immediately knew I wanted Eddy to be my teammate. I had always been so impressed by how he was able to juggle so much and do it in the most calm, kind, and professional way. Eddy and I never had any long personal conversations—he was mostly quiet and focused on his work—but I got to know him even more when we were interviewing job candidates together. It was during those Zoom chats with other editors and journalists that I connected with Eddy. I learned about his views on media, music, and Complex, a brand he was so fiercely dedicated to. He also helped me navigate the choppy waters that come with stepping into a big, new position. He was my work rock. The ultimate supporter. Always there to answer any question I had or help me make a decision. I trusted him. I respected him and I knew he wouldn't lead me astray. I don't think I understood how much he stabilized me until he passed. And I miss him dearly. But as with most bright lights, their time on this earth is often cut short. And I know he's off on his next mission, still being that calming force who makes everyone else feel a little more secure. —Aria Hughes
-
I could always count on Eddy. If something went wrong in the middle of the night, he would pick up the phone and sort it out. If morale was low, he would send a meme about Nav or crack a deadpan joke and make everyone laugh. (Eddy had a hilarious sense of humor; just read the first two questions he asked The Weeknd's producer during one of his first big interviews.) He was always the first person at the office every morning, and a lot of nights, we would stay after everyone else left, playing music way too loud by his desk and talking about life. Those are some of my all-time favorite memories, and I'll miss those nights dearly. Complex wouldn't be what it is today without Eddy, one of the hardest-working people I've ever met, and I definitely wouldn't be who I am today if it weren't for everything I learned from him. —Eric Skelton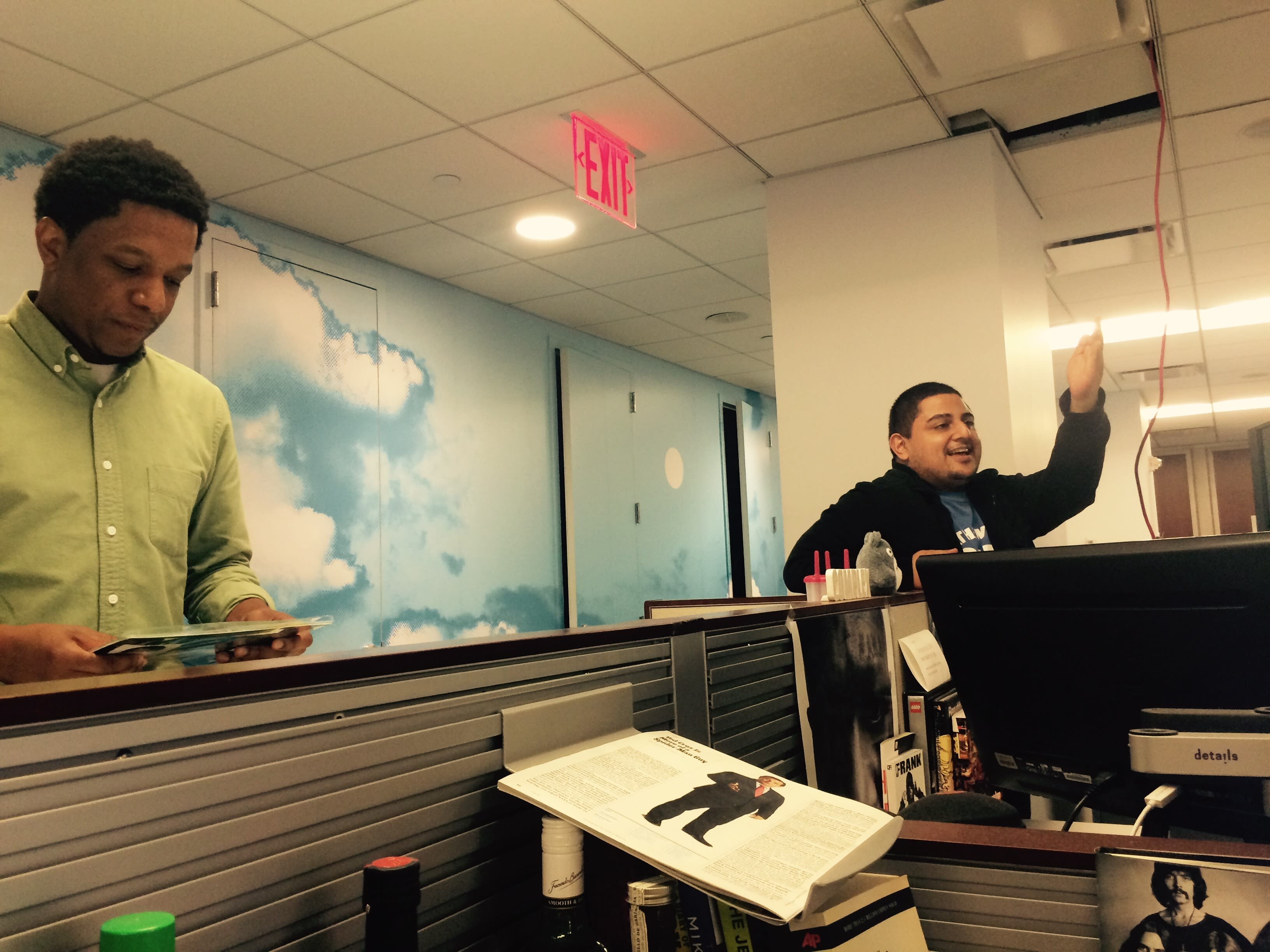 I would walk over to the new bullpen at the 43rd Street office to see who would just talk with me, literally about anything. I missed sitting near the action. I got fixated on going to Red Lobster, which was just a block away from the office. "When are we going to Red Lobster?" I would say into the ether. Incredibly, it happened one night after work. Eddy had heard me; Eddy was always listening. We went to Red Lobster—me, Jacob, Eddy, and Angel. The food was pretty average, but it was so great to just be at dinner, the four of us. I believe Eddy is still listening, wherever he is, and I want him to hear this: we will miss you. —Sarah Honda
-
Though I don't remember what year Eddy and I actually met, I can't remember a time at Complex without him. Over my many years in the Edit bullpen, Eddy was a constant. Always a much needed calm amid the chaos, always there to help others. He gave all of himself to Complex, one of the first people to arrive in the morning and most often the last one out the door. I remember seeing him at his desk after 6:30 p.m. or 7 p.m. and telling him to go home! He'd just laugh and play along, and then get back to focusing on whatever news piece he was editing or helping his team of freelancers tackle the night ahead. Over the years, he helped hundreds of freelance writers improve their craft and really build their careers. He's had such an enormous impact on so many people. Saying that he will be greatly missed feels like an understatement. I remember when we moved offices, I was in charge of the seating chart and people would try to sneak a peek and try to influence the seating arrangement. People would fight over sitting next to Eddy. He had the kind of energy you just wanted to be near. With any luck some of his calm, cool demeanor might rub off on you. He had endless patience and was so humble. He was one of the kindest people I've ever met. Complex wouldn't be what it is today without him. Nor will the people he met along the way—we are better for it. —Ashley Strang
-
Eddy was my desk mate during my time at Complex. One of the first faces I saw everyday for years. And I have to say, Eddy's being confused me. He was the backbone of that place. He kept the lights on, kept the boats afloat, and was often one of the last people to leave the office. It can't be overstated how important Eddy was to so many of us. But I'd always wonder how he did it, with not a single complaint or a desire for attention. But I realize some of us are just built better than others. And Eddy was built better than everyone. 
He loved music, he loved his people, and loved to have a good time. In return, Eddy was easy to love. He held you down, he would talk you off a ledge, he would party with you until the club turned the lights on—and somehow never miss a day of work. All of this while having the warmest spirit and the comedic timing of a tenured road comic. If you were working long hours, you were happy to be working alongside Eddy. If you ended up at the club, you were elated to see Eddy dancing when you walked in. If you were sharing an Uber and decided to hop out and blow $40 on Popeyes at 3 in the morning… Eddy was right there shaking his head in dismay, but also splitting the wings. He was who you wanted to be with, and who you wanted to be. 
To be that good of a person, that consistently giving—it still baffles me. But Eddy was a gift to all of us who got to know him. And who am I to question a blessing? I'm just left thankful to have known, laughed with, and shared a foxhole with Eddy. See you later my friend. We love you. —Brandon "Jinx" Jenkins
-
When Eddy got really passionate about something, sometimes he'd throw an arm into the air, sometimes two. These gesticulations usually occurred during a discussion of something totally unserious, conversations that would conclude with him closing his eyes and laughing heartily, which was enough to get everyone else going. He was a spreader of joy, never too cool to be kind or give you a smile, a secretly fierce dancer, an invaluable teammate, an insanely hard worker and a loyal, loving friend. Eddy was the kind of person who would show up for you, who'd hit you on your birthday, give you tips about how not to lose all your money on a Vegas trip and graciously field your random music questions over the years, even when you weren't working together. Eddy was a warm, wonderful person. I'm honored to have felt his glow, even for a little while, and I will miss him terribly. —Christine Werthman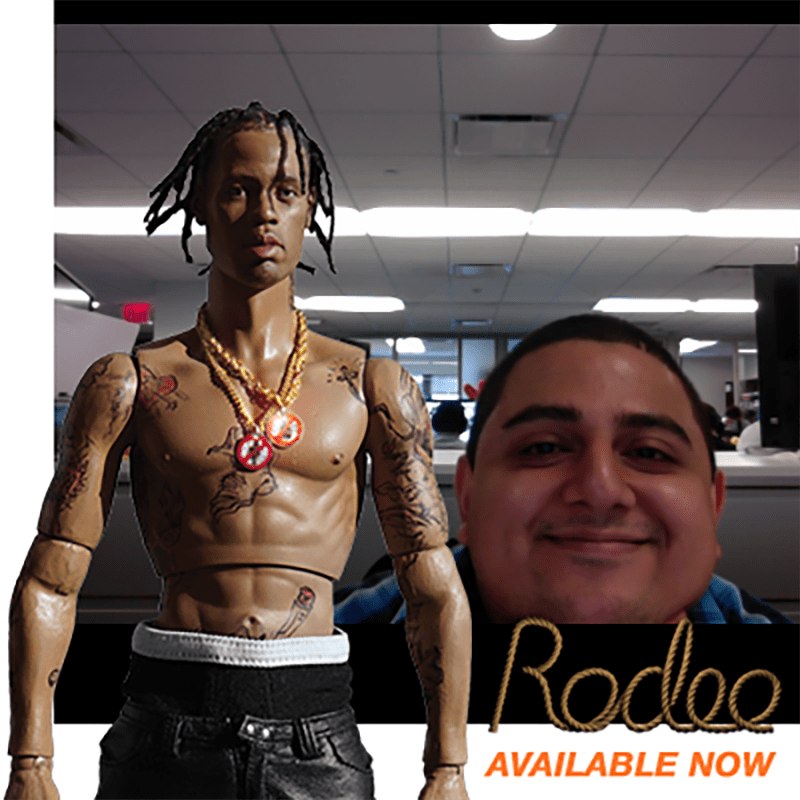 Eddy was the embodiment of kindness, helpfulness, and thoughtfulness. He was truly one of the good ones. And his work ethic? Unmatched. I don't know if I will ever work with someone more diligent or dedicated as he was to his career. Eddy is also the reason I've ever been to any concert in NYC. It got to the point where I wouldn't even have to ask him to get me tickets. I would walk into the office after someone announced a tour, make eye contact with him and he'd say, "Don't worry, I already reached out to so and so's label for you." A few weeks before he passed we were all in the office and I was working on a project with him, he was DJing as we worked, playing "Massive" by Drake. A few hours later, I had it on loop and told him that I couldn't turn it off and thanked him for putting me on (yet again!) He laughed and said "it's a vibe! I got you!" Smiling and talking music until the end. Edwin, you will be missed, you are loved and admired. Thank you for everything, especially the smiles. —Katherine Calvert
-
I'm handing in this blurb on Eddy a day late because he handed in his final blurb to me late, too (he wrote about Honestly, Nevermind for our AOTY list), and it's only fair. In actuality, though, what would be fair is none of us having to write this at all, and the truth is that fitting Edwin's essence into a paragraph or post has been a simply impossible task. Fair would be many more decades of the consistently kind, genius soul that was Edwin Ortiz. But life is often unfair and grief is a pure form of love—and we all know Eddy truly deserves all the love. In our short time knowing each other, Edwin taught me more about leadership than many have in years. A mentor and guiding hand to many, he accepted nothing but the best and had both an exquisite and indelibly chaotic music palette that made him the perfect tiebreaker for our music team discussions. I'll never forget standing behind Eddy at ComplexCon just a couple of weeks ago, feeding off of his quiet glee as he experienced one of his favorite artists live; he observed and took in music through a momentarily childlike lens that night, a reminder of the joy that this work can be. And boy did he love this work. Complex would not be the Complex it is today without Eddy, and it is an honor to continue that legacy, while listening to Pusha T followed by… naturally, The 1975. —Ecleen Luzmila Caraballo
-
It's hard to put into words just how important Eddy was to the day-to-day of Complex. As long as I have worked here, he was the go-to guy for so many things. From helping track down sources to lending his eye to my writing, he was always willing to take time out of his day to help, no matter how big or small it was. I wish I was able to let him know just how much all of his hard work and help meant to me. He will be dearly missed and Complex won't feel quite the same without him. Long live Eddy. —Mike DeStefano
-
Eddy was the most hard-working and reliable person I knew but beyond that he was a genuine, human being. I worked with him almost everyday in some capacity for four years straight in my first job ever and if there was anyone to model my attitude and work ethic after, it was him. This past year especially he truly helped me grow in an area I lacked knowledge in. I approached him repeatedly, maybe too much at times, asking for help and he was always gracious and willing to assist but that's who he was. I remember being the new kid on the block at Complex &  a couple months into the job, 23-year old me wanted to get some of my friends into Burna Boy's listening party. I asked Eddy and he didn't have to help me but he did. He told me he didn't even have the direct contact but out of the pureness of his heart, he searched around for me and made some calls to make it happen. That in itself told who he was. Even though he's gone, he's left an impact on my life and I will continue to carry what he's taught me as long as I live and hopefully I can impact others the same way he has. Rest in peace friend. —Zion Olojede
-
Eddy gave me the tools to become a better writer. Through the two years I worked with him on the news team, he was always the most reliable and quick-witted person on the team. He always knew what to do, what to say, and when to say it. I was in college when I started writing with news, and I had no clue what I was doing at first. Eddy guided me through it all, and always led with a kindness that made this new, daunting world feel less intimidating. That's what I'll miss most about him, the way he made any and every situation or challenge feel solvable. —Jordan Rose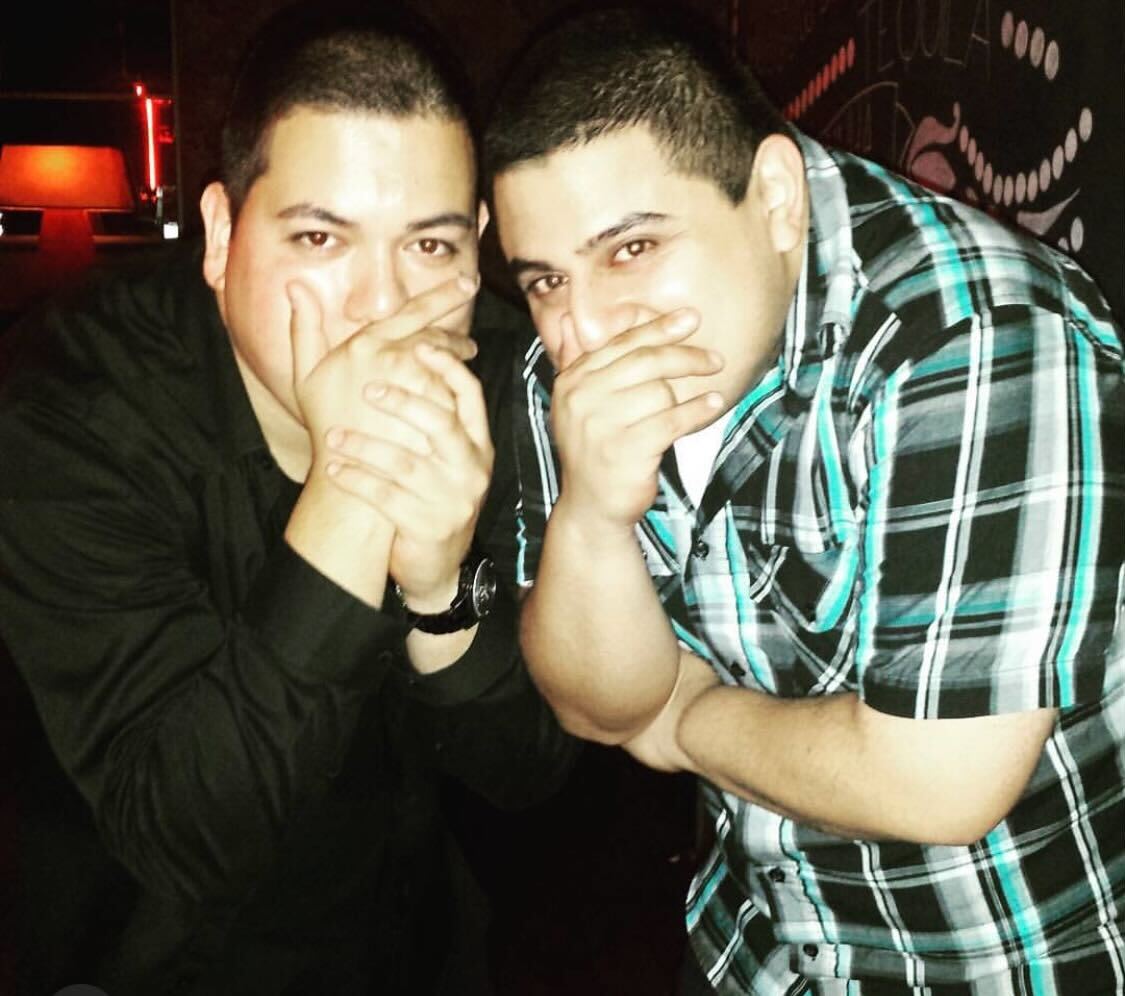 So many memories in those six years working together. I don't think there was a better place to work and I know he'd agree. I appreciated him for always being a kind person to everyone. He truly was the hardest working person in that office. No matter what the situation, he had his head down, putting in that work. It was something I always respected. I'm happy to have seen him one last time at Complex Con. Rest easy, Eddy. —David Amaya
-
When we were in the chaos of the editorial to video transition I specifically remember Eddy being so instrumental and pivotal. Especially during the late nights and tight deadlines, he was always willing to do the work and was so kind despite all the difficult circumstances. He was the definition of a team player. —Natalie Edgar
-
I was introduced to Eddy in April 2020 by way of a good friend, former boss and Complex alum, Damien Scott. Times were scary at about one month into the pandemic, and I was among the early demographic of newly laid-off media professionals. After an email intro and a few e-meets, Eddy decided to take a chance on me as one of his editors at Complex—an uncertain recommendation during an uncertain time. I am forever grateful to Eddy for that shot. His guidance, patience, and encouragement helped shape my editing skills and navigate Complex's news world, even going so far as to give my *new* boss a huge greenlight to take me on when I moved into social. I'll miss him dearly and will infinitely treasure his impact on myself and so many others. —Diamond Alexis
-
Eddy was one of the kindest people I've ever gotten the chance to work with. His calming energy was infectious, and I'll miss bumping into him and talking about music. He was always game to throw around ideas, and his work ethic is one I will respect for the rest of my life. Sending deepest condolences to his family, and praying they find solace in what a great person Eddy was. —Speedy Morman
-
When I think of Eddy Ortiz, the first word that comes to mind is "reliable." Eddy initially interned for me remotely, but even over GChat it was immediately obvious that he was going to get things done. He never overdid and he never underdid it. He was so reliable and dedicated, we knew we had to hire him. When he joined the Music team full-time, it was one of the best teams I was ever on and, looking back, Eddy was the glue that held us together. He had the right temperament, he knew when to be serious, when to crack a joke, and never seemed fazed whether things were going good or bad. Eddy actually got me to listen to Steely Dan (a group I always hated on) cause I was surprised he was a big fan of theirs. I fell in love with their album Aja and I listen to Steely Dan's music all the time nowadays. Whenever I do, I always think of Eddy. —Insanul Ahmed
-
Eddy was kind. Eddy was reliable. Eddy was funny. Eddy was genuine. From the beginning of my time at Complex, Eddy was a fountain of knowledge and support. He never messaged me without first asking how I was, or how I was feeling. Tragedies like this remind us of the importance of thanking people and telling them how important they are to us. I wish I thanked Eddy more. He was the best of Complex and he will be missed. —Deborah Cardoso
-
Edwin Ortiz never forgot. Whether it was an album release date, a sales figure, the name of a publicist, or the author of a cover story from eight years ago, he knew. He was a constant presence at Complex, calmly steering a near-24/7 news operation whose scheduling alone was an act of organizational heroism. But amid the relentless messages, meetings, and emails, if he saw something you'd feel—like the advance of the Cormega project you'd been waiting years to hear—he'd always think of you. Edwin Ortiz never forgot. And his friends, family, and coworkers will never forget him. —Lucas Wisenthal
-

Eddy never liked the spotlight and was always one to deflect praise to his peers. That was just the type of guy he was, focusing on the work in front of him and looking out for his people, but he really was the backbone of so many of Complex's greatest moments for the better part of a decade. Rest in peace, Eddy. We'll miss you. —Stefan Breskin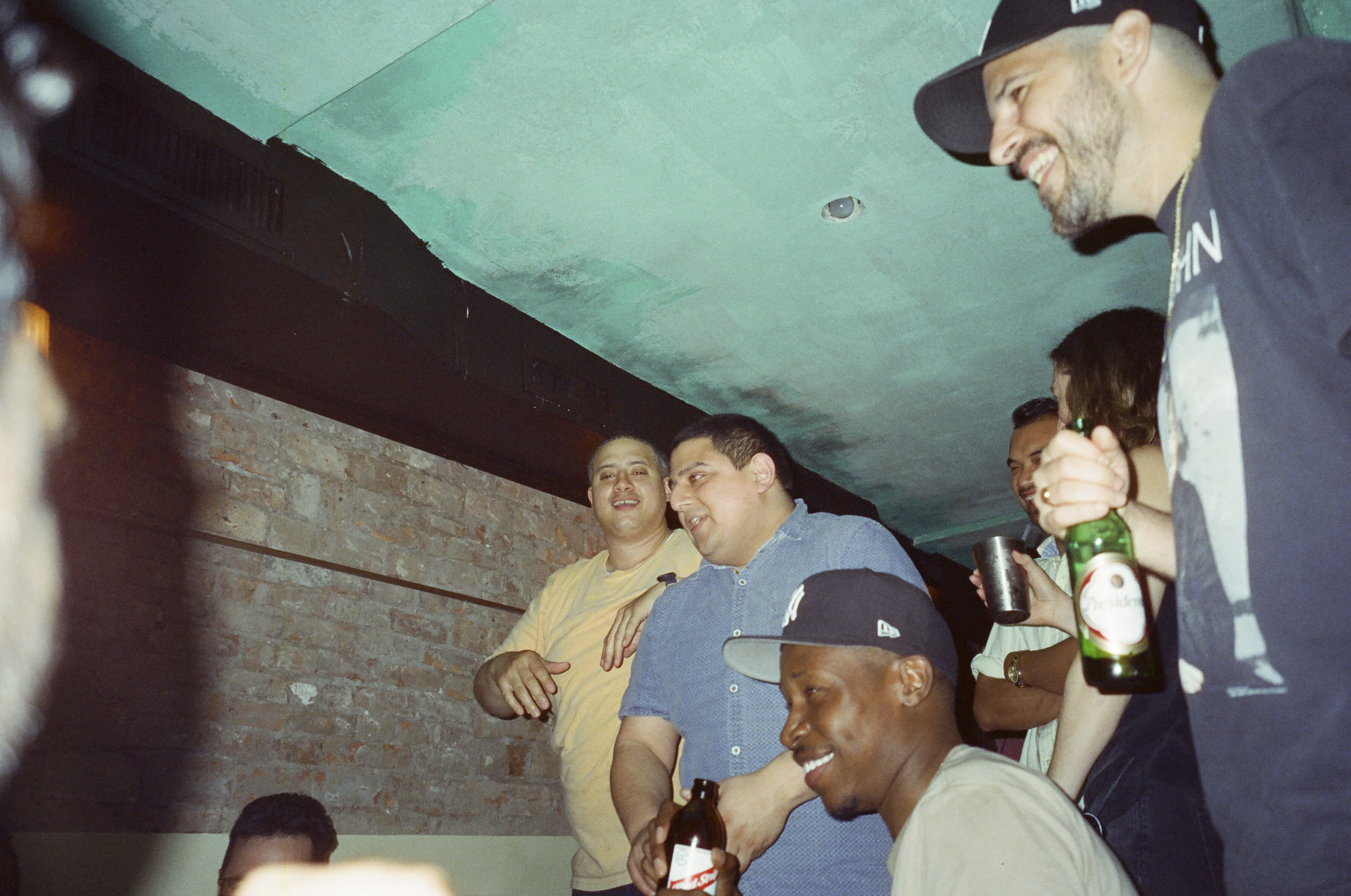 It's hard getting to know someone over Slack. Because I live and work in Toronto, that was where Eddy and I first forged our relationship for the first few years of my life at Complex. Off the bat, it was obvious how dedicated he was. It was hard not to be in awe. Covering news is relentless work, so there wasn't much room for Eddy and I to really get to know each other outside of the business at hand. But every now and then, usually when it was just him and I on a late-night shift, we'd pierce through the veneer of work and exchange something personal. Those little instances piled up over the years, and revealed someone special, with a whole life and world outside of work. Then this summer, new opportunities meant that Eddy and I exchanged multiple zooms and phone calls and I got to finally see him and hear his voice and he became more real. It was like the final piece of a puzzle that I had been building in my own head for years and years.  I was looking forward to continuing to peel back the layers of someone who was at times the closest person in my life and kind of unknowable at the same time. I'm gutted that our story ends here, but so grateful that we had all that time together. RIP Eddy. —Daniel Barna
-
Few editors made me feel as immediately welcome and valued as Eddy did. His ability to effortlessly guide a team while highlighting everyone's strengths was second to none, and he was always so thoughtful and gracious. He personally helped me far beyond his role ever required, and I will miss him a lot. —Joe Price
-
After joining the Complex News team last year, I was immediately intimidated by the work before I even clocked in on my first day. Having suddenly gone from writing at a small start-up to one of the most successful media companies in the country triggered every ounce of my imposter syndrome, even after numerous interviews, a writing test, and kind welcoming words from Eddy reaffirmed that I deserved to be here. During that first week—scratch that—during those first few months of my time at Complex, I made numerous mistakes both small and large, with one screw-up even causing a prominent pop star to issue a scathing rebuttal on social media against the company. But through it all, Eddy remained calm, patient, and kind. He would always take time to reaffirm my strengths before listing out my weaknesses, and no matter how often I screwed up, he never made me feel like I didn't deserve to be at Complex. In the short time I knew him, he became my life jacket as I navigated the uncharted waters of a new job, and even after his promotion took him away from the daily duties of the news team, he would take time to check in with me. The last time I spoke with him, it was a few months ago, and I had asked for a small raise, as looming inflation and increased rent caused my life in New York City to become much more expensive. In the last few weeks, he regularly checked in with me, letting me know that he was still working out a way to grant all the news writers a proper raise. The last time I heard from him, he emailed me completely out of the blue, just to send yet another reminder that he was going to bring up my raise at his next meeting, and that once again he had my back. —Mackenzie Cummings-Grady

-

Being that I'm someone who is usually among the first people in the door, the one thing that immediately stood out to me about Eddy was that he was always there. At some point, before the Complex bullpen started buzzing, Eddy would be at his desk, loading up the biggest stories from the night before. One of the most hardworking, dedicated, and intelligent people I've ever worked with.
Over the eight(!) years that I was blessed to know him, I saw Eddy go from that lowkey hilarious guy who's finger stayed on the pulse to the person who had the best grasp of what'd work. Eddy went from writing news to running News. But fuck all of that for a second. We shared a love of electronic music; I'd share tracks I was big on when he wanted some beats, and he'd catch me up on people like 42 Dugg. We would spend a day in Hangouts trying to decipher the validity of some random news site alleging to have a huge Marvel leak. At the end of every year, he'd keep me updated while he caught up on the movies he missed throughout the year. Always with a smile, always with a comment, always down to listen, unafraid to roast you if you sound silly. Eddy, you were truly one of the best. One of a kind. One of the greats. Thank you for everything. —khal 
-

When I first joined the team I had a lot of questions for Eddy. No matter how small my question was, he was always so patient and willing to help. Eddy was a support system for myself and so many others at Complex, and I am so thankful to have experienced that. Rest in peace, Eddy. —Jacq Banal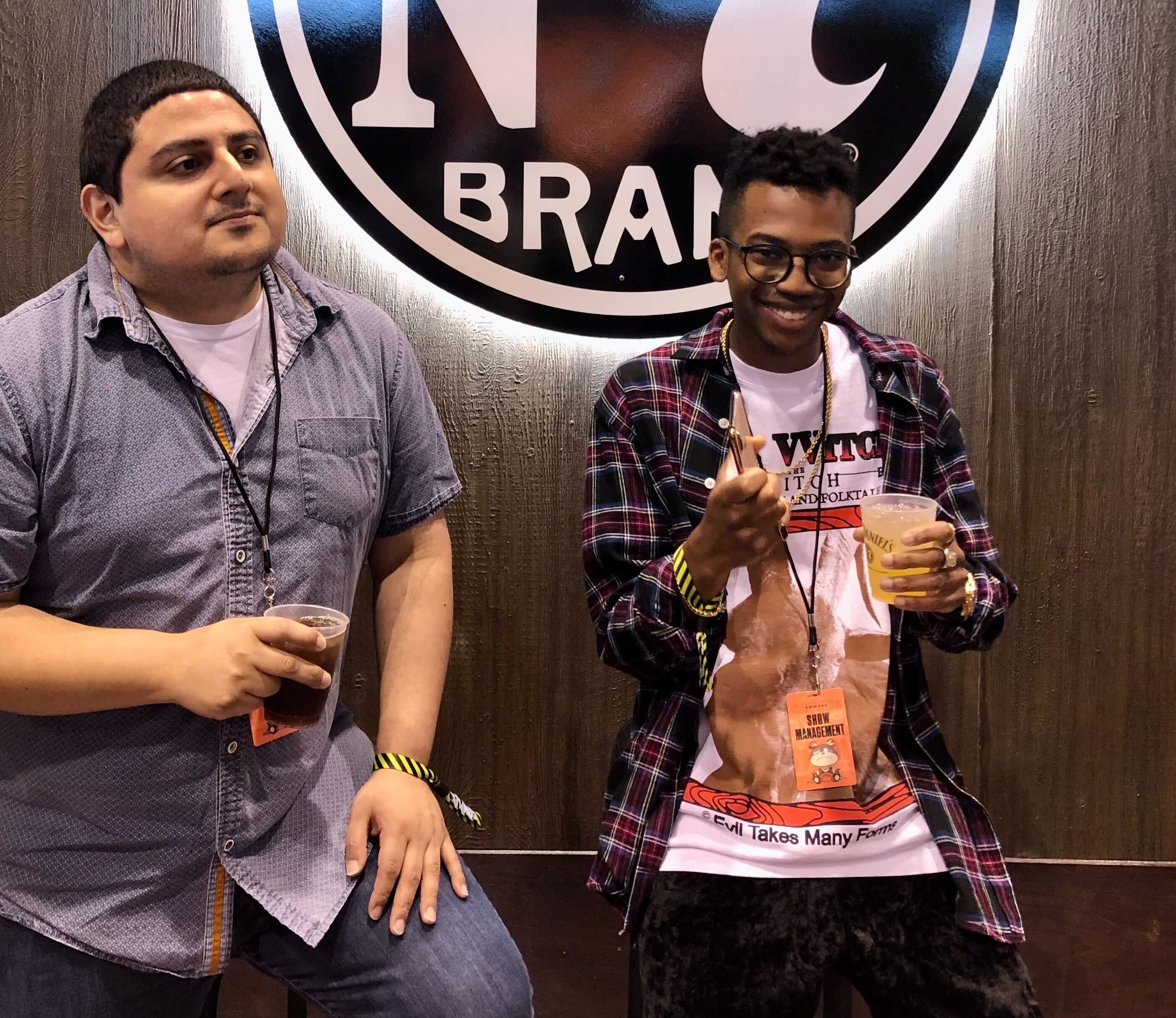 Nobody is more genuine than Eddy was. He kept it real 100% of the time and was the true standard for professionalism at Complex. The way he worked and carried himself in the office is something I'll always remember. Whether it was Monday morning at 10:00 a.m., or Friday evening at 5:30 p.m. when the rest of us were joking around and not really working, Eddy was always happily at his computer working. Complex will always be better for the contributions he made. —Ben Felderstein
-
Eddy, you would never say this yourself because you're too humble, but you shaped what Complex is as a brand to readers/consumers over the past decade as much as any single other person. Your dedication was unmatched, and you were always so generous with your time and energy. Your music taste also never failed to surprise: from hip-hop deep cuts to dance pop to alt-R&B to your weekend trip to LA to see the rock band 311 perform a very specific album, in full. A total one-of-a-kind, you will be missed. —Alex Gardner

-

Working with Eddy these past few years has been amazing. He's always been kind, knowledgeable, and ready to answer any question presented to him with a solid answer. I really appreciated his leadership and discernment when it came to covering news topics. Rest in peace, Eddy. —Drea O

-

People are going to use words like "kind" and "sweet" and "gentle" to describe Eddy, and all those words are true. But Eddy was smart and dedicated and shrewd, too. He had to be. Being a leader was something that was probably outside his comfort zone, and something he probably had to work at a little harder than most. But he did it—for years—to the betterment of the place he worked and everyone around him. So while I'll have his incredible smile in mind every time I think of him, I'm also going to remember the way he'd cock his head a little to the side and squint his eye and, with just a look, say "Don't bullsh*t me man..." —Jack Erwin
-

Edwin "Eddy" Ortiz was a Complex OG and he carried himself as such. During his tenure, he brought experience, knowledge, and skills to every situation. Eddy had a sensei-like focus and was unflappable in any situation. I never saw him lose his cool, no matter what. Though I didn't get to work closely with him on a consistent basis, the times that I did were always enlightening. He was a great editor and he never made me feel like I was bothering him when I'd ask him to look over some copy. RIP Eddy, a talented writer, a good leader, and a wonderful human being. —Andrew White
-
Eddy was, indeed, one of a kind. His selflessness and dedication to the team and the culture we served were unparalleled. He  brought value to everything he did and never sought credit for it. He was always fair, honest, and exceptional in his work. His humility, integrity, and dedication were an inspiration to all of us who had the pleasure of working with him. He'll be missed. His light shone brightly, and it will continue to guide us on our journey. Thank you for being a great human, Eddy. We've all learned from you. —Cornell Brown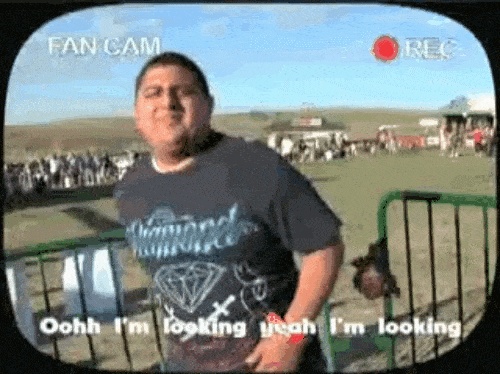 I will always be grateful for how Edwin helped me become a writer who can produce fast, clean, and accurate work in my first job out of college. I consider myself lucky that so early in my career, Edwin trusted me to break big stories and gave me the freedom to be authentic in my writing, even if it might piss a few people off. Edwin never hesitated to welcome me back to the team whenever I showed up in his inbox looking for work after experiencing family tragedy, trying other careers, or dealing with the general chaos of my early 20s. He made me and my writing for this site feel valuable. When I last parted ways with Complex, I think we both assumed it wouldn't be my last time writing for him. I'm heartbroken that instead this is the last time I get to write for Edwin, but I am honored to remember him as the talented, instinctive, and generous editor and mentor he was to me and so many others. —Sarah Jasmine Montgomery
-
Edwin was a friend and an inspiration. A truly exceptional human being with a wonderful spirit. One in a million. I'll never forget the late nights with him, either working at the office or buzzing around Brooklyn. He was there for it all, and those were the best times. Edwin's impact on the world was profound. He set the standard for so many. There will only ever be one Edwin Ortiz. May his legacy carry on forever. —Julian Patterson
-
I had only been at Complex for about a week when a news story was breaking and needed an editorial post immediately. The staff was off and the weekend crew hadn't gotten back about whatever the post was. I had only received a crash course that week by someone who was on autopilot and didn't really care about the post, as long as the video was live. I emailed Edwin and explained that we had a story that needed a post and if it was cool to write it. Mind you, I'm brand new, emailing him about this on a Saturday morning, and he doesn't know me from a hole in the wall. He said, "Sure, go for it." I wrote it up, shot the text for preview, and got the "G2G," so I published my first Complex byline for a story I can't even remember.  
Edwin was inclusive, inviting everyone to listening sessions and whatever random event was happening in the office. He was a great person to have in a room where people overthought the internet and he was always on it for news with a quip or a GIF. In every version of Complex, Eddy was there. Pivot from print, video, back to print, text, text social, social, video social, video text social, and he rolled with it with ease, while the rest of us panicked about the waves he kept swimming. The "best of" music lists were practically cage matches and he was the special guest ref making tough calls and (by my guess) Regina George in Mean Girls watching the timeline go ape shit. 
News of his passing is heartbreaking for his family, his colleagues and his friends, their lives forever altered. Eddy represented the best of Complex, everything that the team was and will be in years to come. But above all else, he represented the fact that good people are out in the world, telling you, "G2G." —Olga Encarnacion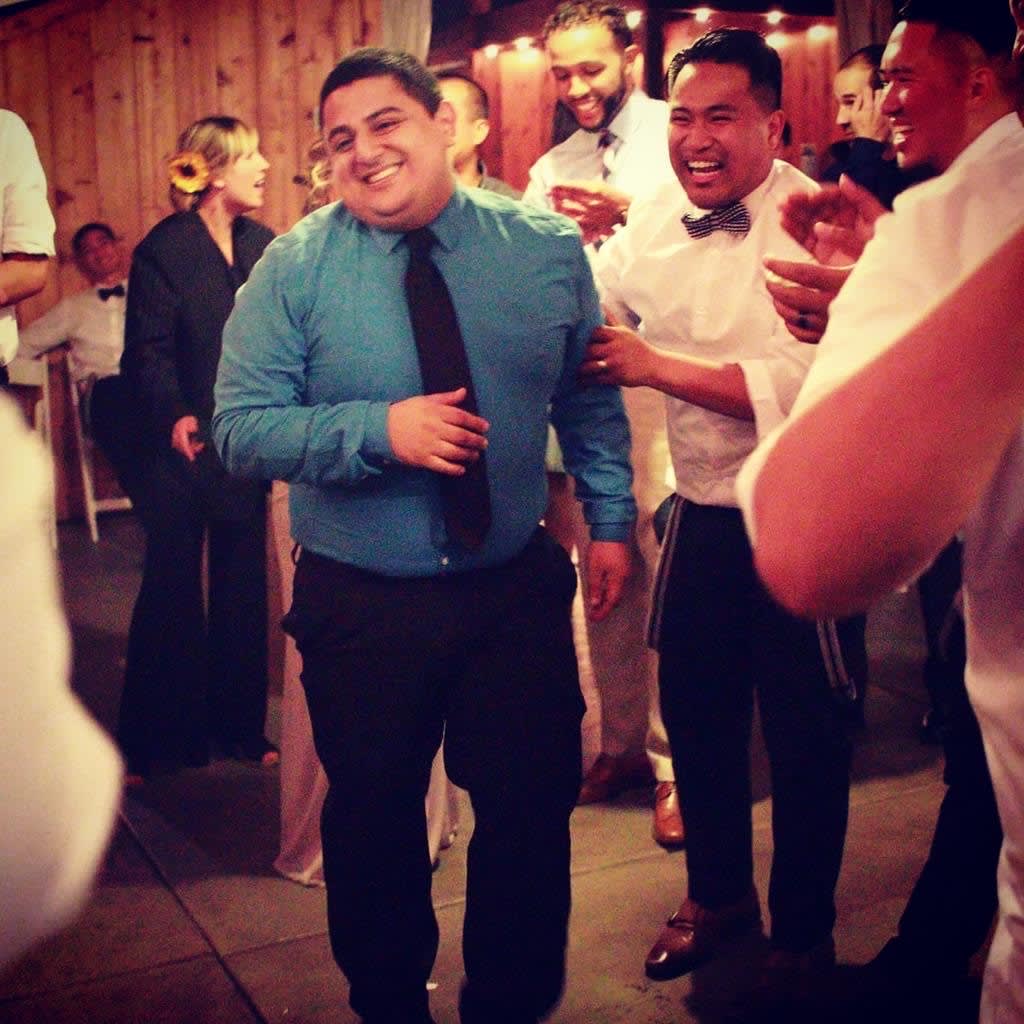 At Complex, we were taught to write and publish quickly, yet I've been too stunned to find the right words or memories for Eddy. It was an honor to know him, to work with him, to encounter his smile at the office, and to run into him at shows. I will never forget his warmth, kind spirit, and love of music. He did everything with so much heart. Thank you, Eddy. —Cedar Pasori
-
Eddy was caring to his teammates. He made us laugh on Slack with his commentary on news topics and had the best Posty Fest profile pics. When I went back to school last year for small business, he was the first person I thought of to interview for my Leadership class, where we talked about different articles on leadership, sharing his feedback on what he learned, and how he might apply it to his management skills. My professor was very impressed with his responses, and she said she learned a lot from his director role. 

Eddy is the best manager I've ever had. I praise him any time I bring up Complex and the news team, rooting for his success as he gets more promotions. I believe Complex's strategy of news coverage wouldn't be where it is today without his vision. RIP to one of the smartest news minds in the game. —Eric Diep