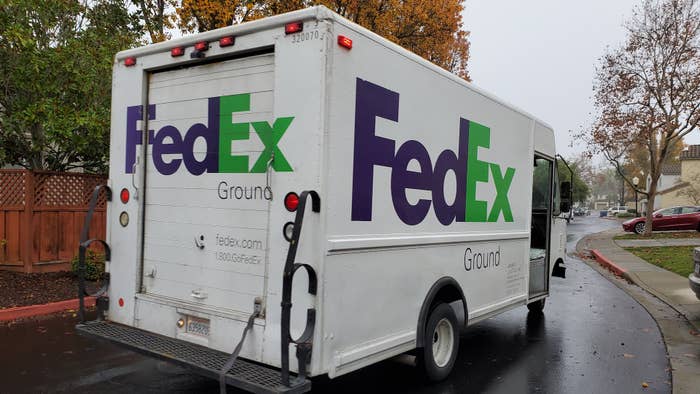 Two white Mississippi men are facing charges after allegedly chasing and shooting at a FedEx driver who is Black.
CBS News reports that 58-year-old Gregory Charles Case and his son 35-year-old Brandon Case were arrested and released on February 1. Gregory was hit with a conspiracy charge, while Brandon was charged with aggravated assault.
However, lawyers for the driver, Demonterrio Gibson, said that the pair should be investigated for a federal hate crime since they allegedly tried to shoot the 24-year-old. One of Gibson's attorneys, Carlos Moore, said that the father and son should also be charged with attempted murder. "He was simply Black while working," Moore said during a press conference.
Gibson said he was making deliveries in an unmarked van given to him by the company, and a FedEx uniform on Jan. 24. He said he had just dropped off a package at a home in Mississippi and as he left, someone started following him in their white pickup.
The Cases allegedly attempted to cut off Gibson while he was still in the driveway. At that point, he said one of the men—seemingly the son—had a gun pointed at Gibson's van and were trying to get him to stop. When Gibson drove away, he said the man shot at the van, damaging both the vehicle and the packages he was transporting. Gibson claimed the truck then followed him onto the highway before departing. He wasn't injured.
"FedEx takes situations of this nature very seriously, and we are shocked by this criminal act against our team member. … The safety of our team members is our top priority, and we remain focused on his wellbeing. We will continue to support Mr. Gibson as we cooperate with investigating authorities," FedEx said in a statement.
According to police, the father is thought to be the one who drove the pickup and the son was the man standing in the street.
Gibson said that the day after the incident, FedEx put him back on the same route: "I did that for like a day or two until I started having real bad anxiety attacks, and I just couldn't do it anymore. I asked them for some time off, which I do have, but it's unpaid."