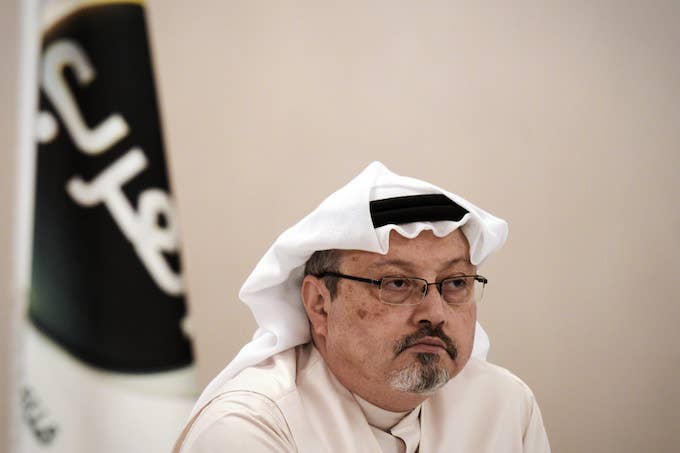 Time Magazine revealed its 2018 Person of the Year on Tuesday, a group of journalists named "The Guardians," given to individuals "who have taken great risks in pursuit of greater truths," The Huffington Post reports.
Murdered journalist Jamal Khashoggi was one of several people who were honored, as well as Filipina journalist Maria Ressa, who was indicted last month on tax evasion charges in the Philippines; Reuters reporters Wa Lone and Kyaw Soe Oo, who were arrested last year in Myanmar while reporting on the killings of Rohingya Muslims; and The Capital Gazette, the Maryland media company that was at the center of a mass shooting in June.
Time editor in chief Edward Felsenthal disclosed the winners during NBC's Today show, remarking that it was the first year the magazine selected someone who had died.
"As we looked at the choices, it became clear that the manipulation and abuse of truth is really the common thread in so many of this year's major stories―from Russia to Riyadh to Silicon Valley," Felsenthal said, per The Huffington Post.
Khashoggi was a Washington Post columnist and critic of Saudi Crown Prince Mohammed bin Salman. The CIA concluded that Khashoggi was assassinated in the Saudi consulate in Istanbul in October by the crown prince. Meanwhile, Donald Trump brushed the evidence aside and continued the U.S.'s relationship with the country.
"It's very rare that a person's influence grows so immensely in death," Felsenthal said. "[Khashoggi's] murder has prompted a global reassessment of the Saudi crown prince and a really long overdue look at the devastating war in Yemen."
This year, each recipient received their own black and white cover.
Person of the Year typically profiles a person or persons who had the largest impact—positively or negatively—on news headlines during the year. The magazine announced its shortlist of nominees on Monday, which consisted of Trump, Black Panther director Ryan Coogler, research psychologist Christine Blasey Ford, March for Our Lives activists, Duchess of Sussex Meghan Markle, and families separated at the U.S.-Mexico border.
In 2017, Time chose "The Silence Breakers" as the Person of the Year, honoring "the individuals who set off a national reckoning over the prevalence of sexual harassment." The cover included women who had been vocal about sexual harassment and stood up for survivors, celebrities like Taylor Swift, former Uber engineer Susan Fowler, and Mexican migrant farmworker Isabel Pascual.
K-pop band BTS won 2018's Time reader poll for Person of the Year, barely overtaking Planet Earth. The Thai cave divers took third place, the group of swimmers who heroically saved a trapped youth soccer team and coach.
In November, Trump declared that he should be Time's 2018 Person of the Year. He was given the title in 2016, after winning the presidency. "I can't imagine anybody else other than Trump," the president said. "Can you imagine anybody other than Trump?"