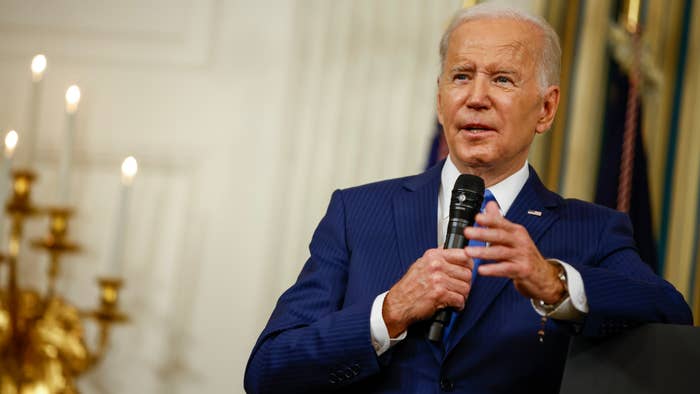 UPDATED 11/14, 2:15 p.m. ET:  A federal appeals court issued a temporary nationwide block on Biden's student loan debt relief program, NBC News reports. 
"The injunction will remain in effect until further order of this court or the Supreme Court of the United States," a panel of three judges said in its ruling.
See original story below.
Another blow has been delivered to Joe Biden's student loan forgiveness program.
The Washington Postreports that a federal judge in Texas ruled in favor of the Job Creators Network Foundation, a conservative advocacy group that sued to stop Biden from fulfilling the plan. Two plaintiffs are behind the suit: one who has student loans and doesn't qualify for the $20,000 relief and a second who is completely unqualified.
According to the group's lawsuit, the administration breached federal policy by not giving borrowers the chance to comment on the debt relief program before announcing it. U.S. District Judge Mark T. Pittman asserted that the program is unconstitutional.
"In this country, we are not ruled by an all-powerful executive with a pen and a phone. Instead, we are ruled by a Constitution that provides for three distinct and independent branches of government." He added that the program is "an unconstitutional exercise of Congress's legislative power."
The plaintiffs said in their case that qualifications for Biden's plan were inconsistent. With the loan program, single borrowers who make up to $125,000 per year or married borrowers who make up to $250,000 could eliminate $10,000 in federal student debt. Those who received Pell Grants could have another $10,000 forgiven.
One of the plaintiffs, Alexander Taylor, qualified for $10,000 in relief but not the full $20,000 since he wasn't a Pell recipient. Myra Brown, the second plaintiff, is unfit for the program because her federal loans are held by private companies, making her ineligible for the relief program.
White House press secretary Karine Jean-Pierre responded to Pittman's declaration, saying, "We strongly disagree with the District Court's ruling on our student debt relief program and the Department of Justice has filed an appeal. The President and this Administration are determined to help working and middle-class Americans get back on their feet, while our opponents — backed by extreme Republican special interests — sued to block millions of Americans from getting much-needed relief."
She added that the Biden administration will keep the information of the 26 million people who applied "so it can quickly process their relief once we prevail in court."