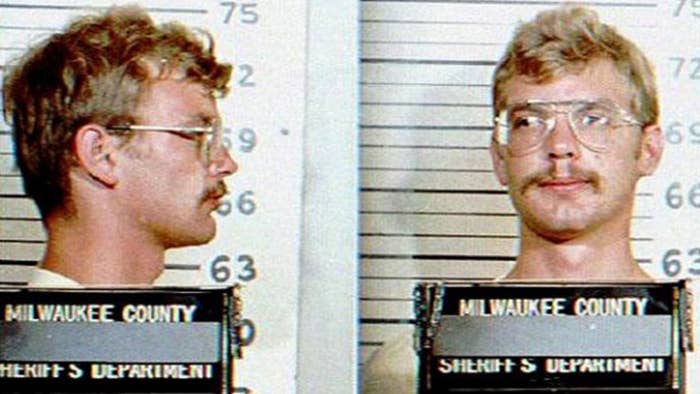 UPDATED 10/19, 10:35 a.m. ET: eBay banned the sale of Jeffrey Dahmer Halloween costumes, claiming that they violate the platform's on violent criminal and violence, BuzzFeed News reports. 
See original story below.
Netflix's Dahmer series has been massively popular with many, except the families of the serial killer's victims.
Now, as Halloween looms, the mother of the victim, Tony Hughes has spoken out against costumes that bear a resemblance to Jeffrey Dahmer. Shirley told TMZ, "It's already super triggering to see a hit Netflix series about the serial killer, much less folks dressing like the killer." Hughes was one of the 17 men Dahmer murdered, and Hughes, himself, was deaf and non-vocal.
Bigger stores have chosen not to carry Dahmer costumes due to the backlash, but it's still easy to find costume props online, on websites like eBay. People are selling blonde wigs, shirts evocative of the time period, and wire-rimmed glasses as Dahmer costumes.
Shirley also told TMZ, "It hurts for Netflix and all the online stores to profit off her son's death, while none of the victims' families have seen a dime. She feels all the eBay ads should be taken down … or at the very least, give the profits to the families."
The ache of her son dying at the hands of Dahmer is not something that has completely receded for Shirley. "If Netflix hadn't streamed the show, none of the families would be re-victimized … and then there'd be no Dahmer costumes this year," she said to the outlet. She added, "Dahmer was pure evil and doesn't understand how the folks who choose to dress like him can sleep at night."
In 1992, Dahmer was sentenced to life in prison and in 1994, was beaten to death while incarcerated.
Last week, Netflix's Dahmer became the streaming platform's second-most-watched series ever, bringing its total to 701.37 million hours viewed. Stranger Things 4 is Netflix's most-watched show, with a total of 1.35 billion hours viewed in its first month.