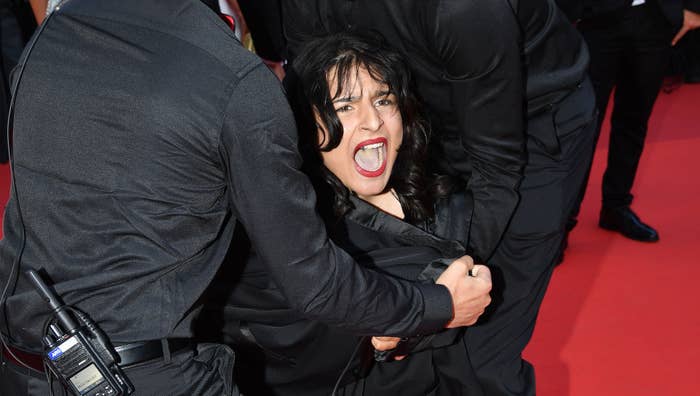 Cannes Film Festival was the site of a protest this year, with a woman demonstrating against the sexual violence that women in Ukraine have been facing during the country's unrest.
Deadline reports that the activist was taken away after walking onto the red carpet during the premiere for George Miller's Three Thousand Years of Longing. She began undressing herself and yelling, revealing her body, which was painted. She was topless, only wearing what appeared to be underwear on her bottom half. Her top half was painted in the colors from Ukraine's flag with the words "Stop Raping Us" emblazoned across her chest, and the word "SCUM" on her back. There was also red paint on her lower half, in what looked like handprints and splatters, perhaps signifying blood.
Three Thousand Years of Longing stars Idris Elba and Tilda Swinton, and both actors and Miller were present. The film is an adaptation of A.S. Byatt's short story "The Djinn in the Nightingale's Eye."
Russian forces have allegedly been raping, torturing, and executing locals. The French activist group SCUM shared an image of the woman. It seems like the group borrowed its name from the radical feminist manifesto, also titled SCUM, which was published in the 1960s.
The festival went on amid the conflict between Ukraine and Russia. However, Russian delegations and journalists who are supporters of Vladimir Putin weren't invited to Cannes. The event has seen protests before: in 2018, women spoke out against gender inequality in the film industry, and that same year, an anti-racism protest occurred on the red carpet.