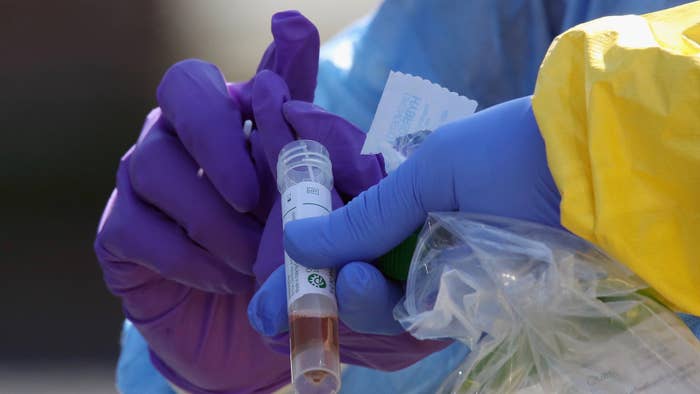 As U.S. officials try to contain the novel coronavirus, newly unveiled documents confirm white supremacists had plans to use the deadly disease as a bioweapon.
According to a February intelligence brief obtained by Yahoo! News, federal law enforcement pointed to online discussions in which white racially motivated violent extremists (WRMVEs) discussed what they would do if any of them contracted COVID-19. The brief, written by the Federal Protective Service, alleged these individuals stated it was their "OBLIGATION" to spread the virus, specifically targeting "law enforcement and minority communities, with some mention of public places in general."
The discussions took place on a Telegram app channel that focused on "siege culture," accelerationism, and the work of neo-Nazi author James Mason. Per the brief: "When WRMVEs have discussed the virus, they have been using terms such as corona-chan, bowlronavirus (referencing Dylann Roof), and boogaflu (modification of the term boogaloo, which is used to reference a future civil war)."
Among the tactics suggested on the channel were: having infected individuals "spend as much time as possible in public spaces with their 'enemies'"; going to local FBI offices and leaving saliva on the door handles; spitting on elevator buttons; leaving laced items at various crime scenes so detectives would be exposed; and, more generally, spreading germs in non-white neighborhoods.
"This possible threat can likely happen due to the fact that WRMVEs have been known to travel abroad to adapt foreign terrorists' tactics (FTOs)," the document reads. "It is likely that they would be willing to travel to China to bring the coronavirus back to the U.S."
The document was dated the week of Feb. 17-21, about three weeks before the World Health Organization declared the coronavirus outbreak a pandemic. On Feb. 21, there were only 34 confirmed COVID-19 cases in the U.S.; according to data published by the New York Times, there was over 21,300 confirmed U.S. cases as of Saturday afternoon. 
You can read the full briefing here.