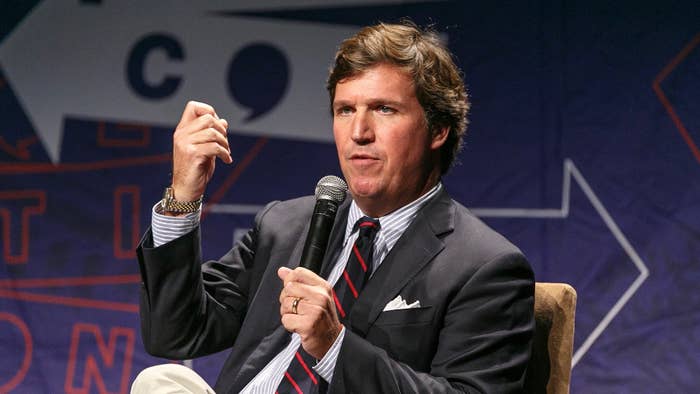 It seems Kanye West had an unlikely supporter in the 2020 presidential race.
According to Politico, Fox News host Tucker Carlson has been telling associates he had voted for the "Birthday Party" candidate rather than the Republican incumbent, Donald Trump. Sources told the publication it's unclear if the conservative media personality was joking about his Kanye vote, but insisted the two men had a very "real" affinity for one another.
"It's his way of saying that he's not just another Trumpette at Fox News like Sean Hannity," one insider said about the alleged vote.
"He and Kanye get along," another Carlson associate claimed. "They both regularly find themselves in the crosshairs. They're both pro-life."
It's no secret that West's 2020 presidential campaign was a multi-million dollar failure. The "Birthday Party" candidate had gained ballot access in only a dozen states and had received about 60,000 votes by the end of the election. Carlson is registered as a Republican in Florida, according to the state's voter registration records; however, Kanye failed to get on the Sunshine State's general ballot, meaning Carlson would've had to cast a write-in vote for the G.O.O.D. Music artist. Politico also pointed out that any votes for Kanye were not counted in Florida, as the candidate neglected to submit the necessary paperwork to the state's election division. 
The outlet confirmed Carlson voted in-person in the 2020 presidential election, submitting his ballot in Florida's Lee County. Local officials told Politico that their team does not track the number of votes for non-qualified candidates such as Kanye, but confirmed "there were 8 invalid write-in votes for president."
Sources described Carlson and Kanye's relationship as friendly, but not necessarily close. The two reportedly spent time together in Wyoming ahead of last year's election and had planned to do an interview that ultimately fell through. Carlson also praised the Grammy-winning rapper in 2018, following his infamous meeting with Trump inside the Oval Office.
"[M]uch like someone else who comes to mind, West may be precisely crazy enough to think for himself, and that's a valuable quality right now," Carlson said on his eponymous primetime show. "But listen carefully to what he said. Sprinkled throughout his ramblings are flashes of truth, real insights into the way the world actually is rather than the way they tell us it is. … And that makes him dangerous to a system that is based almost entirely on piety and lying. If you're benefiting from a system like that, Kanye West must be crushed."
Carlson declined Politico's request for comment.