Trump Honors ISIS-Fighting Dog With Made-Up Medal
A spokesperson for the U.S. Special Ops says the award was created specifically for Conan, a military dog who was injured during an ISIS raid last month.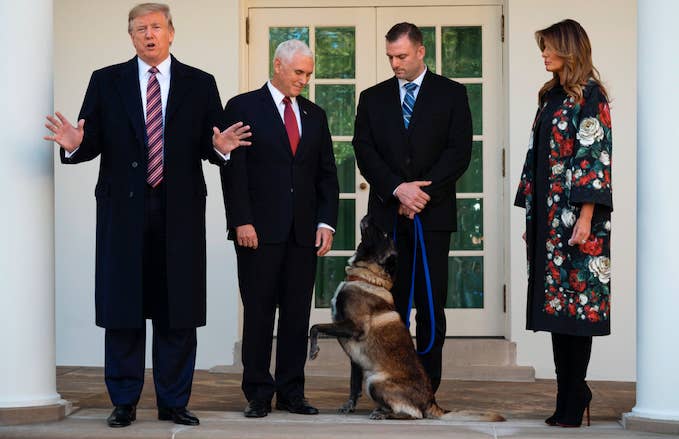 Getty
Image via Getty/Jim Watson/AFP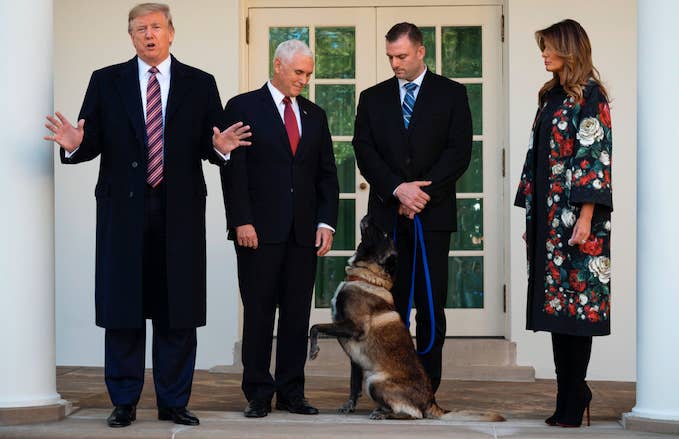 The military dog that helped take down an ISIS leader last month appeared at the White House this week to receive a medal for his heroism. But according to military sources, this honor was nonexistent until recently—when Donald Trump made it up.
A spokesperson for the U.S. Special Ops told TMZ that Conan the Belgian Malinois received an award that was specifically created for her. Conan made headlines back in October, after she was injured in the ISIS raid that led to the death of Abu Bakr al-Baghdadi. The canine reportedly chased al-Baghdadi down a dead-end tunnel in Syria, shortly before the terrorist leader detonated his suicide vest. Though no U.S. troops were killed in the explosion, Conan sustained several injuries. 
In wake of the raid, many people called on officials to honor Conan with the Medal of Honor, but it was later announced that military dogs were ineligible for such an award, as it could be perceived as downplaying the sacrifices of human soldiers. This concern was underscored one month ago, when Trump posted a doctored photo of himself placing a medal around Conan's neck. The unaltered image was a 2017 photo in which POTUS was seen awarding the Medal of Honor to retired Army medic James C. McCloughan, who saved 10 lives in the Vietnam War. 
Like many of Trump's tweets, this post sparked a lot of controversy and accusations of disrespect. 
Conan received her medal and a certificate Monday in the White House Rose Garden. Trump, who was accompanied by Vice President Mike Pence and first lady Melania Trump, shared a few words during the ceremony, praising the dog for her bravery.
"Conan is a tough cookie, and nobody's going to mess with Conan," the president said, as reported by the Washington Post. "Yet you see how beautiful and how calm he is during a situation like this. And you're very lucky, because he's not in a bad mood today."
Though Trump used male pronouns while referring to Conan, a White House official later confirmed to Business Insider that the dog is a female.