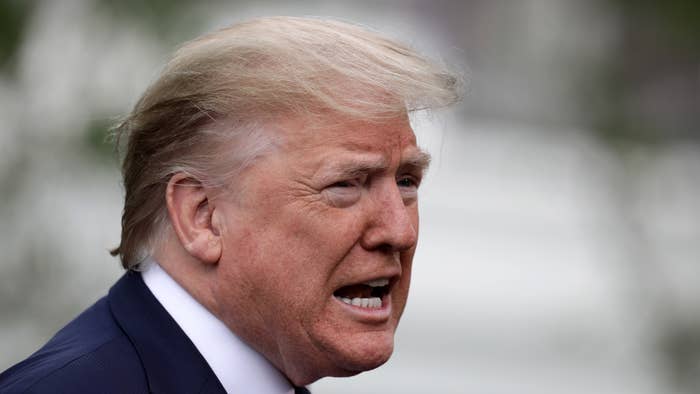 Donald Trump was spotted without a face mask Tuesday during his tour of Phoenix-based Honeywell—a manufacturing plant that has been tasked with making N95 masks for the government. According to CNBC, the president and other officials opted to only wear protective goggles throughout the visit, despite the multiple signs that stated face masks were required.
Shortly before he departed from Washington, D.C. to Phoenix, Trump was asked if he would wear a face mask during his visit. He told reporters he would do so only if it was required, but suggested it was impractical for a leader to wear one during public appearances.
"If it's a masked facility, I will. I don't know if it's a masked facility ... I haven't decided because I don't know ... If it's a mask environment, I would certainly do that," Trump said. "I'll know when I get there. But I would wear it. If it's a mask environment, I would have no problem."
He pressed about wearing a mask once again moments before his departure: "I'm supposed to make a speech. You'll tell me: Should I leave the mask on when I'm speaking?" he said. "I don't know. I just — it doesn't sound right. But if it's a mask environment, I would certainly wear a mask."
A White House official told CNBC the president was not required to wear a mask during the tour, but was told to take precautions. The Associated Press reported almost all Honeywell factory workers and members of the press were seen wearing protective face coverings. Some White House staff and Secret Service agents also wore masks, while Senior White House staff and Honeywell executives chose not to.
U.S. health experts have urged everyone to wear face masks in public to slow the spread of coronavirus; however, Trump has been reluctant to do so ever since the pandemic began.
Vice President Mike Pence faced backlash last week after he was seen at the Mayo Clinic in Rochester, Minnesota, without a mask. Pence claimed he didn't know the mask was a requirement, and insisted he gets tested for COVID-19 regularly to ensure he isn't infected.
"As Vice President of the United States, I'm tested for the coronavirus on a regular basis, and everyone who is around me is tested for the coronavirus," Pence said after the controversy. "I thought it would be a good opportunity for me to be here, to be able to speak to these researchers, these incredible health care personnel, and look them in the eye and say thank you."