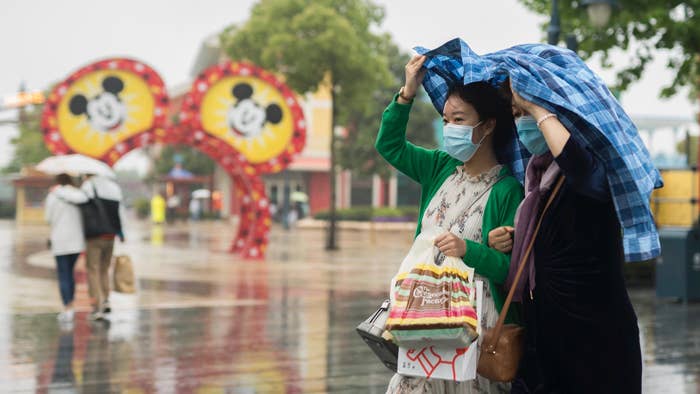 It appears Chinese residents are more than ready to hit the Magic Kingdom—even as the global pandemic rages on.
According to NPR, tickets for Shanghai Disneyland's reopening day sold out within minutes, indicating consumers' eagerness to return to normalcy after months of coronavirus lockdowns. The theme park is scheduled to reopen on May 11, more than three months after it was forced to close down over COVID-19 concerns.
China's government reportedly asked Shanghai Disneyland to heighten safety measures for the reopening. The park will operate at a reduced capacity, going from the typical 80,000 guests per day to 24,000. Visitors will be required to undergo temperature screenings, provide identification documents, and wear face masks before entering the theme park. Staff will also perform frequent cleaning and ensure all guests are adhering to social distancing guidelines. NPR reports the park will also scan visitors' QR Codes, which indicate the user's risk of contracting the disease. Those with a green status are considered low-risk, while those with a red status are considered high-risk. Only those in the former group will be allowed entrance, a spokesperson for Disney told the outlet.
Tickets for the theme park are priced anywhere from $56 to $70, depending on the day of the week. News of the fast-selling passes comes just days after Disney reported a $1 billion loss in earnings due to the coronavirus lockdowns. The company said theme park closures caused most of the damage.  
"While the COVID-19 pandemic has had an appreciable financial impact on a number of our businesses, we are confident in our ability to withstand this disruption and emerge from it in a strong position," Disney CEO Bob Chapek said in a statement. "Disney has repeatedly shown that it is exceptionally resilient, bolstered by the quality of our storytelling and the strong affinity consumers have for our brands, which is evident in the extraordinary response to Disney+ since its launch last November."
Disney executives have not announced when its U.S. theme parks will reopen. However, Disney recently confirmed Disney Springs at the Walt Disney World Resort will begin to reopen its restaurants and retail stores on May 20.