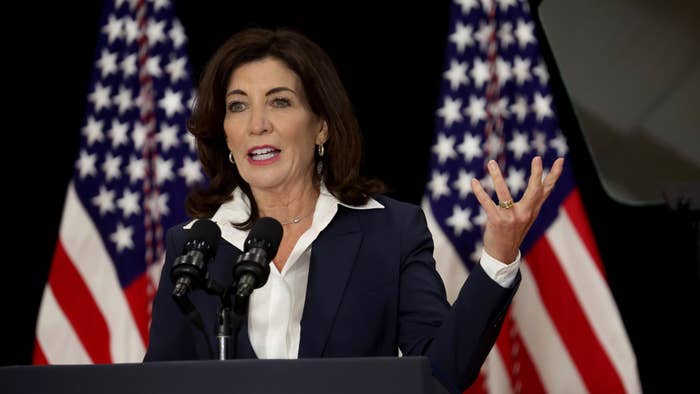 New York Gov. Kathy Hochul has issued an executive order declaring the monkeypox outbreak a "state emergency disaster."
The Democratic lawmaker announced the move Friday night, after health officials confirmed there were nearly 1,400 reported cases of the disease statewide. According to the New York Department of Health, the vast majority of those cases were seen in New York City, which tallied 1,289 infections on Friday.
"After reviewing the latest data on the monkeypox outbreak in New York State, I am declaring a State Disaster Emergency to strengthen our aggressive ongoing efforts to confront this outbreak," Hochul said in a statement. "More than one in four monkeypox cases in this country are in New York State, and we need to utilize every tool in our arsenal as we respond."
The governor underscored the importance of recognizing how the outbreak is disproportionately affecting at-risk groups. She said she and her team have upped their efforts to educate the public about the disease, expand testing capacity, and improve vaccine distribution.
The Centers for Disease Prevention and Control states about 5,200 monkeypox/orthopoxvirus cases have been reported in the United States. New York leads the nation with the most confirmed cases, with California following at around 800.
Health experts say monkeypox can spread through bodily fluids and or close physical contact. Symptoms, which can last up to four weeks, include a rash, fever, swollen lymph nodes, headache, and respiratory issues like a sore throat or cough. The current strain reportedly has a 1% fatality rate.
The World Health Organization says men who have sex with other men are at the highest risk of infection, and have urged the public to take extra precaution when engaging in sexual activities.
"It is important to note that the risk of monkeypox is not limited to men who have sex with men," WHO wrote. "Anyone who has close contact with someone who is infectious is at risk. However, given that the virus is being identified in these communities, learning about monkeypox will help ensure that as few people as possible are affected and that the outbreak can be stopped."