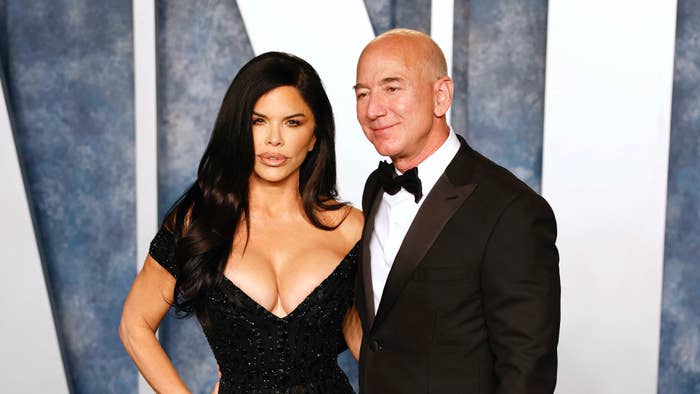 Jeff Bezos's $500 million superyacht is the epitome of next-level wealth.
According to the Robb Report, the record-breaking sailing yacht — named Koru — is said to be the largest in the world, standing 417 feet long and 230 feet tall. The vessel reportedly boasts tons of high-end and state-of-the-art features, including a helipad, on-deck swimming pool, full cinema, multiple lounges, and meeting spaces. However, there's one specific detail that has generated the most buzz: the yacht's nautical sculpture that bears a striking resemblance to Bezo's longtime girlfriend.
As pointed out by TMZ and the Daily Mail, Koru's wooden figurehead depicts a curvy woman with long hair, a flowing dress, and wings on her back. Many Twitter users are convinced the bust was modeled after Lauren Sanchez, the former TV anchor who met Bezos back in 2016. Though it's unclear when their romance officially began, the two confirmed their relationship in 2019, shortly after the Amazon founder announced his divorce from his wife of 25 years, MacKenzie Scott.
Bezos and Sanchez were spotted on the Koru earlier this week near Spain's Mallorca island. TMZ posted photos of the billionaire couple soaking in the sun among a group of friends. The tech mogul was seen rocking a pair of blue trunks with a white hoodie, while his boo donned a pink bikini.
During a January interview with the Wall Street Journal, Sanchez dished on her relationship with Bezos and revealed what she "loves" about her boyfriend.
"We love to be together and we love to work together. We fly together. We work out together. We're together all the time," she said. "He's really funny. He makes me laugh all the time. He can be goofy. When I first heard his laugh, I was like, 'Whoa! What is that?' Now I love it. And if I'm at a party and we get separated, all I have to do is wait a second and he laughs and it's like, he's over there."