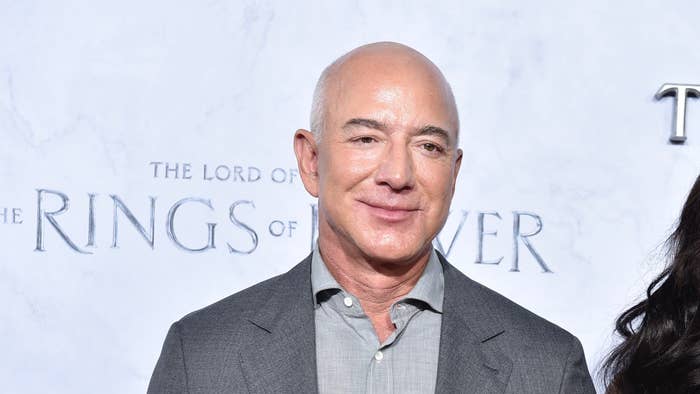 Jeff Bezos is getting dragged over his response to Dr. Uju Anya—a Black college professor who wished Queen Elizabeth II an "excruciating" death.
The exchange took place Thursday, after the 96-year-old monarch was placed under medical supervision in Scotland. Anya, who works in the Modern Languages department at Carnegie Mellon University, reacted to the news by highlighting the Queen's role in colonial oppression.
"I heard the chief monarch of a thieving raping genocidal empire is finally dying," she tweeted. "May her pain be excruciating."
The post garnered a wide range of reactions, with some praising and co-signing Anya's take, while others slammed it as insensitive. Amazon's billionaire founder fell into the latter group.
"This is someone supposedly working to make the world better?" he responded. "I don't think so. Wow."
Anya responded to Bezos with, "Otoro gba gbue gi," an Igbo phrase that roughly translates to, "Diarrhea, kill you."
"May everyone you and your merciless greed have harmed in this world remember you as fondly as I remember my colonizers," she wrote in the tweet. 
About an hour later, Buckingham Palace announced the Queen had died peacefully at Balmoral Castle in the Scottish Highlands.
Twitter removed the professor's original post Thursday, saying it violated the platform's rules; however, Anya doubled down on her criticism of the Queen, suggesting she would not apologize to anyone who might've been offended.
Carnegie Mellon has not said whether Anya will face disciplinary action over her tweet, but attempted to distance itself from the controversial comments.
"We do not condone the offensive and objectionable messages posted by Uju Anya today on her personal social media account," CMU said in a statement posted to Twitter. "Free expression is core to the mission of higher education, however, the views she shared absolutely do not represent the values of the institution, nor the standards of discourse we seek to foster."