Health Officials Report First Death Linked to Vaping-Related Illness
The Illinois Department of Public Health confirms an individual who contracted a lung illness after vaping has died.
Getty
Image via Getty/Alastair Pike / AFP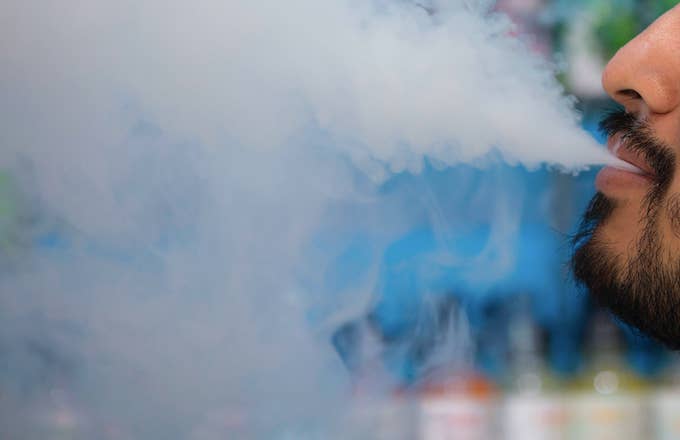 Illinois officials have launched an investigation into the first U.S. death linked to vaping.
On Friday, the Illinois Department of Public Health confirmed that a patient who had recently vaped died this month after contracting a severe respiratory illness. The news was announced amid growing reports of health issues among those who have used e-cigarettes and/or vapes. 
"The number of cases of people reported to IDPH who have used e-cigarettes or vaped and have been hospitalized with respiratory symptoms has doubled in the past week," the department said in a statement. "A total of 22 people, ranging in age from 17-38 years, have experienced respiratory illness after using e-cigarettes or vaping. IDPH is working with local health departments to investigate another 12 individuals."
Officials did not identify the patient who died of the respiratory disease, nor did they specify the device or substance(s) he/she used. The IDPH is now working to determine the root cause of the patient's illness, as well as those of other vape-users across the country. It's unclear if the health issues were due to ingredients found in vaping products containing nicotine or THC—the psychoactive compound in marijuana—or caused by the vaping devices themselves.
"The severity of illness people are experiencing is alarming and we must get the word out that using e-cigarettes and vaping can be dangerous," IDPH Director Dr. Ngozi Ezike said in the release. "We requested a team from the Centers for Disease Control and Prevention (CDC) to help us investigate these cases and they arrived in Illinois on Tuesday."
Earlier this month, a Florida teenager claimed he had suffered a collapsed lung from vaping a Juul, a popular e-cigarrette company that is known for its flavored nicotine pods. The young man shared unsettling photos of his collapsed lung and warned others about the dangers of vaping.
"I decided that spreading my story could help others not have to go through the same thing as me," he wrote on Instagram. "[...] This epidemic has taken enough. We don't need more evidence telling us just how bad it is. How many more kids are going to have to get hospitalized for us to stop!?"