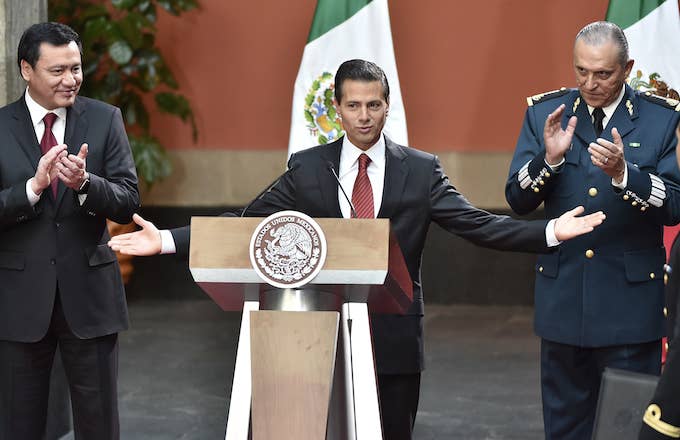 A key witness at the trial of Joaquin "El Chapo" Guzman claims the alleged drug kingpin paid the former president of Mexico a nine-figure bribe.
El Chapo's former "right-hand man" Alex Cifuentes described the alleged deal during a cross examination in court on Tuesday, according to the New York Times' Alan Feuer. Cifuentes, who worked closely with El Chapo from 2007 to 2013, told the court that his associate had paid President Enrique Peña Nieto $100 million.
"Mr. Guzman paid a bribe of $100 million to President Peña Nieto?" El Chapo's attorney Jeffrey Lichtman asked Cifuentes in Brooklyn federal court.
"Yes," Cifuentes replied.
According to Feuer, Cifuentes made a similar claim to U.S. officials several years ago. The witness previously said El Chapo had paid the president a $250 million bribe; however, during his testimony Tuesday, he told the court that Nieto had requested $250 million, but accepted El Chapo's counter offer of $100 million.
"The message was that Mr. Guzman didn't have to stay in hiding?" Lichtman asked about the terms of the deal.
"Yes. That very thing is what Joaquin said to me," Cifuentes responded.
In 2016, Cifuentes told authorities that the money was paid through an intermediary in October 2012, which means the alleged bribe took place several months after Nieto was elected and about two months before he was sworn in. During his testimony Tuesday, Cifuentes said he wasn't sure when exactly the transaction was made.
Cifuentes went on to claim that El Chapo had paid the Mexican military Cifuentes up to $12 million to attack the Beltran Leyva brothers—notorious Mexican drug lords who were El Chapo's most prominent rivals.