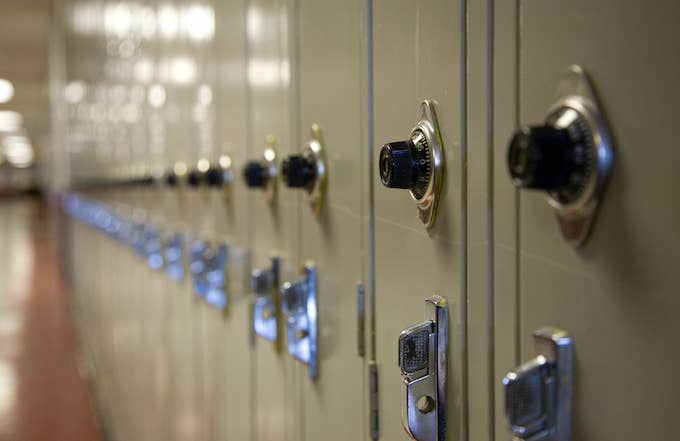 UPDATE 10/22, 10:20 a.m. ET: Marlon Anderson was reinstated on Monday, CNN reports. Interim Madison Metropolitan School District Jane Belmore made the decision, after major outcry over his firing from Madison West High School.

Anderson addressed the news on Facebook. "I'm back!!" he wrote on Monday. "Thank you to the 1,000 plus students for allowing your voices to be heard and to all the people from across the globe for reaching out to my family," he wrote.

UPDATE 10/20, 7:30 a.m. ET: Hundreds of Madison students and teachers marched in protest of Anderson's firing on Friday, BuzzFeed News reports. The group, which included Anderson's 17-year-old son Noah, ended up at the headquarters of the Madison Metropolitan School District. 
Administrators spoke for nearly two hours with student leaders, who later considered their conversation to be constructive, following a planned walkout. The encouraging interaction has compelled school board president Gloria Reyes to discuss Anderson's firing with administrators on Monday in an effort to review how a school's staff should respond to their employees using racial slurs. 
A GoFundMe page has been started to help provide Anderson with the money that he will need to provide for his wife and three children as he goes through the appeals process. Meanwhile, a Change.org petition to get Anderson's job back has gained over 12,000 signatures. 
See original story below.
A black security guard at a Wisconsin high school said he was fired after saying the N-word in front of a student and the school's assistant principal.
According to Madison365, the Madison Metropolitan School District has a zero-tolerance for employees using racial slurs; however, the former guard, Marlon Anderson, said he repeated the slur in an effort to defend himself against a disruptive student who was using the word.
Anderson told the outlet it all began on Oct. 9, when he saw the West High School assistant principal, Jennifer Talarczyk, escorting a student outside the building. Anderson said he intervened once he saw the student, who is also black, push Talarczyk's hand off his shoulder; it was at this time, the student began using obscenities and called Anderson the N-word.
Per Madison 365:
Anderson said he responded by saying a repeated combination of 'Don't call me that, don't call me the n-word, and don't call me n*****,' using the word.
Anderson, who had worked for the school district for 11 years, was officially terminated Wednesday. He told Madison365 that he felt as though the assistant principal had set him up, as she allegedly held up her radio to his face while he was telling the student not to use the slur. The audio was potentially heard by other staff members who are equipped with earpieces.
"I have a radio too, so I could hear myself saying, 'Don't call me that word,'" Anderson said. "And it made me kind of look at her like, wow, she's just targeting me. She's just trying to set me up. That was going through my head. So I finished that sentence, 'Stop calling me the N-word,' and she's still saying, 'You need to step back, you need to back off.' And I basically told her, and you need to address, this student who is calling me the N-word, and not once did you correct his behavior, but you're yelling at me."
A number of community members have expressed support for Anderson and have called on the district to give him his job back. Many have said the zero-tolerance policy fails to take context into consideration, and that Anderson's case did not warrant termination. The Cap Times reports Madison Teachers Inc.—a union consisting of education professionals—has filed a grievance against the district on Anderson's behalf. The union is seeking job reinstatement and back pay.
School board president Gloria Reyes said she will "allow for that (grievance) process to play out" as the board re-examines its zero-tolerance policy pertaining to racial slurs.
"We've taken a tough stance on racial slurs, and we believe that language has no place in schools," she said. "We have also heard from the community about the complexity involved—and our duty to examine it. As a board, we plan to review our approach, the underlying policies, and examine them with a racial equity lens understanding that universal policies can often deepen inequities. We will ask the community for help in that process."