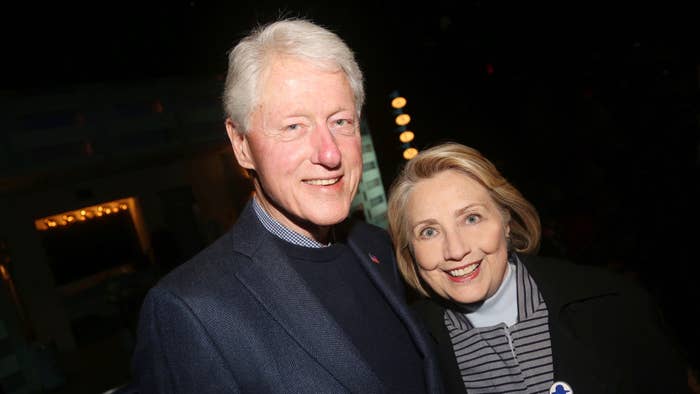 There's no doubt that the U.S. presidency comes with a ton of pressure and an inconceivable  amount stress. While some, like Barack Obama, have turned to exercise and family time to maintain their mental health, others have resorted to less traditional—and at times, scandalous—methods. Case in point: Bill Clinton.
In the new Hulu docu-series Hillary, the 42nd opened up about the anxieties he faced while leading the nation, and the ways he tried to distract himself from the job. One of these distractions was his highly publicized affair with then-White House intern Monica Lewinsky.
"I feel terrible about the fact that Monica Lewinsky's life was defined by it, unfairly I think," Clinton says in the series, as reported by The Daily Mail. "Over the years I've watched her trying to get a normal life back again, but you've got to decide how to define normal."
Bill went on to say he wasn't really thinking about the consequences of the affair, and was simply looking for ways to take his mind off all the stress he was enduring.
"Nobody sits down and thinks, 'I think I'll take a really irresponsible risk. It's bad for my family, bad for my country, bad for the people who work with me.' That's not what happens," he said. "You feel like you're staggering around, you've been in a 15 round prize fight that was extended to 30 rounds and here's something that will take your mind off it for a while, that's what happens. 'Because there, whatever life — not just me. Everybody's life has pressures and disappointments, terrors, fears of whatever. Things I did to manage my anxieties for years. I'm a different, totally different person than I was, a lot of that stuff 20 years ago."
Bill's quotes regarding the Lewinsky affair were previously reported by the Huffington Post's January review of the series.
The four-part docu-series Hillary explores key moments throughout the former secretary of state's life. It includes interviews with her friends, family, and political colleagues, as well as never-before-seen footage from her 2016 presidential campaign. Hillary will hit Hulu on Friday.