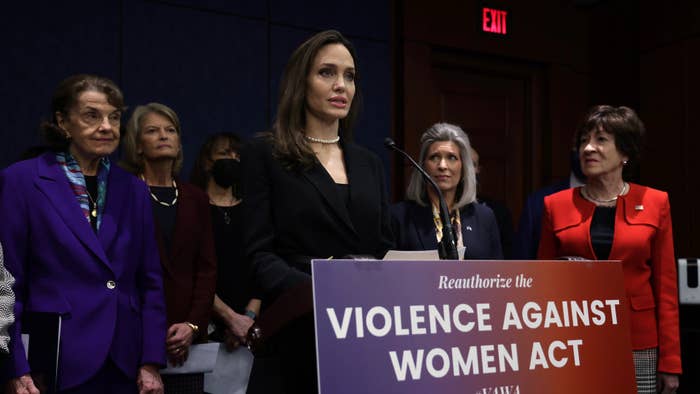 Angelina Jolie was overcome with emotions as she advocated for victims of sexual and domestic violence.
The Oscar-winning actress stopped by Capitol Hill on Wednesday to urge U.S. senators to reauthorize the Violence Against Women Act, a law that supported legal and community-based responses to domestic violence, stalking, dating violence, and sexual assault.
"Standing here at the center of our nation's power, I can think only of everyone who's been made to feel powerless by their abusers, by a system that failed to protect them," Jolie said during a press conference. "Parents whose children have been murdered by an abusive partner, women who suffer domestic violence yet are not believed, children who have suffered life-altering trauma and post-traumatic stress at the hands of people closest to them. Anyone who's been in those situations will tell you just how far they feel from the power concentrated here in this building—the power to pass laws that might have prevented their pain the first place."
The VAWA was signed by President Bill Clinton in 1994 and was reauthorized in 2013. The legislation expired in 2019 due to partisan disputes over key provisions. 
"The reason that many people struggle to leave abusive situations is that they've been made to feel worthless," she continued. "When there is silence from a Congress too busy to renew the Violence Against Women Act for a decade, it reinforces that sense of worthlessness. You think, 'I guess my abuser's right, I guess I'm not worth very much.'"
Jolie, who has made abuse allegations against her ex-husband Brad Pitt, went on to share a number of statistics about abuse and neglect. She then underscored the importance of renewing VAWA, which will help state and local governments continue programs for domestic abuse survivors.
"As survivors of abuse know all too well, victims of our failed systems are not allowed to be angry," she continued. "You're supposed to be calm, patient and ask nicely. But you try staying calm when it's as if someone is holding your head under water. Try to stay calm when you're witnessing someone you love being harmed. Try to stay calm if after you were strangled and you find the courage to come forward, you discover that your chances of proving the abuse are now gone, because no one took into account the different ways bruising presents in Black or brown skin and they failed to check properly for signs of injury."
Shortly after Jolie's speech, Democratic and GOP Congress members announced they had reached a deal to reauthorize VAWA. Democrats said they were pleased with the compromise, but admitted they didn't achieve everything they wanted. Sen. Dick Durbin (D-Illinois) referenced the failure to close the "boyfriend loophole," which allows convicted domestic abusers to own firearms as long as they were never married to the victim, lived with the victim, or shared children with the victim.
Durbin led Senate talks to reauthorize the bill, alongside fellow Democrat Sen. Dianne Feinstein and GOP Senators Joni Ernst and Lisa Murkowski.
"Our bill is a compromise. It doesn't include everything Sen. Feinstein and I wanted, or everything Sen. Ernst and Murkowski wanted," Durbin told reporters, per NPR. "And there are provisions that all four of us very much wanted to include, such as an end to the loophole that allows abusers who harm dating partners to continue to have access to guns."