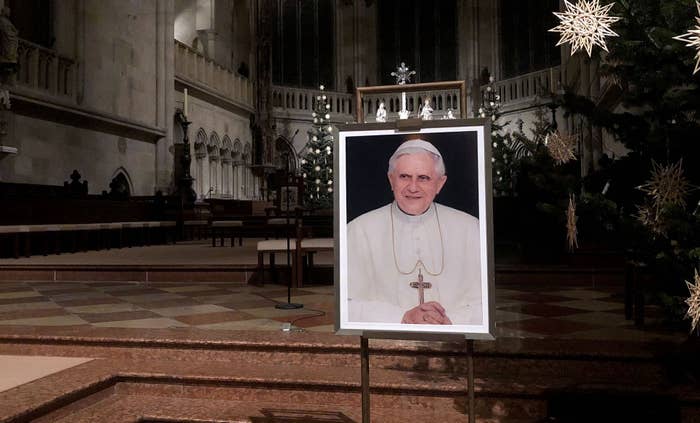 Pope Emeritus Benedict XVI, the former leader of the Catholic Church who resigned in 2013, has died at the age of 95. 
The Vatican announced the news in a short statement on Saturday morning. Benedict passed away at his residence in the Vatican at 9:34 a.m. 
"With sorrow I inform you that the Pope Emeritus, Benedict XVI, passed away today at 9:34 in the Ecclesiae Monastery in the Vatican.Further information will be provided as soon as possible," the Director of the Holy See press office Matteo Bruni stated.
The news comes days after Pope Francis revealed that his predecessor was unwell at the Vatican on Wednesday, Dec. 28, when he said that Benedict was "very sick." 
Following the death of Pope John Paul II in 2005, Cardinal Joseph Aloisius Ratzinger, then 78, was named the 265th pontiff of the Roman Catholic Church. Ratzinger, who was born in Germany, chose the name Benedict XVI. After leading the Catholic Church for almost eight years, Benedict became the first pope in 600 years to resign. 
On Feb. 11, 2013, Benedict XVI announced the news of his resignation, saying, "After having repeatedly examined my conscience before God, I have come to the certainty that my strengths, due to an advanced age, are no longer suited to an adequate exercise of the Petrine ministry."
Benedict's funeral will be held on Thursday at 9:30 a.m. local time in St. Peter's Square, CNN reports. "On Jan. 5, 2023, at 9:30 a.m. (3:30 a.m. ET), on the Parvis of St. Peter's Basilica, the Holy Father Francis will preside at the Exequial Mass for the late Supreme Pontiff Emeritus Benedict XVI," the Vatican said.