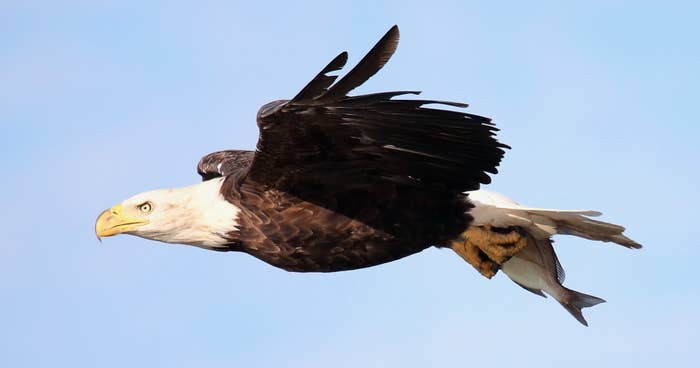 Two Honduran nationals who live in Nebraska were arrested and face criminal charges after both men admitted to killing a North American bald eagle.
CBS News reports Ramiro Hernandez-Tziquin and Domingo Zetino-Hernandez, both 20 years old, have been charged with unlawful possession of an eagle, the Stanton County Sheriff's Office confirmed in a news release this week. Hernandez-Tziquin was also charged for not having a driver's license.
The pair allegedly entered private property near Stanton, Nebraska on Tuesday, where they fatally shot a North American bald eagle with the intent to cook and eat it. Law enforcement was tipped off about the incident, which took place at the Wood Duck Recreation Area, after a civilian called about a vehicle spotted in the area.
"Investigation revealed that the two had shot and killed the protected national bird in that area and stated they planned on cooking and eating the bird," the sheriff's office said.
The Nebraska Game and Parks Commission seized the rifle the men used to shoot the eagle, and also took custody of the eagle's body.
North American bald eagles are protected under the Bald and Golden Eagle Protection Act of 1940 and the Migratory Bird Treaty Act. If Hernandez-Tziquin and Domingo Zetino-Hernandez are convicted of the killing, both will face a fine of $100,000 and one year in prison.
"More serious charges are possible as the investigation into the unlawful killing continues," the sheriff's office said.