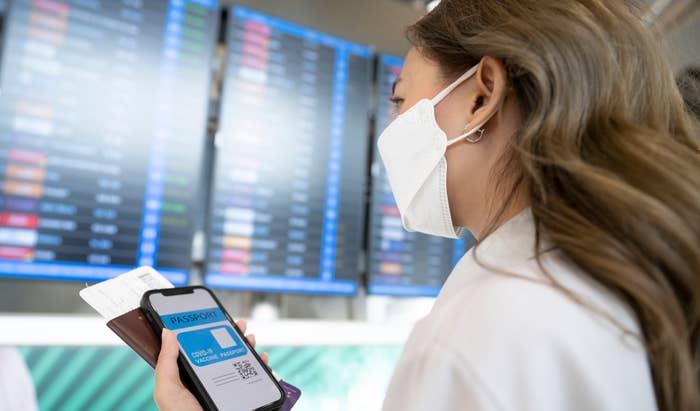 UPDATED 4/19, 12:40 p.m. ET:  Both Uber and Lyft announced that passengers no longer need to wear masks when riding their vehicles in the U.S., The Hill reports. 
"You can now ride without a mask and use the front seat if you need to," Uber said in a statement. "While mask usage is still recommended, we've updated our Covid Safety policies."
Meanwhile, a Lyft spokesperson told The Hill that masks are "now optional while riding or driving" with the company. "We know that everyone has different comfort levels, and anyone who wants to continue wearing a mask is encouraged to do so," Lyft added.
See original story below.
A Florida federal judge on Monday voided the Centers for Disease Control and Prevention's national mask mandate covering airplanes and other forms of public transportation.
CBS News reports U.S. District Court Judge Kathryn Kimball Mizelle argues the CDC overstepped its authority in requiring, calling it "unlawful" that travelers must wear masks on airplanes, buses, and trains.
Mizelle argued that the decision did not follow the Administrative Procedure Act (APA), claiming the mandate "violates the procedures required for agency rulemaking."
"The court concludes that the mask mandate exceeds the CDC's statutory authority and violates the procedures required for agency rulemaking under the APA," the judge wrote. "Accordingly, the court vacates the mandate and remands it to the CDC." 
Mizelle added that the court "accepts the CDC's policy determination that requiring masks will limit COVID-19 transmission and will thus decrease the serious illnesses and death that COVID-19 occasions" but "that finding by itself is not sufficient to establish good cause." 
The CDC last week extended the mask mandate from April 18 to May 3 amid the recent rise in the BA.2 omicron subvariant of the coronavirus.
The news arrives just a few weeks after 21 states sued the Biden Administration to end mask mandate. In the lawsuit, the state attorney generals argued the mandate was federal overreach. The suit named CDC Director Dr. Rochelle Walensky, Homeland Security Secretary Alejandro Mayorkas, and Health and Human Services Secretary Xavier Becerra, as well as the CEOs of Delta, Southwest, and American Airlines.