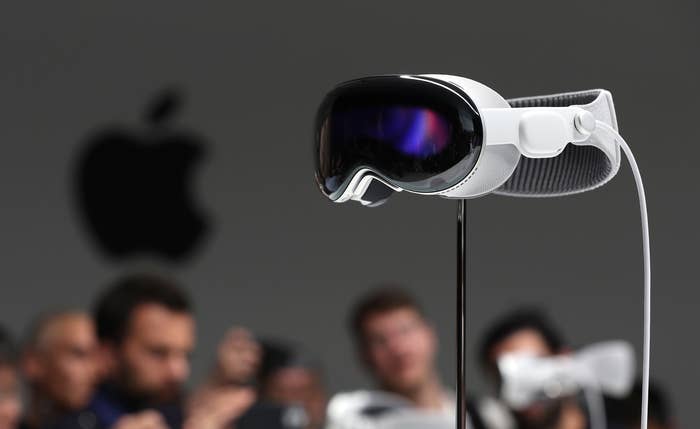 Apple is gearing up for the release of its Vision Pro headset.
CEO Tim Cook announced the device on Monday at the annual Worldwide Developers Conference at Apple's headquarters in Cupertino, California. The augmented-reality goggles will go into production in October, and be available early next year for a whopping $3,499.
Cook believes Vision Pro will introduce the world to "spatial computing," just as Apple's Mac pioneered personal computing and the iPhone spearheaded mobile computing.
"I believe that augmented reality is a profound technology," Cook said. "Built upon decades of Apple innovation, Vision Pro is years ahead and unlike anything created before—with a revolutionary new input system and thousands of groundbreaking innovations. It unlocks incredible experiences for our users and exciting new opportunities for our developers."
Vision Pro marks the first entirely new product Apple has launched since the Apple Watch in 2015. Last month, Bloomberg reported Apple expects to sell nearly 1 million VR headsets in its first year.
"Creating our first spatial computer required invention across nearly every facet of the system," Mike Rockwell, Apple's vice president of the Technology Development Group, said on Monday. "Through a tight integration of hardware and software, we designed a standalone spatial computer in a compact wearable form factor that is the most advanced personal electronics device ever."
Alongside Vision Pro, Apple announced iOS 17, the next generation of its iPhone operating system, as well as a new line of Macs that includes a MacBook Air laptop featuring a 15.3-inch screen (starting at $1,299), a Mac Studio (from $1,999), and Mac Pro ($6,999).