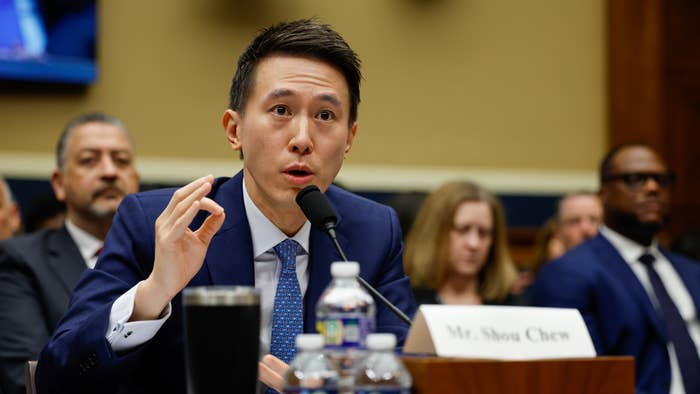 After the Biden administration demanded TikTok's Chinese owners sell stakes to avoid a U.S. ban, the company's CEO has testified before congress.
In the hearing on Thursday, Chew was grilled over the social media app's security, the spread of disinformation and harmful content, and concerns over Chinese state access to United States TikTok user data. Republican Washington rep Cathy McMorris Rodgers was among the first to question Chew, and expressed worry that TikTok "surveils us all," per NBC News. Chew was met with great opposition from the committee, who seemed less than convinced by his arguments.
Rodgers suggested that the Chinese Communist Party uses the app as "a tool to manipulate America as a whole," and that the app will never "embrace American values." She called for the ban of TikTok, while Democratic New Jersey rep Frank Pallone highlighted that children and teenagers were among those most vulnerable to its "addictive and damaging features."
"While the vast majority of people on TikTok are over 18, and one of our fastest growing demographics is people over 35, we spent a lot of time adopting measures to protect teenagers," said Chew. "Many of those measures are firsts for the social media industry. We forbid direct messaging for anyone under 16, and we have a 60-minute watch time by default for those under 18. … I would also like to talk about international security concerns that you have raised, that we take very, very seriously."
Chew said he wanted to clear up some "misconceptions" about ByteDance, the parent company of TikTok. "ByteDance is not owned, or controlled by the Chinese government," he stressed. "It's a private company. 60 percent of the company is owned by global institutional investors, twenty percent is owned by the founder, and twenty percent is owned by employees around the world. ByteDance has five board members, three of them are American. Now, TikTok itself is not available in mainland China. We're headquartered in Los Angeles and in Singapore."
He said he didn't want to "dismiss or trivialize" any concerns about Chinese access to U.S. user data, but over the past two years the company has worked to build a "firewall" the protects users from "unauthorized foreign access" of data. By default, Chew said, TikTok data is stored in Oracle's servers in Texas. Members of Congress asked him straight-up if China's government has access to Americans' data, and he said, "They have never asked us, I have seen no evidence of this happening."
Other representatives such as Dianne DeGette highlighted some of the misinformation circulating on TikTok, including videos that suggested herbal treatments for abortions and tutorials on how to make hydroxychloroquine from grapefruit to treat COVID-19. "The dangerous misinformation that you mentioned is not allowed on our platform," said Chew, to which DeGette responded, "I'm sorry to report, it is on your platform though."
The issue of GPS location data was brought up by Democratic representative Debbie Dingell, but Chew said only older versions of the app collected such data. Republican Rep. Neal Dunn asked Chew if ByteDance has "spied" on American citizens, and while he confirmed the company has access to U.S. TikTok data he replied, "I don't think spying is the right way to describe it." Congresswoman Debbie Lesko called for a ban, and pointed to how TikTok is not allowed to be on government devices in New Zealand or the United Kingdom. Chew maintained that government officials should have "no social media apps" on their devices, and the issue should not be isolated to TikTok alone.
TikTok's parent company ByteDance, which is headquartered in mainland China, has come under scrutiny since the Trump administration. Security concerns remain the number one point of contention among lawmakers, and last year a law passed that required TikTok to be removed from all government devices.