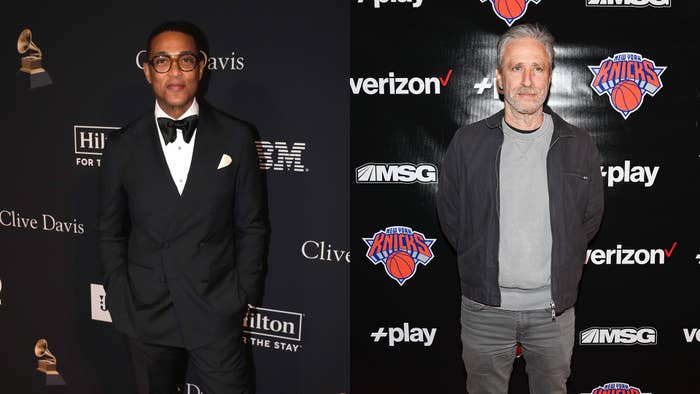 ]Don Lemon appeared to diss Jon Stewart on a hot mic and then immediately backtracked his comment when he realized it was picked up.
In a clip first shared by TMZ, the CNN anchor provided commentary on an interview Stewart conducted with Deputy Secretary of Defense Kathleen Hicks in Chicago last week. Stewart grilled Hicks over the defense budget and asked how the military has failed to provide for its service members despite the huge budget. "I can't figure out how $850 billion to a department means that the rank and file still have to be on food stamps," he said in a clip that has since gone viral and received acclaim. "To me, that's fucking corruption."
When Lemon showcased the clip, he seemingly threw some shade at Stewart in a conversation with his co-hosts. The video of Stewart's interview stayed onscreen, but the audio cut out.
"He gets a lot of leeway with the comedian thing, though," said Lemon. Immediately after there was a brief moment of silence, and Lemon backtracked. "We were just discussing that Jon Stewart is so much more than a comedian. He is a thought leader. … When I was saying comedian and television host, he's so much more than that. I don't even know if you need to qualify Jon Stewart as that. But good interview there." 
Stewart, who currently hosts the acclaimed Apple TV+ series The Problem with Jon Stewart, previously said on Desus & Mero in 2020 that he doesn't consider himself anything other than a comedian. "There is a role for what we do, but it is not one of transformation," he said. 
Earlier this month, Lemon was accused of sending threatening text messages to a colleague in retaliation for not getting picked for an on-location assignment in Iraq.