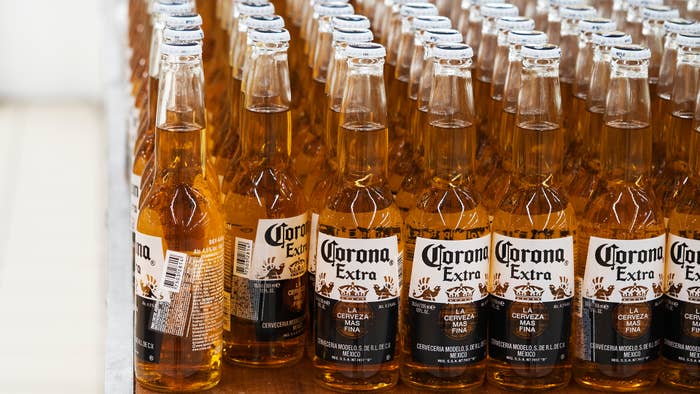 With paranoia over the coronavirus at an all-time high, Corona Extra beer and its brand has suffered somewhat as a result. In survey of 737 beer drinkers conducted by 5W Public Relations, four percent said they would stop drinking Corona, while 14 percent said they wouldn't order the beer at a public venue. 16 percent of those surveyed, however, expressed confusion over whether Corona is related to the virus which originated from Wuhan, China.
One of the figures in the survey has caused some confusion, however. CNN reported that 38 percent of Americans said they would not drink the beer as a result of the virus, but as Huffington Post reporter and editor Ariel Edwards-Levy pointed out on Twitter, the survey didn't reach such a conclusion. In fact, those 38 percent simply expressed no desire to buy the beer, likely because they enjoy other beers more.
It is worth stressing that there's still been an impact on Corona Extra popularity as the virus continues to spread. As YouGov found in a survey, public perception of the Corona brand has dwindled since the outbreak started. The beer obviously isn't responsible for hundreds of deaths and thousands of confirmed cases of COVID-19, but purchase intent among Americans has decreased regardless. In fact, it's the lowest it has been in two years.
Constellation Brands, the company that brews Corona Extra and other Corona-branded products, said in a statement that its customers "understand there is no link between the virus and our business." Spokesperson Stephanie McGuane said the brand will not change its advertising approach. "Sales of Corona remain very strong and we appreciate the continued support from our fans," she told CNN. "Our advertising with Corona is consistent with the campaign we have been running for the last 30 years and is based off strong consumer sentiment." 
Even if the results of the survey were misinterpreted, that didn't stop Twitter from believing 38 percent of Americans really are stupid enough to think Corona Extra is somehow related to the virus.